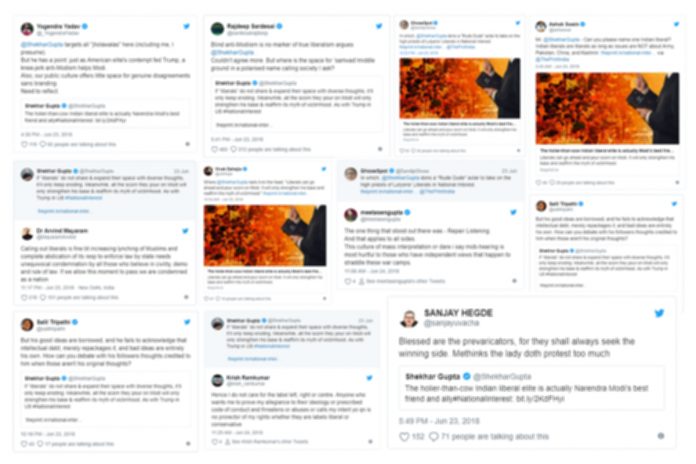 Text Size:
The latest 'National Interest' column, published 23 June, has elicited backlash and support in equal measure.
New Delhi: When he argued that the aggressive, 'my-way-or-the-highway' line pushed by India's 'liberal' elite actually helped the illiberal Right, ThePrint Editor-in-Chief Shekhar Gupta divided the internet and the discourse in general.
His latest 'National Interest' column, published 23 June, has elicited backlash and support in equal measure, with critics calling it unfair and backers hailing it as a piece that hits the nail on its head.
Here's a round-up of some of the opinions on the column:
Vijay Chauthaiwale, in-charge of the BJP's foreign affairs department
"Shekhar Gupta has rightly exposed the psyche of liberals in general and the Indian liberals in specific," Chauthaiwale wrote in a column for ThePrint. He goes on to list what he believes are the eight "salient features of the Indian liberal", which include praising Akbar and the Nehru dynasty, and being overtly pro-Muslim and anti-Hindu. "It's not enough to be pro-minorities to claim that you are a liberal," he adds.

Apoorvanand, Hindi professor at Delhi University
"Shekhar Gupta is right in defending one's right to revise oneself. What is disappointing in his otherwise legitimate indignation is that he decided to blast the liberal position itself," he writes in a column for ThePrint. "To do so in a country and at a time when liberals are under constant attack from the state is unfortunate."
Yogendra Yadav, Swaraj India chief and psephologist
@ShekharGupta targets all "jholawalas" here (including me, I presume).
But he has a point: just as American elite's contempt fed Trump, a knee-jerk anti-Modism helps Modi.
Also, our public culture offers little space for genuine disagreements sans branding.
Need to reflect. https://t.co/GxaYjKvZ2P

— Yogendra Yadav (@_YogendraYadav) June 23, 2018
Here are a few other responses from prominent personalities:
Rajdeep Sardesai, senior journalist
Blind anti-Modiism is no marker of true liberalism argues @ShekharGupta .
Couldn't agree more. But where is the space for 'samvad'/middle ground in a polarised name calling society I ask? https://t.co/zbcm9wTKSZ

— Rajdeep Sardesai (@sardesairajdeep) June 23, 2018
Sandip Ghose, columnist
In which, @ShekharGupta dons a "Rude Dude" avtar to take on the high priests of Lutyens' Liberals in National Interest. https://t.co/IOleHUbHoR @ThePrintIndia

— GhoseSpot (@SandipGhose) June 23, 2018
Dr Arvind Mayaram, Former finance secretary
Calling out liberals is fine bt increasing lynching of Muslims and complete abdication of its resp to enforce law by state needs unequivocal condemnation by all those who believe in civility, demo and rule of law. If we allow this moment to pass we are condemned as a nation

— Dr Arvind Mayaram (@MayaramArvind) June 23, 2018
Meeta Sengupta, Writer, speaker and adviser on education
The one thing that stood out there was – Repair Listening.
And that applies to all sides.
This culture of mass interpretation or dare i say mob-hearing is most hurtful to those who have independent views that happen to straddle these war camps.

— meetasengupta (@Meetasengupta) June 24, 2018
Vivek Dehejia, Resident senior fellow in political economy at IDFC Institute, columnist, associate professor of economics and philosophy at Carleton University in Canada.
Where @ShekharGupta nails it on the head. "Liberals can go ahead and pour scorn on Modi. It will only strengthen his base and reaffirm the myth of victimhood." https://t.co/VrAg5kzOVQ

— Vivek Dehejia (@vdehejia) June 23, 2018
Salil Tripathi, Contributing editor at the Mint and Caravan.
But his good ideas are borrowed, and he fails to acknowledge that intellectual debt, merely repackages it; and bad ideas are entirely his own. How can you debate with his followers thoughts credited to him when those aren't his original thoughts? https://t.co/M3VYq5yjCf

— Salil Tripathi (@saliltripathi) June 23, 2018
Ashok Swain, professor of peace and conflict research at Sweden's Uppsala University, UNESCO chair on international water cooperation
Mr. @ShekharGupta – Can you please name one Indian liberal? Indian liberals are liberals as long as issues are NOT about Army, Pakistan, China, and Kashmir. https://t.co/KbRoRW31AP via @ThePrintIndia

— Ashok Swain (@ashoswai) June 23, 2018
Krish Ramkumar, founder, Leadership Centre, an organisation involved in leadership consulting, and research and development
Hence I do not care for the label left, right or centre. Anyone who wants me to prove my allegiance to their ideology or prescribed code of conduct and threatens or abuses or calls my intent yo qn is no prorector of my rights whether they are labels liberal or conservative

— Krish Ramkumar (@krish_ramkumar) June 24, 2018
Sanjay Hegde, Supreme Court advocate
Blessed are the prevaricators, for they shall always seek the winning side. Methinks the lady doth protest too much https://t.co/HcV4dMlNFU

— SANJAY HEGDE (@sanjayuvacha) June 23, 2018
Check out My543, our comprehensive report card of all Lok Sabha MPs.