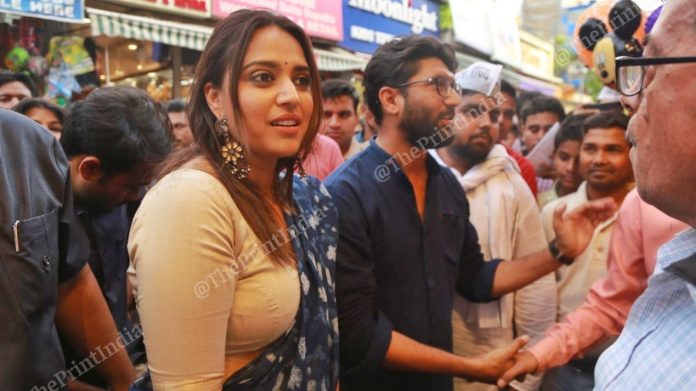 Text Size:
Swara Bhasker, Jignesh Mevani hog limelight in IIC
When Lutyens revolutionaries and progressive Twitter warriors hit the campaign trail, they need to tank up on the good things of Delhi first.
So, hours before embracing the heat and dust of the Aam Admi Party's roadshow with Atishi in the national capital, actress and activist Swara Bhasker and Gujarat MLA Jignesh Mevani made an important stop. They landed at the India International Center (IIC), the mecca of the capital's chattering intellectuals, and gorged on dhokla, baked samosas, cheese toast and Darjeeling tea at the lounge.
The usually sleepy lounge lit up as everybody wanted to shake hands with Bhasker — and no, they didn't want to take selfies; that would be so un-IIC like.
BJP's K.J. Alphonse and Tom Vadakkan at one table, Congress' Prithviraj Chavan at another and the dozens of retired bureaucrats and diplomats were relegated to the background as Bhasker made it a point to greet everybody who made eye contact with her and spoke in chaste Hindi.
304 for BJP
Political pundits and commentators are finding this Lok Sabha election too difficult to call, with many seeing a preponderance of what they call 'silent voters'. But, there is no such ambiguity at the top echelons of the BJP. A senior minister cited a post-poll survey (till the end of four phases) done by the party to predict 304 seats for the BJP and 360 for the NDA. The ruling party sees a Modi wave in 2019 Lok Sabha elections, too. The minister's audience has no option but to nod in agreement and smile. After all, nobody had a clue about the BJP's historic mandate the last time.
---
Also read: History has lessons for a BJP banking on Pulwama and Balakot to win Lok Sabha elections
---
PM on a feverish campaign
This has been an extremely feverish campaign period for Prime Minister Narendra Modi, with him addressing an average of three or four rallies across different states in a day, even resulting in odd hours. To ease the burden and give him time to rest, break days are planned in between for the PM. For instance, 30 April — a day after the fifth round of polling — was kept free with no travel or rallies scheduled. This Saturday has been slotted as a free day as well.
However, it isn't as if Modi keeps away from all forms of campaigning or work on these days. Not one to waste time when it comes to pushing his bid for re-election, Modi uses these breaks to give interviews to various media houses. So far, the PM has given a heap of media interviews, rare for him, for most of which he takes out time on days he does not have rallies planned.
Kamal Nath's one-liners
Madhya Pradesh Chief Minister Kamal Nath is known for his witty one-liners, and he is getting the perfect opportunity to flaunt and sharpen them on this election campaign trail. When a TV reporter asked him about his role as the Congress party fundraiser, a defensive Nath shot back: "And how did the BJP fund its swanky new office? Did they sell their wives' jewellery for it?"
When the media quoted Shivraj Singh Chouhan's barb about Nath always flying in a chopper, the latter retorted: "How is Shivraj campaigning? On a motorcycle?"
The stamp paper promise in Panaji
The BJP, which schemed and formed the government in Goa after the 2017 state assembly polls, despite the Congress being the single-largest party, has used every occasion since then to bolster its strength in the state assembly.
Over the past two years, the party has shrewdly got three Congress MLAs and two from the regional Maharashtrawadi Gomantak Party to switch to its side. So much so, that voters in the Panaji assembly segment, headed to a bypoll on 19 May due to former CM Manohar Parrikar's death, are now skeptical of all non-BJP candidates, fearing that they too might jump ship if elected.
Meanwhile, candidates are trying to convince the voters otherwise. The Aam Aadmi Party candidate, Valmiki Naik, has signed an affidavit on a Rs 50 stamp paper, swearing that he will neither join the BJP nor support its coalition government if he wins the seat.
(Contributors: DK Singh, Ruhi Tewari and Manasi Phadke)
---
Also read: BJP supporters have a secret weapon in their online poll campaign — satire
---
Get the PrintEssential to make sense of the day's key developments