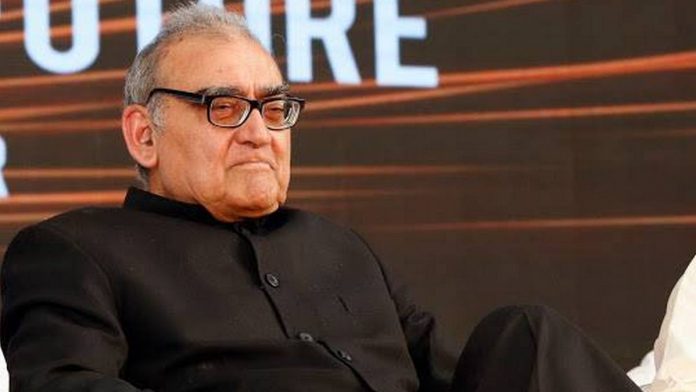 Text Size:
Markandey Katju's advice for SC judge gets him a scolding from AG
Former Supreme Court judge Markandey Katju's public letter questioning Justice Rohinton Fali Nariman's conduct in the top court is said to have left Attorney General K.K. Venugopal fuming, and earned the former quite an earful.
Katju noted as much in a letter he wrote Friday to senior jurist Fali Nariman, Justice Rohinton's father, justifying the public criticism and seeking to quell the uproar that has seemingly been kicked up by his remarks.
"I remember when I was Chief Justice of Madras High Court I said in a public function that in a democracy people had the right to criticise judges. You praised me for saying so, and compared me to a Daniel come to justice," he wrote to Nariman Senior. "I wonder whether u have forgotten ur own words [sic]".
In the earlier letter, Katju had questioned Supreme Court judge R.F. Nariman's interaction with lawyer Utsav Bains during a Wednesday hearing on the sexual harassment allegations against Chief Justice of India Ranjan Gogoi.
Following an exchange between Venugopal and Bains over purported discrepancies in his allegation that the harassment charge was the work of "judgment fixers" out to target Gogoi, Justice Rohinton had threatened to throw Bains out of the courtroom. It is this conduct that Justice Katju had questioned.
"Today morning (Friday) I called Mr KK Venugopal, and he was furious that I copied my email to Rohinton to many persons including the media," Katju wrote to Nariman Senior.
"He even called me a publicity seeker and said some other unpalatable things which I did not expect from him. However, since he is my elder I will ignore his insults," he added.
"I told him coolly that had Rohinton did [sic] anything objectionable privately I would have written a private confidential letter and not shared it with anyone. But when he says in open court that he will have a lawyer thrown out of court it is not a private matter but is in the public domain," he said.
Katju added that he was Rohinton's "well-wisher". "He is totally upright, and is very learned… But that is no justification for being rude to lawyers, as I am informed he sometimes is…" he said.
"My intention in writing to Rohinton was not to denigrate him but to make him a better judge. As an elder, and as a former judge of the Supreme Court, it is my duty to do so."
A copy of this email was also marked to Venugopal.
BJP ministers ready with roadmap for second term 
Call it a sign of confidence or mere optics, the Prime Minister's Office (PMO) has asked all the ministries of the National Democratic Alliance (NDA) administration to prepare a detailed 100 days' plan for the next government.
This comes in the midst of the Lok Sabha election, in which surveys have given the Bharatiya Janata Party (BJP)-led NDA an edge. A number of ministries have already submitted their action plans.
The Human Resource Development Ministry's plan, for instance, prioritises education quality upgradation and inclusion plan (EQUIP), a new accreditation system, a national research fund, a higher education commission of India, the next batch of Institutes of Eminence (IoE), and a new education policy — the last one has been pending for months.
Civil servants involved in the making of these plans are surprised by the PMO directive but aren't taking it lightly. "How does it matter? These action plans would be useful to any party that comes to power," said one of them.
TRP is the BJP's USP
Prime Minister Narendra Modi told actor Akshay Kumar in his "non-political" interview this week that he was wary of "TRP wale" (TV channels) who twist statements.
The term TRP, in fact, seems to be popular in the BJP camp. The other day, when someone asked a senior BJP leader why Modi kept saying "mein, mein" (referring to himself) all the time, pat came the reply: "Wahi unka TRP hai ji (that's his TRP)". USP (unique selling point) and TRP (television rating point, to gauge the popularity of a programme) obviously seem to be two sides of the same coin for BJP leaders.
---
Also read: Bengal's communal polarisation is a 'strategy that helps' both Mamata and Modi
---
Why Niti Aayog CEO gave a 'private' address amid 10 TV cameras
Niti Aayog Chief Executive Officer Amitabh Kant was scheduled to deliver a talk last week at the PHD Chamber of Commerce and Industry, on the subject 'Policy reforms: 2014-2019 & creating a roadmap for next five years'.
The chamber sent out invitations to media houses for coverage and, predictably, Kant's scheduled address drew many reporters to the event.
However, when Kant walked in at 5.30 pm, he was reluctant to deliver an address in the midst of the Lok Sabha elections and said he didn't know he was supposed to make one.
"When Rajeev Talwar (chamber president) invited me, he said, come and have a cup of tea with me. I didn't know I was supposed to give a talk," Kant added. Talwar, the CEO of DLF Ltd, then stepped in to do some damage-control.
He advised the media representatives present to not report anything from Kant's address and said it was a "private meeting". Kant replied, "It's the first private meeting that I have been invited with 10 television cameras."
He eventually went on to deliver his address on the Indian economy, but with the understanding that what he said would not be reported in the press.
Kant probably didn't want to land in the crosshairs of the Election Commission like his colleague Rajiv Kumar, the Niti Aayog vice-chair, who was found to have violated the model code of conduct for his negative remarks on the Congress's promised minimum income support scheme.
---
Also read: Election Commission does have special powers but they aren't absolute
---
(Contributors: Neelam Pandey and Remya Nair)
Get the PrintEssential to make sense of the day's key developments