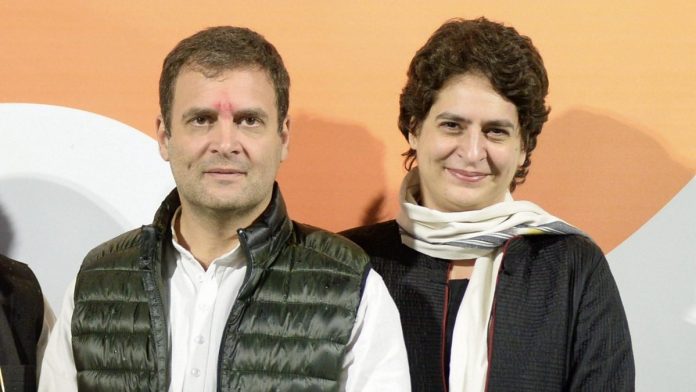 Text Size:
Another Gandhi family aide aspires for a political career
Congress circles are abuzz with speculation about another Nehru-Gandhi family aide planning to take enter politics. The last one to do so was Kamal Kishor "Commando" who was part of Rajiv Gandhi's security team. He had successfully contested the 2009 Lok Sabha elections from Bahraich.
Now, Dhiraj Srivastava, personal assistant to Priyanka Gandhi Vadra, is keen on contesting the Lok Sabha elections from Allahabad seat in Uttar Pradesh, according to party leaders. OSD to Ashok Gehlot during his first tenure as Rajasthan chief minister, the former Rajasthan Administrative Service (RAS) officer had moved to Delhi after the Congress lost in the 2003 assembly elections.
Thanks to Gehlot's support, he got a posting in the National Advisory Council and gradually grew close to the Congress party's first family. When Priyanka joined active politics and was appointed All India Congress Committee general secretary in-charge of eastern Uttar Pradesh earlier this year, Rahul Gandhi deputed Srivastava as her assistant.
Grapevine has it that Srivastava has now developed political ambitions and is interested in contesting the polls from Allahabad where the Bharatiya Janata Party has fielded Rita Bahuguna Joshi. His claim for the party ticket is said to be driven by the consideration that his caste has a sizeable presence in the constituency. This comes amid demand from local Congress leaders to field Priyanka from either Allahabad or the Phulpur seat.
---
Also read: Why Priyanka Gandhi can be BJP's best friend in 2019 Lok Sabha elections
---
Securing PM Modi
Prime Minister Narendra Modi has been in the midst of a frenzied poll campaign, which has also meant his security team has to be on an even higher alert than usual. In the last few days, Modi's security has had to deal with some anxious moments.
During his rally in Karnataka's Mangaluru Saturday, the crowds swelled up to such an extent that they got close to the PM, making his team nervous. The crowds then had to be controlled. During his rally in Aligarh Sunday, meanwhile, some fumes were seen near the stage, leading to a few worrying moments. It turned out to be a short circuit, which was then attended to in no time, and the PM went on to deliver his full speech as planned.
When Naidu spoilt CEC Sunil Arora's birthday
Chief Election Commissioner Sunil Arora had a hectic schedule in office last Saturday as Andhra Pradesh Chief Minister N. Chandrababu Naidu came calling with a delegation to demand that the Election Commission (EC) revert to the ballot paper system in elections, raising doubts about the electronic voting machines (EVMs).
A few hours later, Arora sent a letter to Naidu expressing displeasure with the CM's act of bringing Hari Prasad, a techie facing a case of alleged theft of an EVM, as part of his delegation.
Amid all this firefighting, Arora found no time to celebrate a milestone in his personal life: His birthday. He turned 63 that day.
---
Also read: EC tried to address Chandrababu Naidu's concerns: Here are 5 things panel told Andhra CM
---
(Contributors: D.K. Singh and Ruhi Tewari)
Get the PrintEssential to make sense of the day's key developments