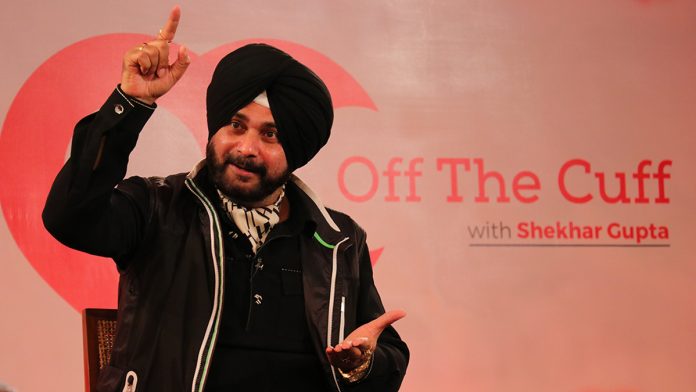 Text Size:
Pre-Truth — snappy, witty and significant snippets from the world of politics and government.
Sidhu coins new abbreviation for BJP after poll defeat
Punjab cabinet minister and Congress leader Navjot Singh Sidhu is known for his one-liners, funny quotes and witty remarks. After the election results for the five states were declared Tuesday, Sidhu coined a new acronym for the BJP. It was — GTU. The full form of the acronym was not in English but in Hindi. It meant "gire to bhi taang upar". He was trying to drive home the point that the BJP, despite having lost in the five states, was still trying to make it look like as if it had lost nothing.
---
DD does it again, calls Modi ex-PM 
On a day Prime Minister Narendra Modi and BJP president Amit Shah faced their worst electoral defeat in five years, Doordarshan inadvertently ended up rubbing salt in their wounds. In a tweet from its official handle, the public broadcaster referred to Prime Minister Narendra Modi as "former Prime Minister". Twitter, predictably, could not have enough of the faux pas, with journalists wondering who would be fired for it! While the tweet was quickly deleted, it wasn't before the Twitterati had taken screenshots of the gaffe.
---
After Prez and PM, Pranab Mukherjee thanks Ashok Gehlot for b'day wishes
It was former President Pranab Mukherjee's birthday Tuesday, and as expected, top political leaders took to Twitter to wish the political stalwart. It, however, was interesting how Mukherjee chose to thank those who wished him, particularly the order of replying to wishes. He first thanked President Ram Nath Kovind, followed by Prime Minister Narendra Modi — not unexpected given this would be the apt protocol. However, it was veteran Congress leader Ashok Gehlot whom Mukherjee chose to thank next — before even top ministers, chief ministers, governors, the official Congress handle as well as senior Congress leaders such as Ahmed Patel. On Tuesday Congress won the Rajasthan polls where Gehlot could possibly be the next chief minister. In his reply, Mukherjee also congratulated Gehlot for the victory.
---
Also read: How a Congress 'fan' has become a party 'spokesperson' on TV
---
When pro-PIL judge talked about judicial activism
Imagine what would happen if our Supreme Court directed Prime Minister Narendra Modi to refrain from performing his constitutional duties. Justice Madan B. Lokur, the Supreme Court judge set to retire next month, put this rhetorical question at an event last week evoking laughter from a room full of lawyers, former judges and journalists. He cited the Sri Lankan SC's stand to tell the audience that judicial activism in India is far less compared to some other countries. Many in the audience were heard saying it is ironical that the defence came from a judge known for his pro-PIL stand and micromanaging the executive. Justice Lokur, who is one of the judges who held the 12 January press conference, has heard many PILs in his tenure, including the ones on air pollution, drought management, right to food, gender crimes, among others.
---
Alok Verma's Khan Market outing cut short
With the tide in the CBI vs CBI war seemingly turning against its director Alok Verma, he appears to be seeking divine blessing as a last resort. Verma, who was sent on forced leave after he was accused of taking a bribe of Rs 2 crore to influence a probe, was spotted outside Sri Gopal temple in Lutyens' Delhi's Khan Market Tuesday. Onlookers who recognised Verma — courtesy the extensive coverage on the CBI case on channels and newspapers — started clicking his photos. Verma, who was travelling in his personal car,  quickly got inside and left.
Verma is caught in a bitter feud with his deputy and CBI's No. 2 officer, special director Rakesh Asthana, who too has been accused of corruption. Set to retire on 30 January, Verma has challenged the government's order of divesting him of all powers on grounds that he had a two-year fixed term as the director.
---
Also read: Just like UP and Gujarat, Narendra Modi gives last-minute push to Rajasthan campaign
---
Changing faces of CBI lawyers
Ousted CBI special director Rakesh Asthana's plea in the Delhi High Court seeking its order to quash an FIR against him is witnessing interesting developments. When Alok Verma was still at the helm of affairs in the CBI, additional solicitor general Tushar Mehta, who usually appears for the agency, curiously took up the brief for Asthana. The CBI had to then make do with their low-key lawyer K. Raghavacharyulu. However, it seems like an unlikely coincidence that once Verma was out and a new CBI director was appointed, ASG Vikramjit Banerjee started appearing for the CBI. The HC was initially taking its time in the case since it wanted to wait for the top court's intervention but has now fast-tracked the hearing and could soon decide on Asthana's fate.
(Contributors: Ruhi Tewari, Chitleen K. Sethi, Apurva Vishwanath, Sanya Dhingra and Ananya Bhardwaj)
Separate fact from fiction, the real from the fake going viral on social media, on HoaXposed .