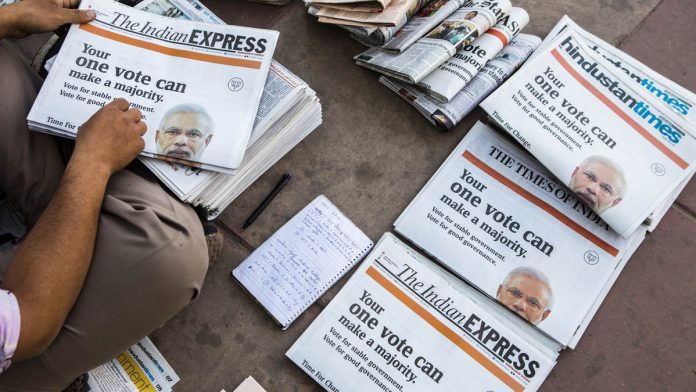 Text Size:
Modi-only govt ads flood newspapers
That the Bharatiya Janata Party (BJP) plans to contest the Lok Sabha polls entirely in Prime Minister Narendra Modi's name is no secret. And that the party will use Modi as its main mascot is also all too evident.
However, in the last and frenzied leg of promoting the government's achievements before the poll dates are announced, the BJP seems to be saying that nobody else in the party or government matters at all.
The full-page newspaper advertisements issued by various ministries about their initiatives feature only one face — Modi's — while the trend has been to have the PM's picture along with that of the respective minister.
On Wednesday alone, there were huge newspaper ads of at least six ministries — from Skill Development to Defence, Home, Railways, Civil Aviation, and Science and Technology — all of which had just Modi's face staring at the reader, with the respective ministers nowhere to be spotted.
In 2015, the Supreme Court had said only photos of the President, Prime Minister and the Chief Justice of India will be permitted in government ads, but modified the order the next year to also allow pictures of union ministers as well as chief ministers.
---
Also read: Amid alliance talk everywhere, Jagan Mohan Reddy is keeping to himself
---
Why the Odiya roots of this RBI 'hawk' became a talking point
The Reserve Bank of India announced a surprise rate cut of 25 basis points in the February monetary policy review under its new governor Shaktikanta Das.
The decision to cut rates was not unanimous. Two of the six members of the monetary policy committee — deputy governor Viral Acharya and independent member Chetan Ghate — dissented, while the others, including Das, were in favour of a rate cut.
What really caught financial-sector participants off-guard, however, was that votaries of the cut included RBI executive director Michael Debabrata Patra.
Patra has always been considered a hawk for focusing on inflation instead of growth.
At the 7 February monetary policy meeting, Patra voiced concerns over food inflation and advocated keeping a close eye on its trajectory but voiced a need to strengthen the domestic economy to withstand any global economic shocks.
"Should a deeper-than-currently-anticipated global slowdown take hold, domestic activity could be dragged down by retarding impulses transmitted through the channels of exports and investment," he wrote in his comments on the monetary policy decisions that were released by the central bank on 21 February.
"In this scenario, it is prudent to preserve sufficient policy space to insulate the economy from adverse external shocks and boost the domestic economy in an opportune manner rather than deplete it in haste," he added.
Patra's change in stance took many by surprise, with some wondering if Das had tapped their shared Odiya roots to get Patra on his side.
---
Also read: Maneka Gandhi wants to leave safe UP seat for son, looking to shift to Haryana
---
(Contributors: Ruhi Tewari and Remya Nair)
Get the PrintEssential to make sense of the day's key developments