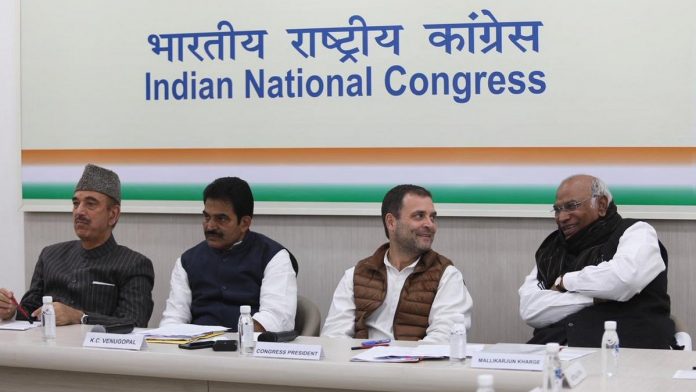 Text Size:
Rahul Gandhi's Ahmed Patel
Is K.C. Venugopal to Rahul Gandhi what Ahmed Patel is to Sonia Gandhi? This question has been doing the rounds in Congress circles after Venugopal's rapid rise in the party hierarchy. Venugopal replaced Ashok Gehlot as the party general secretary (organisation) last January. He was earlier credited with the party's return to power as a junior partner to the JD(S) in Karnataka — in his capacity as general secretary in-charge of the state. His party colleagues say that his main contribution was not to interfere with the then chief minister Siddaramaiah's poll strategy.
On Tuesday, Venugopal's increased clout was evident at the Congress rally in Gandhinagar as most speakers, including Rahul Gandhi, named him before Patel while starting their speeches. That, too, when most of them forgot to mention the names of other veteran leaders on the dais, including P. Chidambaram, Ghulam Nabi Azad, Gehlot and Harish Rawat, among others. Venugopal, the Alappuzha MP, declared Sunday that he wouldn't contest the upcoming elections due to his increased responsibilities in the party that was reduced to 44 seats in the Lok Sabha in 2014. Some MPs who had decided not to contest the elections last time had to face the wrath of the high command. But Venugopal is not just another MP in the current scheme of things in the opposition party.
---
Also read: Missing ministers in central govt ads a message from BJP
---
The Uttarakhand influence at the Centre 
Everybody seems to believe that the government was run by two powerful Gujaratis — Prime Minister Narendra Modi and BJP president Amit Shah — in the last five years. But after Pulwama attack and the Balakot air strike, there is a new dimension to the ethnic composition of this power centre. The government, it appears, is being run by two Gujaratis and five Uttaranchalis — NSA Ajit Doval, Army Chief Bipin Rawat, R&AW Chief Anil Kumar Dasmana and Bhaskar Khulbe, the all-powerful secretary in the PMO. Of course, there is always the BJP star campaigner and Uttar Pradesh Chief Minister Ajay Mohan Bisht, otherwise known as Yogi Adityanath.
---
Also read: For Yogi Adityanath, Gorakhpur is second capital of Uttar Pradesh
---
A judge and Japanese
Former Supreme Court judge B.N. Srikrishna is a busy man, juggling several committees, arbitrations, legal opinions and award selection committees at the same time. The judge, however, has not allowed his busy schedule to come in the way of his learning. These days, the former judge can be spotted looking at small Japanese alphabets on his smartphone. Ask him and he tells you, he is learning Japanese. Why Japanese, one wonders? "At my age, I need to keep on learning new things. Else I feel I am getting wasted," comes the prompt reply.
(Contributors: D.K. Singh and Maneesh Chhibber)
Get the PrintEssential to make sense of the day's key developments