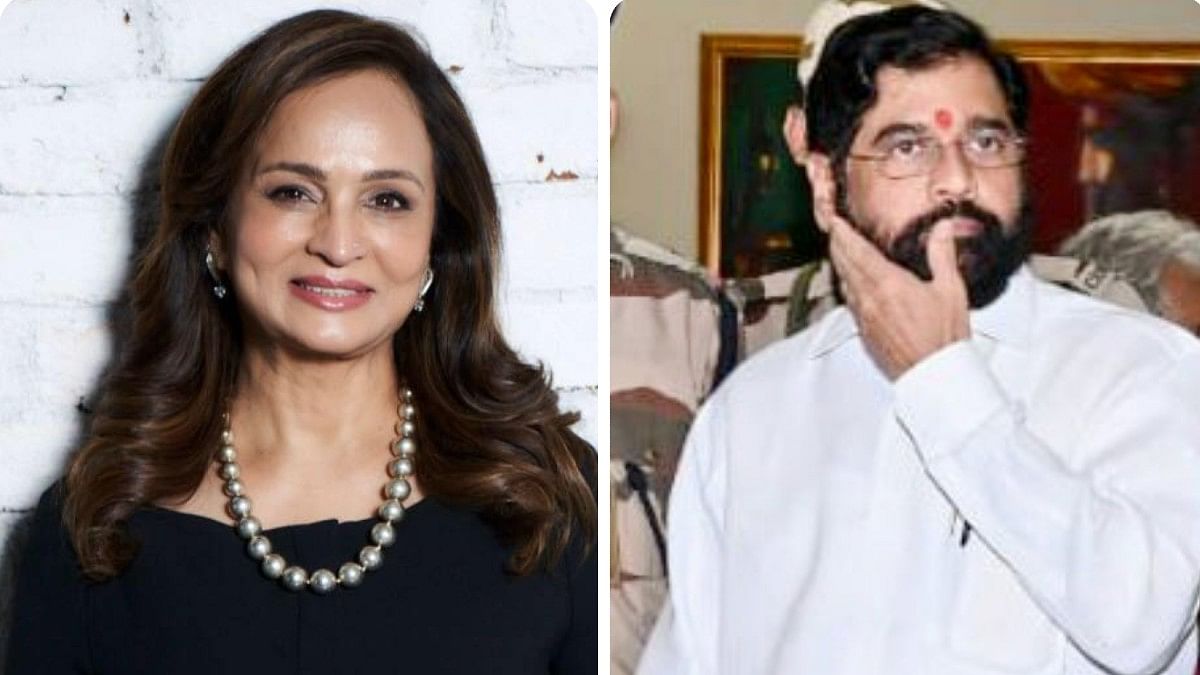 Mumbai: In 1998, when the Shiv Sena picked Narayan Rane to replace Manohar Joshi as Maharashtra chief minister, Smita Thackeray — Sena founder Bal Thackeray's daughter-in-law — found herself at the centre of speculation in political circles about the move.
It was said that Smita Thackeray, who many believed had her father-in-law's ear back then, had recommended Rane's name for the top post. 
Smita Thackeray is making headlines again, about a month after another Shiv Sena leader, Eknath Shinde, took over as CM, following a rebellion against the party.
On Tuesday, Smita, 63, became the first member of the Thackeray family to visit and congratulate Shinde. The meeting comes amid a cut-throat contest between the rebel Sena camp led by Shinde, and the Uddhav Thackeray-led party, for the title of the "real" Shiv Sena.
And Smita, former wife of Bal Thackeray's son Jaidev, is said to have had her differences with Uddhav as well.  
After the meeting, Smita told reporters that the visit was a "courtesy call" since Shinde, a long-time Shiv Sainik, is now the chief minister.
Political watchers dismiss the possibility of Smita Thackeray, who vanished from the political scene over a decade ago, of making a comeback in Maharashtra politics as a third 'Thackeray power centre' alongside Uddhav and Maharashtra Navnirman Sena (MNS) chief Raj Thackeray. 
However, her strained relations with the Uddhav Thackeray side of the family have led to many imparting significance to her meeting with Shinde.
"Smita Thackeray was a power centre when the 1995-99 Shiv Sena-Bharatiya Janata Party (BJP) government was in power, but she has been out of politics for a long time now. She may have had some old relation with Eknath Shinde," political commentator Hemant Desai told ThePrint.
Adding that Smita Thackeray runs a "production house and a foundation" and may have met Shinde in that regard, Desai said, "Shinde would have agreed to meet her because of her history with Uddhav Thackeray, simply to rattle the Thackeray camp."
Speaking to reporters Wednesday, Shiv Sena's Neelam Gorhe, deputy chairman in the state legislative council and an Uddhav loyalist, said Smita Thackeray is an "independent personality and who she chooses to meet is her prerogative." 
Gorhe, however, added a note of caution, saying, "She [Smita] should remember that she is Balasaheb's daughter-in-law and act accordingly."
---
Also Read: 'Rotten leaves always fall' — Uddhav accuses Shinde of 'demon-like ambition' in Saamana interview
---
Once a power centre
Smita Thackeray used to work as a receptionist at a private company before her 1987 marriage to Jaidev made her the woman holding the reins of the Thackeray household, and a socialite part of Mumbai's flashy film circles.
She emerged as an important voice in Matoshree, the Thackeray residence, after Balasaheb lost his wife, Meenatai Thackeray, in 1995, and his oldest son, Bindumadhav, in an accident in 1996. Smita was known for calling civil servants directly, requesting particular files, and accompanying her father-in-law to meet visitors at Matoshree in the morning.
This is also the period when Smita made a reputation for herself as a socialite and forayed into the world of films, producing her first movie, 'Haseena Maan Jayegi', with financial backing from diamond merchant Bharat Shah.
She now runs a production firm, Rahul Productions, as well as a non-government organisation, Mukkti Foundation, and describes herself as a social worker.
While Jaidev moved out of Matoshree in the late 1990s owing to increasing differences with Smita, she continued to live on the first floor of the Thackeray residence until her divorce was finalised in 2004.
Her clout in Matoshree, it is said, was inversely proportional to that of Uddhav Thackeray's. 
"Smita Thackeray's clout in the Thackeray family's political decisions declined significantly as Uddhavsaheb, initially said to be reserved and reticent by nature, started handling things for Balasaheb from the forefront," a Shiv Sena functionary from the Uddhav camp told ThePrint on condition of anonymity.
The Shiv Sena founder eventually named Uddhav as his successor in 2003.
In political shadows
Smita Thackeray's discord with the Uddhav-led Sena first came to the fore in 2009 when, in an interview with the Times of India, she spoke about joining the Congress, calling herself a "big admirer of Sonia Gandhi and Rahul Gandhi".
Smita said that, over the years, "certain elements in the household, who shall remain unnamed for the present", tried to marginalise her and dent her identity as a social activist and film producer.
She even claimed that Bal Thackeray had promised her a Rajya Sabha seat, but the party nominated senior journalist Bharat Kumar Raut instead.
The above-mentioned Shiv Sena functionary said that there hasn't been much kinship between Smita Thackeray and Uddhav Thackeray's families, except for when Uddhav and Rashmi Thackeray attended the wedding of Smita's son, Rahul, in 2015. 
As for Smita Thackeray, she never joined the Congress, and gradually faded from Maharashtra's political memory, until Tuesday.
(Edited by Amrtansh Arora)
---
Also Read: Sea link to coastal road—Mumbai's relationship with its sea is changing
---