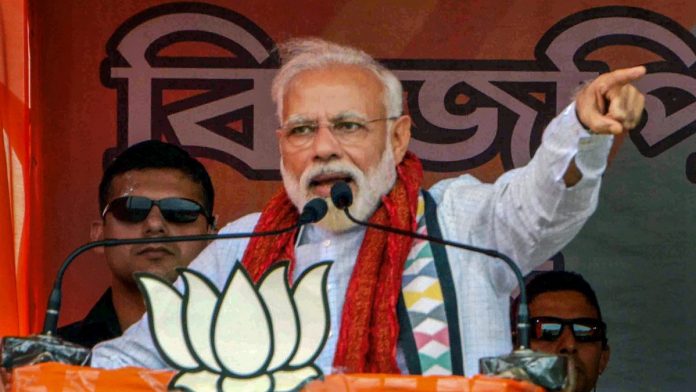 Text Size:
Ahmedabad: The Bharatiya Janata Party (BJP) is not only dominating the billboard space across Gujarat but it has also nearly completely monopolised electronic and digital content in the state.
According to data shared by the chief electoral officer (CEO), Gujarat, as of 22 April, the BJP accounted for 88 per cent of the political advertisements put out on television, radio and social media, among others, in Gujarat.
The media certification and monitoring committee (MCMC) in the CEO office approves any political content that goes in any electronic form. As of 22 April, it received applications for 200 advertisements — 173 from the BJP and 27 from Congress.
It approved 127 advertisements — 112 of the BJP and 15 belonging to the Congress.
The advertising spree has led to speculation that the BJP may be nervous in what is Prime Minister Narendra Modi's home state.
"The BJP is a party of publicity and PM Modi has been working as the prachar (broadcast) minister. The PM has officially spent crores on advertisements," said Manish Doshi, the Gujarat Congress spokesperson. "If the Modi government had worked in these five years, it wouldn't have had to waste money on advertisements."
Bharat Pandya, the Gujarat BJP spokesperson, said his party concentrates on a positive campaign in its advertisements. "The Congress works on a negative campaign. It never gets official permission because its content is such," Pandya told ThePrint. "They always concentrate on a negative campaign that's why their numbers might be down. We concentrate on a positive campaign."
---
Also read: Modi & Shah have turned India into 'Jingostan' & are out to conquer the paranoid country
---
Modi all the way
Across cities in Gujarat, all posters and other publicity material also carry only Modi's image with the message of Apki Baar Phir Modi Sarkar. The party's strategy appears to revolve around offsetting the anger, particularly among farmers and traders, against the Gujarat government headed by Chief Minister Vijay Rupani.
The Lok Sabha elections also come on the back of the 2017 assembly polls when the BJP faced stiff competition from the Congress. The BJP's tally dipped below 100 despite the Modi factor with the Congress gaining ground as it won its highest number of seats in two decades.
The BJP is once again banking on Brand Modi to get at least 20 of the 26 Lok Sabha seats in the state. In the 2014 Lok Sabha elections, the BJP had won all 26 seats in Gujarat. Gujarat votes in a single-phase on 23 April.
The copy has been updated with the response of Bharat Pandya, the Gujarat BJP spokesperson.
Get the PrintEssential to make sense of the day's key developments