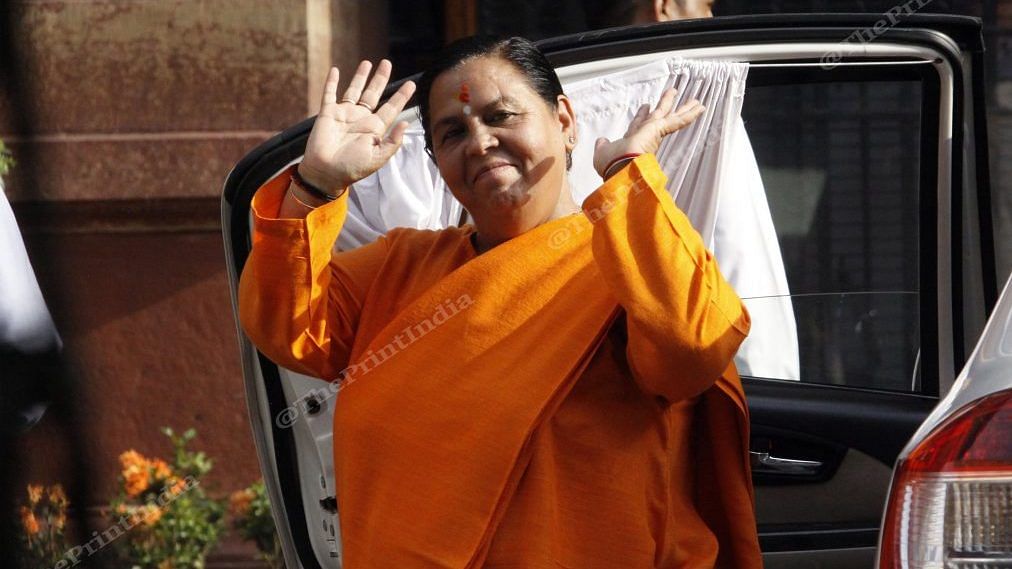 New Delhi: Senior BJP leader and former chief minister of Madhya Pradesh Uma Bharti has expressed discontent over the cabinet expansion of the Shivraj Singh Chouhan-led government Thursday, ThePrint has learnt.
According to sources in the BJP, Bharti is angry for not being consulted, for sidelining BJP's core workers and over "uneven" caste representation in the expansion.
"She has conveyed her reservation over the cabinet expansion to the BJP high command through text messages," said a party source.
Sources also said Bharti, who was in Lucknow earlier in the day in connection with the hearing of the Babri Masjid demolition case, sent text messages to Union Home Minister Amit Shah, party's MP in-charge Vinay Sahasrabuddhe, national president J.P. Nadda before the expansion, urging them to ensure equal representation of caste in the expansion.
After the expansion, the MP cabinet now has 9 Rajput ministers in total — Govind Singh Rajput, Bijendra Pratap Singh, Praduman Tomar, Usha Thakur, O.P.S. Bhadoria, Rajyavardhan Singh, Inder Singh Parmar, Arvind Vadodara and Mahendra Singh Sisodia.
One of her close aides told ThePrint she is, however, happy that MLAs Omprakash Saklecha and Mohan Yadav have been inducted as they are "deserving".
In the cabinet expansion, 28 new ministers — 20 with cabinet rank and eight ministers of state — took oath at Raj Bhavan in Bhopal. BJP leader and former Congressman Jyotiraditya Scindia had his way as he managed to get 12 of his loyalists to become part of the cabinet.
---
Also read: In Covid crisis, Madhya Pradesh deserves better than a CM acting as health minister
---
'Resentment can damage BJP's prospects'
Besides Bharti, another BJP MLA and former minister in the Shivraj cabinet expressed resentment over the expansion.
Four-term MLA Harishankar Khatik told ThePrint, "We also deserve to be inducted in the cabinet. Earlier, I served as a minister. We know the government has been formed due to Scindia's exit (from the Congress) and it should be honoured, but the party also has to decide how they will accommodate BJP workers who have been in the party since the beginning."
A party leader, who didn't want to be named, told ThePrint several former state ministers who have not been inducted in the cabinet are angry.
"There resentment can damage BJP's prospects in the bypoll if corrective decisions are not taken soon," he added.
Senior BJP leaders and former state ministers Gaurishankar Bisen, Rajendra Shukla and Sanjay Pathak have not been included in the cabinet.
---
Also read: This is why Shivraj Chouhan is struggling to expand cabinet despite nod from BJP and RSS
---