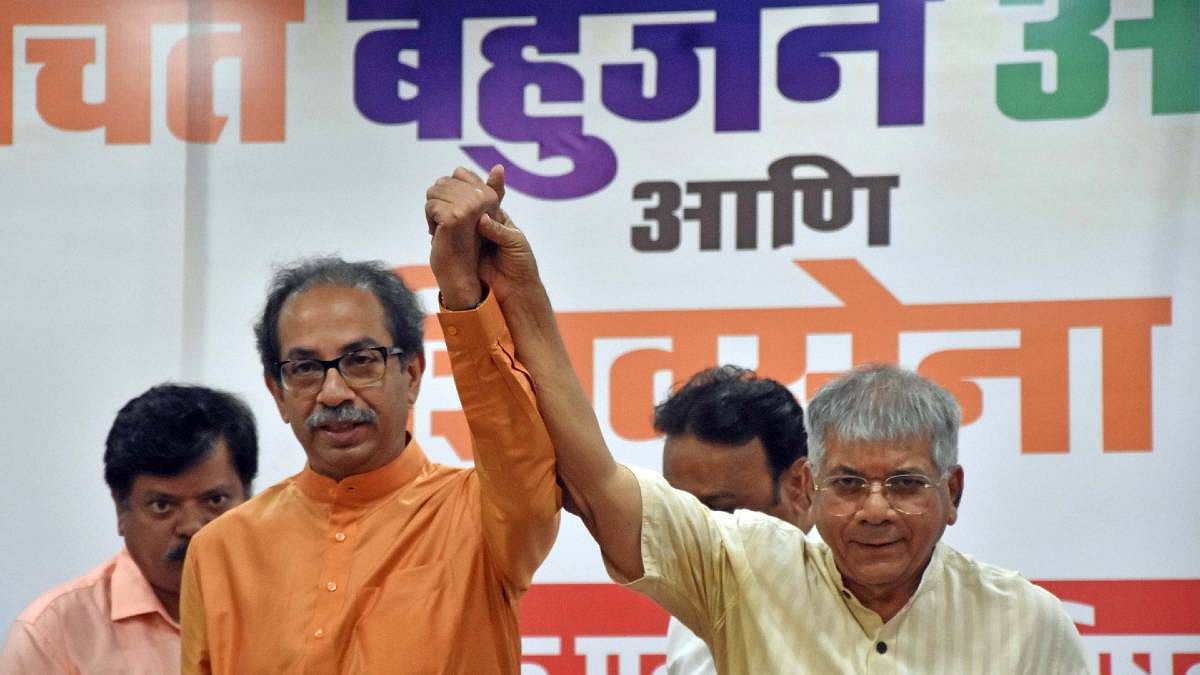 Mumbai: In a significant move, the Uddhav Thackeray-led Shiv Sena Uddhav Balasaheb Thackeray party, or Shiv Sena (UBT) announced an alliance with the Prakash Ambedkar-led Vanchit Bahujan Aghadi (VBA) Monday. The alliance comes ahead of upcoming civic body elections in many parts of Maharashtra, including the Brihanmumbai Municipal corporation (BMC) polls which are expected to be held this year.
While the Shiv Sena (UBT)'s Maha Vikas Aghadi allies — the Congress and the Nationalist Congress Party (NCP) — have welcomed the announcement, it is not yet clear how the VBA will be accommodated within the MVA.
Addressing a joint press conference with Ambedkar, Uddhav Thackeray said, "Today is 23rd January, the birth anniversary of Balasaheb Thackeray. I am satisfied and happy that several people of Maharashtra wanted us to come together and I am here to announce an alliance with Prakash Ambedkar. (Prabodhankar) Thackeray (my grandfather) and Ambedkar (Babasaheb) have a history and our grandfathers were colleagues who fought against social issues at that time." Prakash is the grandson of B.R. Ambedkar, a national leader and dalit icon, who headed the committee which drafted the Indian Constitution.
Talking about the alliance, Prakash Ambedkar said, "As of now only two of us are together. Congress hasn't accepted the alliance yet. But I hope they will come on board and everyone knows my relationship with Sharad Pawar (NCP chief). My differences with him are based on direction and leadership. It is not personal. But I am hopeful NCP will also form an alliance."
To this, Thackeray added, "Even our relation with Congress and NCP was known. But three years ago we came close and formed MVA. I have spoken to Congress and NCP too. I don't think they have any issues with you (Ambedkar). Congress, NCP, Shiv Sena we all have political friends and we should come together." Shiv Sena under Uddhav Thackeray has had differences with the Congress and NCP in the past, while being an ally of the BJP.
When NCP chief Sharad Pawar was asked about the possibility of a Shiv Sena (UBT) and VBA alliance Sunday, he had said, "I am not aware of any development. And I don't even get involved in these things."
When ThePrint spoke with Congress and NCP leaders Monday, however, they welcomed the decision.
The Bhim Shakti-Shiv Shakti experiment (an alliance of the Shiv Sena and dalit leaders) was done by the Uddhav Thackeray-led Shiv Sena in 2012 ahead of the then BMC elections, when it tied up with dalit rights activist Ramdas Athawale's Republican Party of India (A). However, with Athawale now with the BJP, Thackeray is attempting another Bhim Shakti-Shiv Shakti front with the VBA alliance, to draw dalit votes.
---
Also read: 'Unfair', says Sudhir Tambe after Congress suspends him over Maharashtra MLC polls embarrassment
---
Importance of Vanchit Bahujan Aghadi
The tie-up with VBA could revive the fortunes of Uddhav's party, especially in Vidarbha where Ambedkar's VBA has a strong presence, after the split in the Shiv Sena, following the Eknath Shinde-led rebellion which led to the formation of the Balasahebanchi Shiv Sena party last year.
The VBA contested the 2019 Lok Sabha election in alliance with the Asaduddin Owaisi-led All India Majlis-e-Ittehadul Muslimeen (AIMIM). Although it didn't win a single seat, the VBA garnered 14 per cent of the total votes polled in the state, and reportedly dented the Congress's prospects in at least seven seats.
While the VBA's performance in the Maharashtra assembly election later that year was also lacklustre, the Congress blamed the party for its losses in at least 25 seats.
Talking about the Shiv Sena (UBT)-VBA alliance Monday, Atul Londhe, Congress spokesperson for Maharashtra, said, "We welcome all such parties who believe in Constitution and believes that democracy is in danger. And formula of seat sharing for elections will be discussed later on. BJP got more numbers throughout the country because of division of votes and if anyone wants to avoid that division, it is a welcome step."
NCP national spokesperson Clyde Crasto added: "It is a good sign, and like-minded people should always come together and fight the divisive forces so it's a very welcome sign. If he has joined Sena, he becomes a part of MVA as Shiv Sena (UBT) is an integral part of MVA. As a supporter and ally of Shiv Sena, he becomes a part of MVA. And more like minded people should come together."
On differences between the NCP and Ambedkar, Crasto said, "In politics nobody is a permanent friend or an enemy. And any friend of Shiv Sena is a friend of ours. So MVA will welcome it and when the time comes for seat sharing, it will happen when the actual process starts. So decision will be taken accordingly that time."
Thackeray also said that the seat sharing formula will be discussed later. "Once we decide on who will contest from where, we will discuss seat sharing. You saw how we recently adjusted in the upcoming MLC elections (to be held later this month). Similarly, I expect there will be understanding going forward."
(Edited by Poulomi Banerjee)
---
Also read: How PM's Mumbai visit sets agenda for Shinde's Sena — 'we are all Modi's men'
---