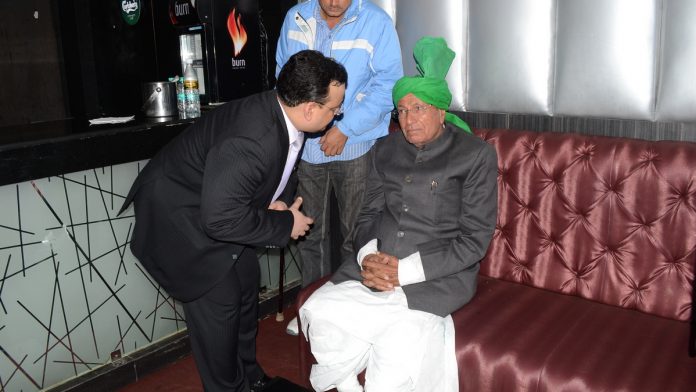 Text Size:
INLD patriarch Chautala has spent nearly half his 10-year jail term in hospital or on parole, busy running his party like always.
New Delhi: People go to jail and their life comes to a standstill.
But not if you are Om Prakash Chautala, former chief minister of Haryana and son of the late Devi Lal, former deputy prime minister of India, and arguably Haryana's tallest Jat leader after Sir Chhotu Ram.
In 2013, Chautala and his son Ajay Singh were among 55 people convicted by a trial court in a corruption case, with the Chautalas getting 10-year jail terms.
But Chautala senior has since spent as much time out of Delhi's Tihar Jail as inside, and his grip over the family-run political enterprise, the Indian National Lok Dal, has remained vice-like.
Like almost all other politicians, Chautala seemed to develop serious ailments as soon as he was sent to jail, and has spent long, comfortable stints in five-star hospitals. He has also found time to pass class XII, and attend the marriage of at least one grandson.
Spent half his sentence outside jail
Between 19 January 2013 and 6 February 2017, Chautala was out of jail and at one hospital or the other for a total of 523 days.
Last year, the Delhi government went to court, seeking a recall of the order of the DG, Prisons, granting three-week parole to Chautala, on the grounds that while he had been granted parole for health reasons, he was busy attending political meetings.
At a hearing in the Delhi High Court, the state's counsel Rahul Mehra told the court: "If the period of 76 days during which the petitioner had been on parole were to be included, the same would add up to 599 days out of the approximately 1190 days from the date of his conviction."
Chautala had sought to be released on parole on the strange grounds "for self treatment as the applicant is suffering different types of old age deceases (sic) since long time".
However, his application was rejected after an adverse CBI report, which stated that while he had earlier been granted bail, he had misused it by "attending public meetings in various districts of Haryana". Chautala's interim bail was cancelled for the same reason in 2014.
This finds mention in the stinging order passed by Justice Vipin Sanghi of the Delhi High Court on 1 March last year.
---
Also read: Haryana has a flashback as OP Chautala's sons fight it out over father's legacy
---
Political involvement
It doesn't matter whether he's been inside Tihar Jail or outside it, Chautala has continued to be involved in virtually every political decision, big or small, that his party has made since 2013. He has personified the cliché that he doesn't need to go to the party. The party comes to him.
In June-July 2013, Chautala was recovering at Gurgaon's Medanta hospital after heart surgery. Leaders of almost every party paid him a visit — after all, in the Jat-dominated politics of Haryana, one can never afford to discount the Chautala clan.
While he was supposedly languishing in jail, the INLD formalised an alliance with Mayawati's Bahujan Samaj Party for the 2019 Lok Sabha elections. Last month, he even addressed a rally at Gohana near Sonepat, where he made the grand announcement that Mayawati would be India's next prime minister.
Incidentally, it was the same rally where party workers owing allegiance to Ajay Singh Chautala and his son Dushyant, the INLD MP from Hisar, raised slogans against Ajay's brother and the party's acting president Abhay Chautala.
This resulted in the eventual expulsion of Dushyant and his younger brother Digvijay from the party — with the decision taken by the patriarch himself. Nobody, not even his own flesh and blood, could take him on and hope to get away with it.
Like several previous instances, punishment for Ajay and his family has been swift. For a man once accepted as the heir apparent to the Chautala legacy, Ajay and his family are now forced to fight for a piece of the pie, having been politically ostracised by Chautala.
For those who have observed Chautala since he began stepping out of his father's looming shadow though, none of this comes as a surprise.
---
Also read: Family feud in INLD takes a dire turn, OP Chautala expels grandsons Dushyant and Digvijay
---
'Dangerous side'
Even if you happen to be Devi Lal's son, you have to sideline others who also lay claim to the family legacy. This Chautala did by ensuring that his two brothers, Ranjit and Pratap, were eased out — first from the family home, and then from the party.
While both estranged brothers remained active politicians, they could never assume the mantle of being Devi Lal's sons.
Before he was accepted as heir by his father, Chautala did show his colourful — some would say, dangerous and allegedly criminal — side to the public. In his earlier days, he was even reported to have smuggled watches. But these minor hiccups didn't stop his ascent to power.
On the way came Meham, from where he — as the Janata Dal candidate — contested a by-election to the Haryana assembly in 1990. His supporters' attempt to allegedly capture booths was resisted, leading to shooting, leaving eight voters dead.
As chief minister between 1999 and 2005, Chautala ran the government like a dictator — his cabinet colleagues just a minor sideshow in the family drama. There is an old story of how his sons went after the party MLA from Meham, Balbir Singh alias Bali Pahalwan, just because he had publicly contested the chief minister's claims about development works in his constituency.
Officers used to be in terror when summoned to the chief minister's official residence in Chandigarh — you could never be certain when you would be shown the door.
The Chautala of 2018 may be old and in jail, but isn't ready to cede control of his party yet, even to his elder son and his family. And, if he has to use excuses to remain out of jail — addressing rallies or holding confabulations with his trusted party leaders — he won't allow legal niceties to confine him to his cell in Tihar. He will find a way to spend time out of jail.
Get the PrintEssential to make sense of the day's key developments