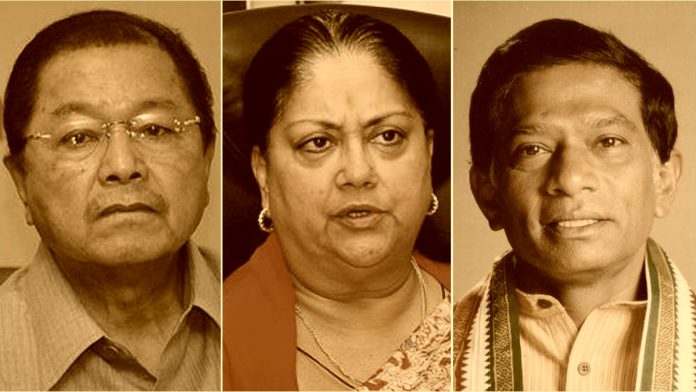 Text Size:
Two-time BJP chief minister of Rajasthan Vasundhara Raje, Mizoram's Congress stalwart Lal Thanhawla and former Chhattisgarh CM Ajit Jogi will be a worried lot.
New Delhi: Besides giving a verdict on political parties, Tuesday's assembly election results also spell disaster for some stalwarts across party lines, who will now face more than just an uphill task in the revival of their political careers.
These senior leaders had a lot riding on these elections, enough at stake for a dismal performance to send them danger signals about the political path ahead for them.
Senior BJP leader of Rajasthan and two-time Chief Minister Vasundhara Raje, Mizoram's Congress stalwart and five-time Chief Minister Lal Thanhawla and former Chhattisgarh CM and head of the newly founded Janta Congress Chhattisgarh (J) Ajit Jogi will be a worried lot.
Add to this mix, Telugu Desam Party (TDP) chief and Andhra Pradesh Chief Minister Chandrababu Naidu who put significant weight behind the Prajakutami — an alliance of parties in Telangana — but failed to create any impact whatsoever.
The 'maharani'
For Raje — known as the maharani in Rajasthan — this had always been a tough election. The dismal reverses faced by the BJP in bypolls in the state early this year were enough indication of things to come. The party's dipping fortunes were attributed to her massive unpopularity — a fact that is likely to affect her future in politics as well.
While the BJP may not have been wiped out in the state unlike Chhattisgarh, two factors set her apart from Chhattisgarh CM Raman Singh.
One, the relatively better performance of the party in Rajasthan is being attributed to a last-minute and frenzied push by Prime Minister Narendra Modi. Singh is not considered as unpopular and disliked as Raje is in her state. This, despite him having served three straight terms as CM as against Raje's one term. Two, Raje has a difficult, and even hostile equation with the party's central leadership, and the inability to deliver a state to the party thus makes her even more vulnerable.
---
Also read: Jilted by Congress, Rajasthan 'royals' are grabbed by aggressive Vasundhara Raje
---
The stalwart in northeast
Thanhawla is part of the older generation of Congress leaders in the northeast, much like former Assam CM Tarun Gogoi, who are in their political decline with the party's near-invisibility in the region.
Mizoram was a crucial election for the Congress — given it was the only state in the northeast in its kitty — and under Thanhawla, the party fell to just around five of the 40 seats in this election. But most devastatingly, the five-time CM lost both the seats he contested in the state.
For the 76-year-old leader, his politics has remained confined to this one state and how he picks up the pieces will determine his political future, given the Congress isn't quite in a position nationally to be able to rehabilitate its senior leaders.
Jogi — the X-factor
Ajit Jogi, former CM of Chhattisgarh, had a point to prove. He wanted to be the X-factor in this election, teach the Congress a lesson and remain relevant in the state's politics. Jogi was expelled by the Congress two years ago and this was a crucial election for him to show he matters.
Jogi managed to unnerve the Congress for a bit by bringing Mayawati's BSP on board to contest in an alliance with his new party — the Janta Congress Chhattisgarh (J) — hoping to play kingmaker in case of a close contest, or at least dash the Congress' hopes of coming to power.
The results, however, have come as a shock for not just the BJP, but also Jogi, with the Congress managing a clean sweep in the state — rendering Jogi, BSP and all others irrelevant for the moment.
---
Also read: BJP banking on one leader to win Chhattisgarh — it's actually Ajit Jogi
---
A question mark on Naidu's national ambitions
While the results in Telangana aren't as damaging for TDP chief Naidu, considering this isn't his core area, they do dampen the immediate political prospects for him.
The Andhra Pradesh chief minister walked out of the BJP-led NDA, sulking over his state not being granted a special status. Since then, Naidu has been at the forefront of trying to forge a grand alliance at the national level to beat the Modi-led BJP in 2019.
In fact, Telangana for him was a mini experiment of sort, as he put significant effort in the alliance — Prajakutami — with arch-rival Congress and others to take on the ruling Telangana Rashtriya Samithi and be seen as an important player in the national scene.
However, the TRS has swept the polls, and as per trends, the TDP seems to be leading in just two seats, down from the 15 it had in the 119-member assembly.
Separate fact from fiction, the real from the fake going viral on social media, on HoaXposed .