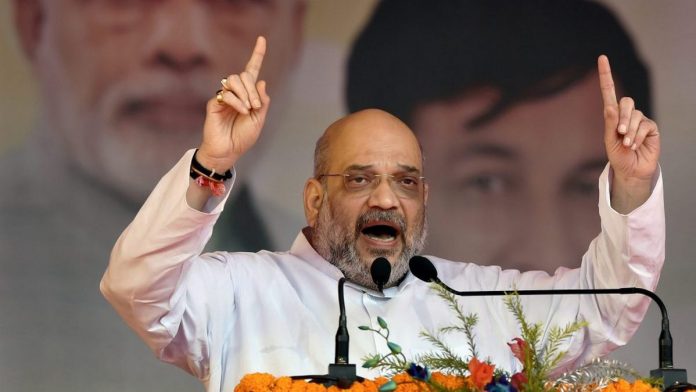 Text Size:
BJP chief Amit Shah's latest temple taunt in Telangana is emblematic of his speeches at rallies, which are belligerent, communal and not really truthful.
New Delhi: As the election season heats up, audacious statements, incendiary claims and brazen disregard for civility have become the defining aspects of Bharatiya Janata Party (BJP) president Amit Shah's public speeches.
But watch him on television interviews and he is a different man — the same Shah adopts a far more restrained, calm and reasonable approach.
"Shah knows what helps whip up sentiments, and most importantly, the best platform for doing so," said a BJP leader who did not wish to be identified.
"He uses all his emotive, provocative statements during public rallies — especially since Modi as Prime Minister has to be relatively more measured. This helps to mobilise our vote-bank and also energise our cadre."
Shah, sources in the party admit, knows what he says during rallies "helps dominate the social media and news space and galvanise the BJP's core vote base".
He may be the president of India's ruling party but that barely stops him from garnishing his aggressive political speeches with provocative and controversial comments, which more often than not revolve around religion.
"The Congress party in its manifesto promised to provide free electricity to masjids and churches but not for the temples," Shah declared in Telangana Sunday. "Quota for Urdu teachers will be decided as well. Both TRS and Congress are engaged in minority appeasement."
The statement, clearly aimed at whipping up sentiments to suit BJP's brand of Hindutva, majoritarian politics, was not just blatantly provocative, but also incorrect. In its manifesto, the Congress has said that "free power supply will be given to all temples, mosques, churches and other places of worship".
The Telangana speech is typical of Shah — belligerent, with no qualms of taking the political discourse to an uncomfortable low with a singular focus on getting his party extra votes. His speeches across platforms in the last year alone bear witness to that.
---
Also read: It makes good politics for Amit Shah to defy Supreme Court on Sabarimala, Ayodhya and NRC
---
Driving out Bangladeshi infiltrators — a new pet theme
His biggest obsession in this area has been the National Register of Citizens (NRC) in Assam that is currently being updated to identify those who allegedly illegally migrated from Bangladesh after March 1971.
Shah has indiscriminately used the contentious word ghuspaithiye (infiltrators).
Notwithstanding that this is a Supreme Court-monitored exercise and that neither the court nor the government has discussed the what-next of those left out of the NRC list, Shah has not hesitated in declaring that each infiltrator will be identified and thrown out.
"These crores of illegal immigrants are like termites and they are eating the grain that should go to our poor and they are taking our jobs," Shah said at a rally in Delhi this September. "They carry out blasts in our country and so many of our people die."
Addressing a rally in Ratlam early October, he once again called them termites, drawing much flak.
In Rajasthan's Nagaur towards the end of November, Shah once again brought-up his oft-repeated threat. "Kashmir se Kanyakumari, Kolkata se Kutch, ek ek ghuspethiye ko chun chun kar desh se bahar nikal denge (From Kashmir to Kanyakumari, Kolkata to Gujarat, we will identify each illegal immigrant and throw them out)," he said.
The BJP president also makes it a point to use the NRC reference along with his party's commitment to protecting Hindu immigrants, ensuring that the religious divide is clearly communicated.
"BJP is committed to providing citizenship to the Hindu, Buddhist and Christian refugees from Pakistan, Afghanistan and Bangladesh through Citizenship Amendment Bill 2016," Shah said at a rally in West Bengal in August. "Instead of spreading falsehood, Congress and TMC must clarify whether they will support this Bill."
"Shouldn't Bangladeshi immigrants be thrown out?" he dramatically asked the crowds at the same rally.
Political analyst Rasheed Kidwai reasons that Shah and the BJP constantly keep "pushing the boundaries".
"In a way, success defines quite a lot of things. There is a tendency for the successful to get away with what they say," said Kidwai, visiting fellow at Observer Research Foundation.
"The BJP has for a while been changing the line between what is normal and what is not, it has been pushing the boundaries. And what Shah says is also part of this."
Kidwai added that the BJP's success is due to its audience as "we have a tendency to believe the worst about the other community".
"Besides, Rahul Gandhi's Congress does not have roots in society, making it easier for BJP to get away with what it says," Kidwai said.
Picking emotive issues
Shah believes in fomenting passions through evocative issues, never quite leaving an opportunity to do so.
His take on the Sabarimala controversy, following the Supreme Court's decision to allow women of all ages to enter the temple, had been reckless and bordering on the inflammatory.
"We (the BJP) will uproot this government if it continues arresting people who protested the Supreme Court verdict (on women's entry into the Sabarimala)," he said at gathering in Kannur in Kerala.
Shah promised "rock-solid support" to those protesting against the SC order, and said governments and courts should "give orders that can be implemented".
In the run-up to the Karnataka polls earlier this year, Shah brought in his favourite reference — Pakistan — combining it with Tipu Sultan, the former Mysore ruler.
"The Congress and Pakistan have amazing telepathy. Yesterday, the Pakistan government remembered Tipu Sultan, whose jayanti (birth anniversary) the Congress marks with fanfare and today Mr Mani Shankar Aiyar admires Jinnah," he tweeted. "Be it Gujarat or Karnataka polls, I fail to understand why Congress involves Pakistan."
Shah had been slamming the Congress government in Karnataka for celebrating Tipu Sultan Jayanti on 10 November. The saffron camp refers to Tipu Sultan as a ruler who was 'anti-Hindu'.
"They (Congress) don't do anything, but just Tipu Sultan, Tipu Sultan, Tipu Sultan. Now they are even talking about celebrating Bahmani Samrajya (the Bahmani Sultanate)," Shah said at another rally in Karnataka. "I don't know what has happened to them. They don't see anything else."
In the 2017 Gujarat assembly polls, it was Prime Minister Narendra Modi who led the charge, holding rallies extensively across the state and designing the campaign around him. Shah, however, is hardly one to let an opportunity go unused.
"Now fact has emerged that former Prime Minister Manmohan Singh, former vice president Hamid Ansari along with Aiyar had met the Pakistani high commissioner for over three hours without the knowledge of the external affairs ministry," he said, during a press conference in early December last year. "I cannot comprehend the reason for such a meeting."
Apoorvanand, political commentator and a professor of Hindi in Delhi University, suggests that this is part of the BJP strategy where the Prime Minister maintains a "dignified silence" till he is in an election rally while Shah has no such inhibitions.
"For the last four years or so, Amit Shah has constantly raised emotive issues. He does this not just in rallies but also in smaller meetings," Apoorvanand said. "As the president of the ruling party, this is not just irresponsible of him, but it is criminal."
The 'minority appeasement' card
Accusing opposition parties, especially the Congress, of 'minority appeasement' is another favourite theme.
"You don't worry. Even if KCR, Congress, TDP, communists, all of them come together, I guarantee till the BJP government is at the Centre, religion-based reservation will not be given," he said at a rally in November end in Telangana.
He was referring to Telangana Chief Minister K. Chandrashekhar Rao-led government's move to increase reservations for backward sections among Muslims to 12 per cent.
During a speech at Madhya Pradesh's Balaghat on 23 November, Shah alleged that "infiltrators kept entering the country during Congress rule as the party saw them as a vote-bank."
"When BJP brought NRC and identified 40 lakh infiltrators, the Congress got furious," he said. "They started worrying more about the human rights of infiltrators than of the country's citizens."
---
Also read: Amit Shah's 'ghuspethiye' word not covered under UN definitions of refugees or migrants
---
A no-holds-barred attack on rivals
The BJP president also never holds back from attacking the opposition.
"The Congress party that is more concerned about one family than the country, and is ashamed of chanting Bharat mata ki jai, has no right to ask for votes," Shah said in Rajasthan's Jalore last week.
The Congress in Rajasthan filed a complaint with the Election Commission against Shah for violating the model code of conduct by making provocative statements against his opponents during a rally in Bikaner.
According to Congress spokesperson Sushil Sharma, Shah asked people to "hold opposition leaders by their collar" when they visit their seeking votes.
Recently, while addressing party workers in Jaipur, Shah took a jibe at Gandhi, with a condescending reference to him as babua (child).
In perhaps one of his most coarse attack on the opposition in recent times, Shah chose to draw an analogy with various animals to talk about the attempts to build a grand coalition against Prime Minister Narendra Modi.
"The countdown for 2019 (polls) has begun. Attempts are being made for Opposition unity. When huge floods occur, everything is washed away," Shah said on the BJP's foundation day in April at a rally in Mumbai.
"Only a banyan tree survives and snakes, mongoose, dogs, cats and other animals climb out to save themselves from the rising waters. Due to the Modi flood, all cats, dogs, snakes and mongoose are getting together to contest polls."
Although he later clarified that he had only implied parties with different ideologies were coming together, the damage had already been done.
With an evident disregard for any semblance of political correctness or an interest in attempting to make responsible statements, Shah's speeches are only likely to become more acerbic and rash as the all-important Lok Sabha polls draw closer.
For ThePrint's smart analysis of how the rest of the media is doing its job, no holds barred, go to PluggedIn