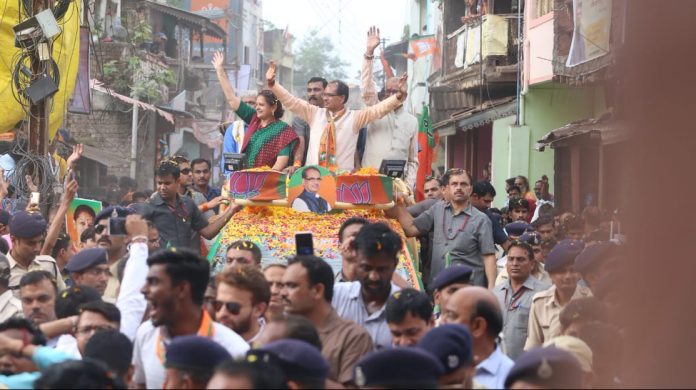 Text Size:
During a ride in his rath, Chouhan tells ThePrint he's confident his welfare schemes will make him CM yet again, dismisses impact of farmers' unrest.
Khandwa/Burhanpur: Madhya Pradesh chief minister Shivraj Singh Chouhan has dismissed the Congress party's promise to open a gaushala (cow shelter) in every gram panchayat in the state, saying the people know what the opposition party did in the past.
"You (Congress leaders) go to temples… you talk about cow shelters… But people are not stupid. What did you do in the past 50 years?" Chouhan said in an interview to ThePrint, rejecting the opposition party's gambit to play "soft Hindutva" in the coming elections.
He also didn't see any threat from a potential Congress-Bahujan Samaj Party alliance.
"You may have any alliance but you can't succeed if you don't have the support of the people. We will emerge victorious," he said.
---
Also read: Competitive cow politics in Madhya Pradesh as Congress looks to dethrone BJP
---
Ahead of the assembly elections set to be held in November-December, the chief minister has been touring the state in his rath — a specially designed bus fitted with a hydraulic lift, toilet facilities, a living room, et al — as part of his 'Janashirwad Yatra'.
His wife, Sadhna, travels with him, and has been drawing a good response, especially from women. Back in the rath, she is a caring wife, ensuring that Chouhan eats on time; giving poha, pakora, jalebi and water to other occupants of the rath; and instructing securitymen and close aides to "watch" whenever the chief minister comes to the bus door and the crowd surges towards him.
A bevy of populist schemes
ThePrint caught up with Chouhan in his rath between Burhanpur, about 330 km south of Bhopal, and Khandwa, better known as the birthplace of legendary singer Kishore Kumar. In between public addresses and interactions with crowds at different places, he fielded questions about how he was preparing to beat anti-incumbency the third time in a row.
The chief minister said the BJP has more public support in Madhya Pradesh today than it did in 2008 or 2013, thanks to his pro-poor welfare schemes. His government's development schemes have "transformed the lives of the people" and there is no anti-incumbency, he said.
The BJP had won 165 seats in the 230-member assembly in the 2013 elections and Chouhan expects a better tally this time by capitalising on his cradle-to-grave populist schemes which, the BJP believes, have got at least one beneficiary in every household.
He particularly mentioned the Sambal Yojana, under which all poor and below-poverty-line people have to pay a flat power tariff of Rs 200 per month. About 2 crore of the 5 crore voters in the state have already registered under this scheme in the first two months. The scheme also entails waiving all outstanding power bills — worth around Rs 5,200 crore — and withdrawal of all cases of theft and illegal connections.
"Shivraj will pay all your electricity bills," the chief minister said, speaking from atop his rath at Asirgarh.
Watching the swelling crowds outside, Sadhna shouted with joy: "Look, laadli ladki aa gayi." She pointed to young women who could have been the beneficiaries of another scheme — Laadli Lakshmi Yojana — entailing cash incentives to girls from birth up to 21 years of age.
There are 173 welfare schemes running in the state today, a senior BJP leader travelling with the CM chipped in. Some of the government's recently launched schemes include
Rs 12,000 for childbirth in a poor family and Rs 5,000 for the last rites of a poor person.
Farmers' unrest and other protests
Asked how the farmers' unrest would affect the BJP's prospects, Chouhan was dismissive, saying he drew a great response from people when he visited Pipliya Mandi in Mandsaur, the epicentre of the agitations in which six farmers were killed in police firing last year. "Farmers are with me," he said.
The chief minister sought to downplay protests by organisations proclaiming to represent upper castes, against the Centre's act of getting parliamentary approval of the amendment to SC/ST (Prevention of Atrocities) Act in July to restore the provisions that had been diluted by the Supreme Court.
These organisations are also targeting Chouhan's government for appealing against the Jabalpur High Court's 2016 ruling against reservation in promotions.
"Samajik samarasta hamaara mool mantra hai (Social harmony is our basic principle). We believe in sabka saath, sabka vikas," said Chouhan.
As his rath moved on, loud songs continued to blare at the public meeting at Asirgarh: "Onkara…Onkara… aage badhe Shivraj hamaara."
A poster at the venue with Chouhan's picture summed up his campaign theme, "62 saal banaam 10 saal (62 years versus 10 years)".
---
Also read: Shivraj Singh Chouhan to Kamal Nath: Everyone has a son ready in Madhya Pradesh politics
---
For the record, Chouhan has been in the hot seat since November 2005, the BJP has been ruling the state uninterrupted since 2003, while the Congress has been in power in the state for a cumulative total of about 40 years.
Get the PrintEssential to make sense of the day's key developments