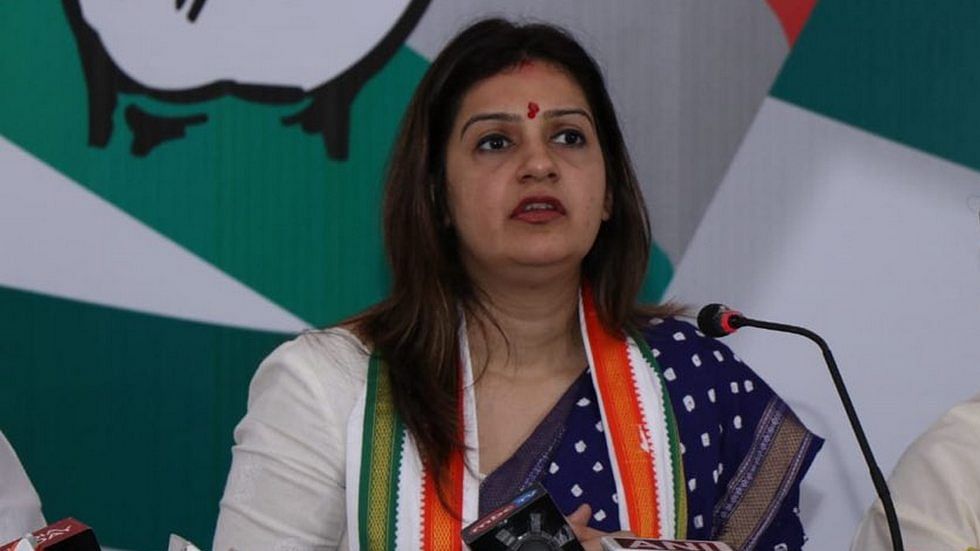 Mumbai: Priyanka Chaturvedi, former Congress national spokesperson who joined the Shiv Sena last month, said the national narrative of the Sena being a misogynist, nativist and non-liberal political party needs to be broken, and that is what she feels she's best suited to do in the party.
In an interview with ThePrint, Chaturvedi said she identifies with everything that the party has been standing for recently, such as a ban on plastic, keeping shops and establishments open in Mumbai all night, training women in self-defence and speaking up for their safety and hygiene.
"Asking for Mumbai to be open all night long, is that a nativist tendency? Teaching women self-defence so that they feel absolutely safe in whichever environment they travel, whatever hour they travel at and whatever they choose to wear, would you call that a nativist ideology or would you call that a liberal progressive ideology?" asked Chaturvedi.
"Giving women who go to municipal schools sanitary napkins so that they do not have to compromise on their health and hygiene. Would you call that a nativist tendency?" she added.
"This entire perception that has been built around the national narrative of the Shiv Sena has to be broken and that is what I think I would be best suited to do and is a purpose that is close to my heart," said Chaturvedi, who fiercely criticised the Shiv Sena in the past as a Congress spokesperson.
"The misunderstood Shiv Sena needs to be reworked. I think they are doing a phenomenal job that needs to be told to the country," she added.
The former Congress spokesperson said changes within political systems are important and it is about matching up to what the society expects from its political leadership and representation.
Chaturvedi added that she was amused when someone described the Shiv Sena as a misogynist party and whether she would be safe in such a party.
"I would challenge these people to show me one instance where the Shiv Sena has not worked towards empowering women."
---
Also read: Burqa controversy shows Shiv Sena mouthpiece Saamana not always Uddhav Thackeray's voice
---
'Painting Shiv Sena as anti-North Indians is unfortunate'
Mumbai-based Chaturvedi, whose family is originally from Uttar Pradesh, said it has been more than a decade since the Shiv Sena voiced an anti-north Indian stance in Mumbai.
"We continue to harp about the north Indian stance, but we forget, it was a decade plus ago when the entire issue happened under a Congress government. It hasn't happened since then. Painting the Shiv Sena from that point of view is again, extremely unfortunate," said Chaturvedi, who still has strong ties to her home state.
She added that the liberals who attack the Shiv Sena saying it is anti-north Indians forget that the same Raj Thackeray of the Maharashtra Navnirman Sena (MNS), who is being celebrated as a hero right now for speaking out against those in power, was until recently at the forefront of lashing out against north Indians.
"If you look at the Congress' manifesto in Madhya Pradesh, it talks about 80 per cent jobs for locals… Even in Karnataka, the Congress-Janata Dal (Secular) alliance says the same thing," she said.
"What is a local resident of a state? It is who wholeheartedly accepts the state for whatever it has given to them while they have been contributing," Chaturvedi said.
'Congress is a closed chapter in my life'
Chaturvedi, who unexpectedly quit the Congress last month, said she did so as she could not "compromise with her self-respect" and that her party could not stand by her despite the fact that she defended it every day, listening to people's abuses.
The former party spokesperson was a constant Congress voice on most national television debates. She resigned from the party in April after it reinstated some Mathura-based party workers who were suspended for allegedly misbehaving with her.
"I went public only when I tried all channels within the party to ensure that those people were not brought back. And the harassment continued. Not just with me but with my family members," said Chaturvedi.
"I thought that if the party felt they were more relevant to the organisation and there was no space for a woman who was defending them day in day out on all issues possible, being out there, listening to people's abuses, across the board, if the party could not stand by me I thought it was something I could not compromise on and that is my priority," Chaturvedi told ThePrint.
She added that there is no point in talking about women empowerment and their emancipation if women continue to face abuses within the party.
"It is a closed chapter in my life and I have moved on."
---
Also read: BJP, Shiv Sena are losing sleep over Raj Thackeray though he's not contesting this election
---