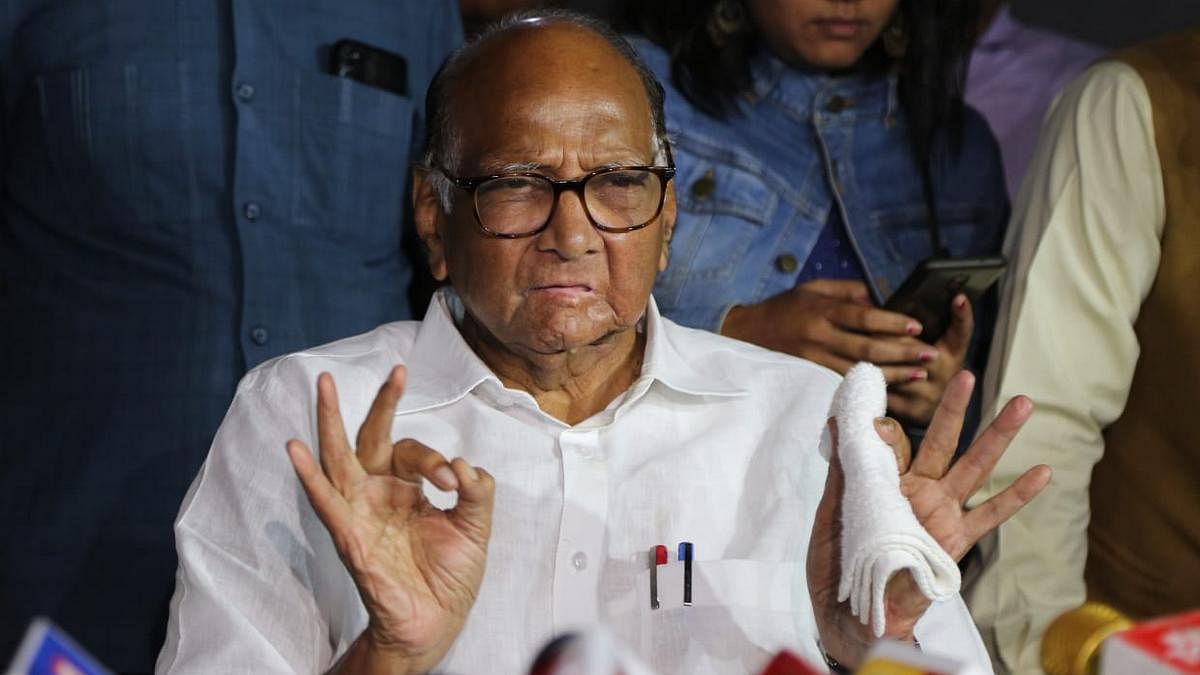 Mumbai: Nationalist Congress Party (NCP) chief Sharad Pawar seems to be driving the Uddhav Thackeray-led Maha Vikas Aghadi (MVA) government in Maharashtra amid the coronavirus crisis.
Be it guiding civil servants and the chief minister, or approaching the central government for assistance, Pawar has been taking the lead in steering the state's response to the pandemic, with Uddhav, an administrative greenhorn, largely following the lead of his veteran alliance partner.
Maharashtra is governed by a tripartite alliance involving the Shiv Sena, the NCP and the Congress.
Six months into his maiden tenure as chief minister, Thackeray finds himself grappling with an unprecedented crisis in light of the Covid-19 pandemic. 
Despite being under a lockdown, Maharashtra has recorded the highest number of coronavirus cases among all states. As of Monday, Maharashtra had registered 50,231 Covid-19 cases (14,600 cured/discharged, 1,635 deaths), which is 36 per cent of India's total. Of this, 30,542 cases have been reported from financial capital Mumbai alone.
Amid this crisis, the Shiv Sena says Pawar's guidance is an asset, adding that the party does not see his involvement as interference.
---
Also Read: Uddhav Thackeray has failed to handle Covid crisis. Bring in Army to save Mumbai
---
A guiding light
Pawar's lead role in Maharashtra's Covid-19 response has been quite evident.
On Monday morning, Maharashtra Governor Bhagat Singh Koshyari, who has been putting pressure on the chief minister to tackle the Covid-19 situation better, invited Pawar to Raj Bhavan for a meeting. 
This was seen as crucial as the governor has been independently monitoring the pandemic situation in the state, and has been unhappy with the state's response to the pandemic, said sources in the MVA.
Koshyari had earlier invited Thackeray, last week, but the chief minister sent his PA to the meeting instead.  
Over the past few weeks, Pawar has held regular meetings with Thackeray, and also been an active participant in the Covid-19 briefings by the state's civil servants. 
Last week, Pawar held two meetings with Thackeray in a span of four days – on 19 May and 23 May, at the state government guest house Sahyadri at Malabar Hill and the old Mayor's bungalow at Dadar, respectively. They also met on 15 May, and held multiple virtual meetings earlier. 
At last week's meetings, Pawar emphasised the need for ministers to start functioning from Mantralaya to instil confidence in the public, MVA sources said. 
Mantralaya is serving as the Maharashtra Covid-19 control room, but most activity is driven by the state's civil servants, with ministers tuning in virtually. 
Only a handful of ministers are currently present in Mumbai, with the majority operating from their home constituencies. As cases rise in Mumbai, which may continue to be in the red zone for an extended period, even the ministers who are in the city have seemed unwilling to move out of their bungalows. 
Thackeray has largely been functioning from Matoshree, his Bandra residence, stirring out rarely for inspections, and only a few of his ministers have been seen moving around and physically monitoring the situation. 
Pawar, it is learnt, has told the chief minister that the image of ministers attending work at the government headquarters will instil confidence in the public. 
Multiple MVA sources said Pawar is also keen that the chief minister himself start working from his office at Mantralaya.
Pawar, the sources added, has also been trying to convince Thackeray to ease the lockdown with a phase-wise exit plan. According to sources, Pawar has told Thackeray that an indefinite lockdown will cause the public's patience to wear thin, and turn them against the government.
Speaking to ThePrint, a principal secretary said it was "not easy for a virtual government to function". 
"When we are taking a risk and coming to Mantralaya, it is also the duty and responsibility of the ministers to be present in person. In a pandemic, the government cannot be run in a virtual setting," the principal secretary added. 
A second senior civil servant said "Maharashtra cannot run on video meetings".
"First, these ministers fought to be in the cabinet. Then they fought over cabinet berths. Now, when there is a pandemic, at a scale we have never seen before, these ministers are working from home," the civil servant added.  
---
Also Read: Come to your balcony today, wear black, slam Uddhav — BJP gives 'bartan bajaao' political twist
---
Presenting the state's case
However, it's not solely an advisory role that Pawar is playing.
After a meeting with Thackeray on 15 May, Pawar visited the newly constructed Covid-19 centre at the Mumbai Metropolitan Regional Development Authority (MMRDA) Ground in the Bandra-Kurla Complex, and inspected the quarantine facility and makeshift hospital built by the civic agency. 
The leader has also been holding regular FacebookLive interactions with the public on issues relating to agriculture, education, and industries, and the challenges being faced during the lockdown. 
He regularly tweets on various challenges relating to the lockdown too. Earlier this month, after the central government gave its go-ahead for special Shramik Express trains to ferry stranded migrant labourers home, he requested the Prime Minister's Office (PMO) on Twitter to look into some states' refusal to let the workers return.
I humbly request our @PMOIndia Shri. Narendra Modi ji to intervene in this matter by talking to the CMs of the respective states who are not allowing these people to come back home.

— Sharad Pawar (@PawarSpeaks) May 9, 2020
On 15 May, he tweeted that he had written to the PMO, seeking his "urgent intervention to bail out #sugar industry from crisis aggravated exponentially by unprecedented nationwide lockdown in the wake of pandemic #Covid-19". 
Raised concerns through letter to Hon. @PMOIndia and requested his urgent intervention to bail out #sugar industry from crisis aggravated exponentially by unprecedented nationwide lockdown in the wake of pandemic #COVIDー19 pic.twitter.com/73MYTSt5l5

— Sharad Pawar (@PawarSpeaks) May 15, 2020
On 26 April, he wrote to PM Narendra Modi and Union Finance Minister Nirmala Sitharaman suggesting a generous financial package for Maharashtra as it deals with the economic hit of the Covid-19 pandemic. 
"So far, Mumbai is the hardest hit city in the Covid-19 outbreak and the prolonged lockdown conditions. It has severely impacted the economy of Maharashtra and may have detrimental consequences on the Indian economy if not addressed urgently," he wrote in a letter that was released to the media. 
Last week, he participated in the virtual conference of opposition leaders convened by Congress interim president Sonia Gandhi.
'Valuable guidance'
The Shiv Sena doesn't seem miffed by Pawar's initiative, and appears to have taken note of his guidance. 
In his weekly column in Saamana, the Shiv Sena mouthpiece, this Sunday, Rajya Sabha MP Sanjay Raut issued a veiled warning to ministers who have kept away from Mantralaya. Raut said many ministers may lose their jobs if they do not start working from Mantralaya. 
Speaking to ThePrint, senior Shiv Sena leaders said they didn't see Pawar's role as interference, adding that his experience is valuable as it gives the government direction at a difficult time. 
Senior Shiv Sena leader and MLC Dr Neelam Gorhe said Pawar's interactions with the chief minister and the ministers were "constructive dialogue for the government". 
"Basically, the Shiv Sena has very cordial relations with Pawar saheb. His experience is valuable to the government," she added. 
Another Shiv Sena leader said his active interactions with the civil servants keep them on their toes since the "bureaucracy respects Pawar". 
"The bureaucracy is not helping the government. They are divided among themselves and are engaged in ego tussles. Now, they have fallen in line," said the senior leader.
---
Also Read: Sharad Pawar shows why he is the shrewd fox of Indian politics
---