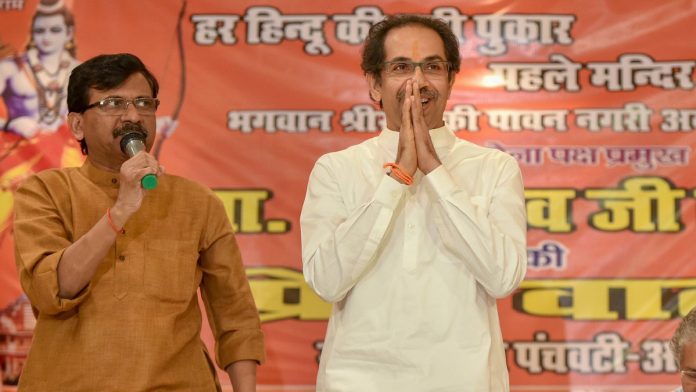 Text Size:
PM Modi will visit Solapur Wednesday to launch development projects, Sena chief Uddhav Thackeray will head to Beed & Jalna to highlight farm distress.
Mumbai: With less than four months to go for the Lok Sabha elections, bitter allies Bharatiya Janata Party (BJP) and Shiv Sena are set to begin their respective poll campaigns in Maharashtra as talks of an alliance for the polls continue to be in limbo.
Prime Minister Narendra Modi will visit Solapur Wednesday for the groundbreaking ceremonies of a few projects and hold a public meeting in the district, which is located in western Maharashtra.
The same day, Sena chief Uddhav Thackeray will visit the Beed and Jalna districts of the drought-hit Marathwada region of Maharashtra and hold a public meeting in Beed.
The two events are being seen as the poll campaign launches of the two parties in the state.
---
Also read: Mumbai to Ayodhya, Shiv Sena re-connects with its hardline Hindutva past via Delhi
---
Focus of the visits
On his first visit to the Solapur district since August 2014, Modi is scheduled to launch at least six development projects.
These include four-laning of the Solapur-Osmanabad section of a national highway, three sewage treatment plants, an underground sewage system, improvement in water supply and others.
Most of these projects fall under Modi's Smart Cities and AMRUT (Atal Mission for Rejuvenation and Urban Transformation) schemes.
The Prime Minister will also lay the foundation stone for 30,000 houses, primarily for beedi and textile workers, under the Pradhan Mantri Awas Yojana. He will address a public gathering in Solapur.
Thackeray, meanwhile, will visit four places in the Beed and Jalna districts to meet farmers and distribute animal fodder and food grains. Sena leaders said their chief will speak to farmers to enquire about the government's drought relief measures and also take stock of the implementation of the farm loan waiver.
Thackeray will address a public meeting in Beed at noon.
Leaders from both parties claim that the two events were planned independently of each other and the two leaders addressing public meetings on the same day is a complete coincidence.
The PM's visit is aimed at inaugurating development projects, as in the case of Kalyan and Pune last month, and not "political propaganda", said a Maharashtra BJP functionary.
A senior Shiv Sena MLA, however, said the coinciding visits could mean political dividends for the Thackeray-led party.
"While the Prime Minister launches big-ticket projects and indulges in his party's propaganda, our party chief will be seen interacting with drought-hit farmers and giving them aid," said the MLA, who did not wish to be named.
---
Also read: Shiv Sena chief Uddhav Thackeray lauds voters for courage to reject 'those not wanted'
---
Alliance talks
Formally, the Shiv Sena has maintained that it passed an official resolution to contest all elections on its own strength and plans to follow through with it for the Lok Sabha and Maharashtra assembly elections.
Until now, the BJP was constantly making overtures to the Shiv Sena indicating its willingness for an alliance.
Union Minister Prakash Javadekar and Maharashtra revenue minister Chandrakant Patil are even believed to have met senior Shiv Sena leader Subhash Desai, also a minister in the Devendra Fadnavis-led Maharashtra government, a few times for informal talks.
Shiv Sena leaders, however, deny there have been any talks.
Relations between the two parties have been further strained after Shah's recent statement in Latur that the BJP will batter allies if there's no alliance, and Fadnavis' remarks that BJP workers should aim for at least 40 of the 48 Lok Sabha seats from Maharashtra.
The Shiv Sena retorted by saying that the BJP wants to have an alliance with the electronic voting machines to be able to show that confidence. Sena MP Sanjay Raut also slammed the BJP, and compared it to a "stalking roadside Romeo".
"Both parties are now trying to consolidate their vote-banks with the alliance talks seemingly going nowhere. This tussle will continue as the BJP seems keener on having a pact for the Lok Sabha polls, while the Shiv Sena [is] more interested in ensuring an upper hand in the state assembly polls," said political commentator Prakash Bal.
Read Global Pulse for a sampler of the big international stories, and why they matter.