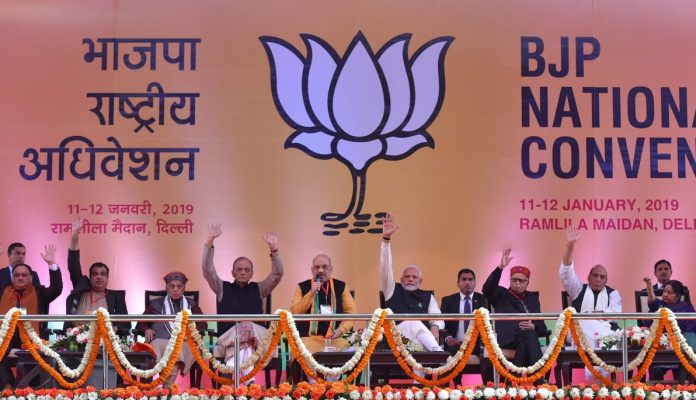 Text Size:
BJP national convention saw top party leaders evoking the temple issue, and hitting out at Congress for 'creating hurdles'.
New Delhi: The Bharatiya Janata Party (BJP) kept the Ram Mandir out of its political resolution – its last and most important document outlining its commitment ahead of the coming Lok Sabha polls – which was released Saturday at the party's two-day national convention.
Even as top party leaders and several ministers, including party chief Amit Shah, evoked the issue, there was no mention of it in the resolution.
On Friday, Shah had accused the Congress of stalling court proceedings in the Ram Mandir case.
"The BJP wants the Ram mandir to be built at the same spot at the soonest. We are committed to it. It is the Congress that is causing hurdles in the process. But we are trying to expedite the case which is currently in the Supreme Court," he had said.
His remarks had evoked a frenzied response from the crowd gathered.
Countering the opposition
A lot of space in the resolution has been taken up by the party trying to counter the opposition attack on it over the economy and sluggish growth in various industries.
The resolution compares the UPA era with that of the NDA in terms of GDP, economic growth, inflation and employment generation.
On Saturday, the BJP claimed that the Congress left a legacy of crumbling economy which posed a challenge before the government to streamline it.
The BJP maintained that demonetisation had helped curb terrorism. It also said that the Supreme Court verdict giving the government a clean chit on the Rafale fighter jet deal was a befitting reply to the Congress' "lies" on the issue of national security.
Gadkari assures SC/ST/OBCs
Recalling the first day of Prime Minister Narendra Modi in Parliament, Union Minister Nitin Gaddari said, "He said I am dedicating this government to poor. I would invite intellectuals, economists and media to audit what we did for poor and downtrodden."
In the resolution, the BJP credits itself on providing 10 per cent reservation for the economically weaker sections among the upper castes.
The party alleged there was a malicious campaign by the Congress to instil fear among SC/STs and OBCs over the reservation issue.
"We have not touched SC/ST and OBC reservation, yet managed to take care of the poor by deciding to provide 10 per cent reservation," the Union minister said, adding that politics of the 21st century was the "politics of development".
Triple talaq also finds a mention in the political resolution.
"Muslim women were facing injustice, which was backed by so-called 'progressive' people… it was stopped by BJP," Gadkari said.
Read Global Pulse for a sampler of the big international stories, and why they matter.