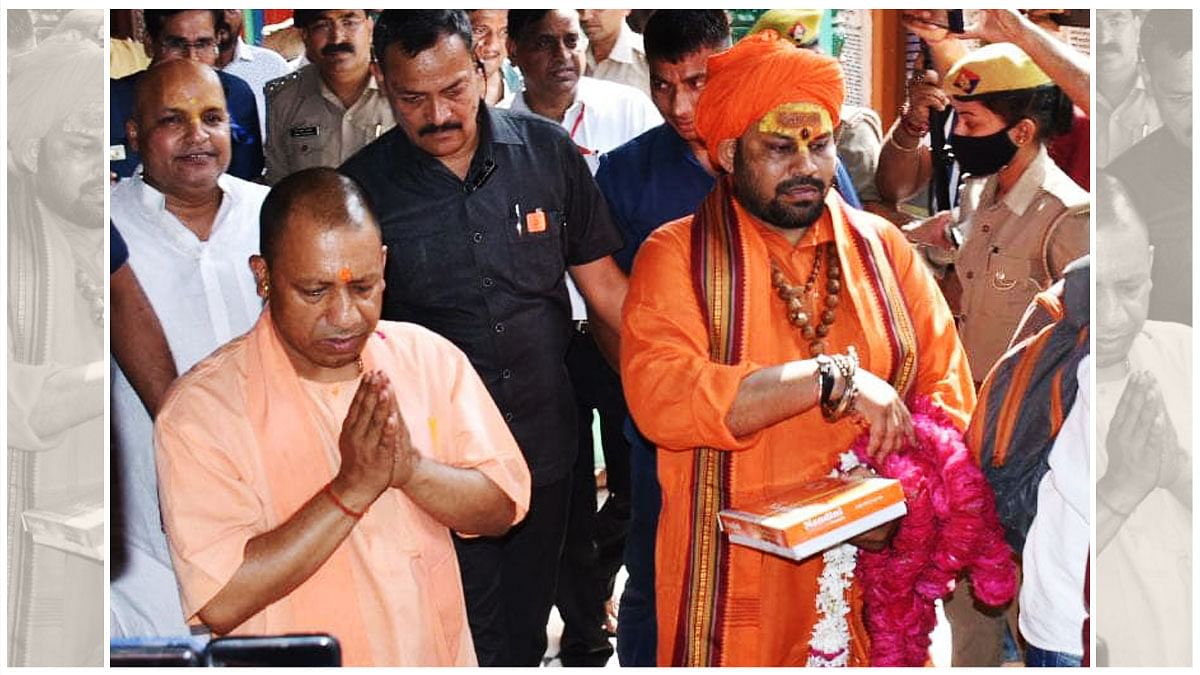 Lucknow: A self-styled priest from Ayodhya who's previously been linked to many a controversy has announced a cash reward for anyone who "beheads" Congress leader Salman Khurshid, after the latter's remarks that included a mention of Hindu god Ram landed him in the crosshairs of Hindutva outfits. 
On Tuesday, a video of Raju Das, in which he declared a reward of Rs 21 crore for the head of the former Union minister, went viral. Asking why Khurshid did not compare Rahul with the Prophet, Das claimed that had the Congress leader done that, the people of his own community would have beheaded him. 
Amid the backlash, Khurshid has claimed that he never said "Rahul Gandhi is Ram", but that he "is walking on the path of Ram".
Raju Das, who was formerly associated with the student wing of the Rashtriya Swayamsevak Sangh (RSS), was in the news recently for his call to burn down theatres screening Shah Rukh Khan-starrer Pathaan.
In July, the priest had openly threatened filmmaker Leena Manimekalai over the poster of her movie Kaali. He had even announced a cash prize of Rs 11 lakh in September to anyone who sets afire a rape accused in Jharkhand's Dumka.
Raju Das is a disciple of Mahant Ram Das, one of the mahants of the four 'pattis' (schools) of priests who look after Ayodhya's Hanuman Garhi temple in turns. At present, the temple's main presiding priest is Sant Prem Das of the Sagriya patti. Raju Das is the mahant of the Ujjainiya patti.   
Raju Das arrived in Ayodhya at a very young age, practiced asceticism and became a disciple of Sant Ram Das, said Sumit Tiwari, district president (youth) of the Chanakya Parishad — an Ayodhya-based outfit that claims to work for Brahmins.  
"He has completed his BA, MA and LLB from the KS Saket post graduate college. He was associated with the Akhil Bharatiya Vidyarthi Parishad (RSS student wing) since his student days. He continues to be active in politics since early 2000s and visits all programmes of the community wherever he gets invited," Tiwari told ThePrint. 
In May, Raju Das, as head of Hindu Suraksha Seva Trust, said the outfit's aim is to protect and save the Hindu religion.
He even has political ambitions. Ahead of the 2017 municipal polls in Uttar Pradesh, Raju Das featured in the list of 12 probable mayoral candidates of the BJP in Ayodhya.  
ThePrint reached out to the self-styled priest via calls and messages seeking comment, but did not receive a response. This report will be updated when a response is received. 
---
Also Read: Nawabs' nemesis, SP's Muslim face & 'sexist' — Azam Khan's political rollercoaster ride
---
'Yeh bhagoda hai'
When the BJP declared Rishikesh Upadhyay (the current mayor) as its candidate for the 2017 polls, a miffed Raju Das joined the Shiv Sena. However, the Sena's UP unit claimed that despite being given a poll ticket, he backstabbed to join the ruling BJP. 
"When the BJP denied him a ticket, he reached out to us at 1.30 am and sought a ticket. We obliged. He took the Shiv Sena membership but backstabbed us. Within days, pictures of Raju Das sitting at the feet of the UP CM went viral. Yeh bhagoda hai (he is a runaway). I am yet to get his resignation and officially, he continues to be a Shiv Sainik. He has no character. How can someone who is not faithful to the party be faithful to the religion?" Shiv Sena (Uddhav Balasaheb Thackeray) state unit secretary Vishvajeet Singh told ThePrint.  
ABVP's Ayodhya unit organisation secretary Aman Mishra told ThePrint that Raju Das was an ABVP worker in his student days and runs the Hindu Suraksha Seva Trust outfit.  
In Ayodhya and on social media, posters of Raju Das identifying himself as the 'bhavi pratyashi' (future candidate) for the post of Ayodhya mayor have gone viral. But the Uttar Pradesh government has reserved the seat for a female candidate.  
"The seat was reserved but he (Raju Das) had been posing as a potential candidate. However, the high court has asked the government to go ahead with the polls without the OBC reservation and so the situation is unclear. But we are of the opinion that female reservation will remain. In that case, a male candidate cannot fight the polls from the seat," BJP's Ayodhya Mahanagar president Abhishek Mishra told ThePrint.  
---
Also Read: Savarkar never offered a clear definition of Project Hindutva. A new book shows that again
---
Active on social media  
While the Sena claims Raju Das is its member, a look at his profile on social media leaves no room for doubt regarding where his allegiance lies. 
On his Facebook and Instagram accounts, Raju Das had uploaded pictures with UP BJP general secretary (organisation) Dharampal Singh, UP Deputy Chief Minister Brajesh Pathak and his Maharashtra counterpart Devendra Fadnavis, Maharashtra Navnirman Sena chief Raj Thackeray as well as several UP BJP leaders. 
In one of his Facebook posts, Raju Das mentions how the opposition to the Agnipath scheme is the opposition to the Agniveers of the future who "will be ready to fight them" (a purported reference to Muslims). 
In another post, he expresses regret that over 30 Muslim candidates won in the UP polls. "CM Yogi Adityanath ji maharaj saved Uttar Pradesh from becoming Pakistan but it is unfortunate and I am ashamed of those who helped them (Muslim candidates) win," he said in a post on 12 March, sharing the list of the victorious Muslim candidates. 
In December 2019, Raju Das announced that anyone who murders a rapist will be rewarded with Rs 1 lakh as well as assured free education if any policeman does it. These remarks were made in his assessment of ways to deal with increasing crimes against women. 
Das was also among those who had defended BJP leader Nupur Sharma when she faced flak for her remarks on Prophet Muhammad.  
(Edited by Tony Rai)
---
Also Read: 'Miracles', caste & now, crackdowns: The inside story of Christian 'conversions' in UP's Fatehpur
---