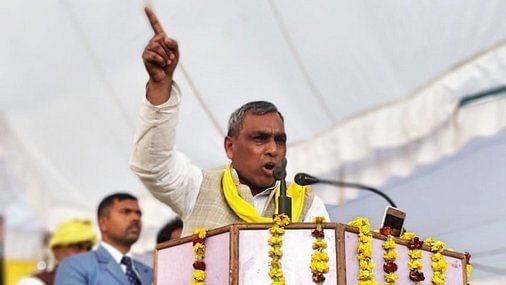 Lucknow: Om Prakash Rajbhar, chief of Suheldev Bharatiya Samaj Party (SBSP) and former minister in the Yogi Adityanath government, said his party is not going to form an alliance with the BJP for the 2022 Uttar Pradesh assembly polls.
In an interview with ThePrint, Rajbhar, who recently met UP BJP chief Swatantra Dev Singh and party vice president Dayashankar Singh in Lucknow, described the meeting as a "courtesy visit" and said he "won't rest until I have expelled the BJP from UP."
Rajbhar's remarks come days after his meeting with Swatantra Singh Tuesday triggered fresh speculations of the SBSP chief announcing an alliance with the saffron party.
"Yes, it's true that I met Swatantra Dev Singh and Dayashankar Singh but I often meet BJP and other parties' leaders. I would be contesting the assembly polls against the BJP. Dayashankar is from Ballia and I also come from the same place. I know Swatantra Dev from a long time, so it was a courtesy visit," he said.
"Swatantra is also an OBC leader. Such meetings between politicians occur often."
List of demands
Rajbhar said the BJP is not going to accept any of the demands listed by him "so there are no chances of any alliance with them."
"We are demanding an OBC chief minister. We joined the alliance in 2017 because we thought that they (BJP) would make Keshav Maurya (BJP's OBC face in UP) the chief minister but, surprisingly, they chose Yogi Adityanath. Now again they will project Adityanath as the CM face, so there is no point of any alliance with them," Rajbhar said.
The other demands listed by the SBSP chief include caste-based census, 33 per cent reservation for women in Lok Sabha, common and compulsory free education, free electricity to households, and implementation of Samajik Nyay Samiti report.
"I know this BJP government won't accept these demands," he said.
Rajbhar was sacked from the Yogi Adityanath government in 2019 after months of acrimony between the BJP and SBSP.
Doors still open for SP, BSP & Congress
Rajbhar also indicated that he was open to an alliance with the Opposition parties, adding that it's high time that the Opposition unites against the BJP. "I have opened my doors for every party but they should be ready to accept our demands if they want our support. Our party has a huge influence in east UP."
"Har kisi ko iss waqt zaroorat Rajbhar ki hai. Hum kisi bhi party ko sarkar banane se rok sakte hain, kisi ka khel bigaad sakte hain (Everyone needs Rajbhar at this time. We can stop any party from forming the government in UP, we can spoil anyone's game)," the SBSP chief said.
He claimed that besides the Rajbhar community, his party also has the support of other OBC communities like the Binds, Nishads, Mauryas, and Kushwahas, and that the SBSP has a huge influence among OBCs in Purvanchal.
"BJP can't win three seats in Varanasi without us. Similarly, Samajwadi Party can't win in Ballia or Gazipur without our support. We have an influence on more than 20 per cent votes in these districts. This is our power," he said.
Rajbhar also said that if leaders from Opposition need him, they should contact him. "If SP needs us then they should contact me. If Congress needs us then Priyanka Gandhi should meet us."
He further said his party will contest on all 403 seats alone in case it doesn't forge an alliance with any major Opposition party.
"More than half a dozen smaller parties are with us. Some more will join. I would again like to clarify that we are not going to form an alliance with the BJP. The day I left the government, I decided I would not rest until I have expelled the BJP from Uttar Pradesh," he said.
---
Also read: UP Brahmins in demand for votes. SP, BSP, Congress wooing them, BJP trying hard to keep them
---
On AIMIM's remarks
On being asked about Asaduddin Owaisi's party All India Majlis-e-Ittehadul Muslimeen's (AIMIM) objection to Rajbhar's meeting with the UP BJP chief, he said AIMIM is still a part of the Bhagidari Sankalp Morcha. "They should understand that we are not going with the BJP."
Rajbhar had recently launched Bhagidari Sankalp Morcha as a political front of small parties.
He, however, said it's the AIMIM who should make its stand clear.
"AIMIM announced that it is going to contest on 100 seats without discussing with us. So who is in a hurry? No talks happened till now about the seat distribution in our Sankalp Bhagidari Morcha. So how did they announce the number of seats they will contest? If they want to contest with us they should make their stand clear first."
---
Also read: Why BJP has to win UP by a bigger margin than it did in 2017 elections
---