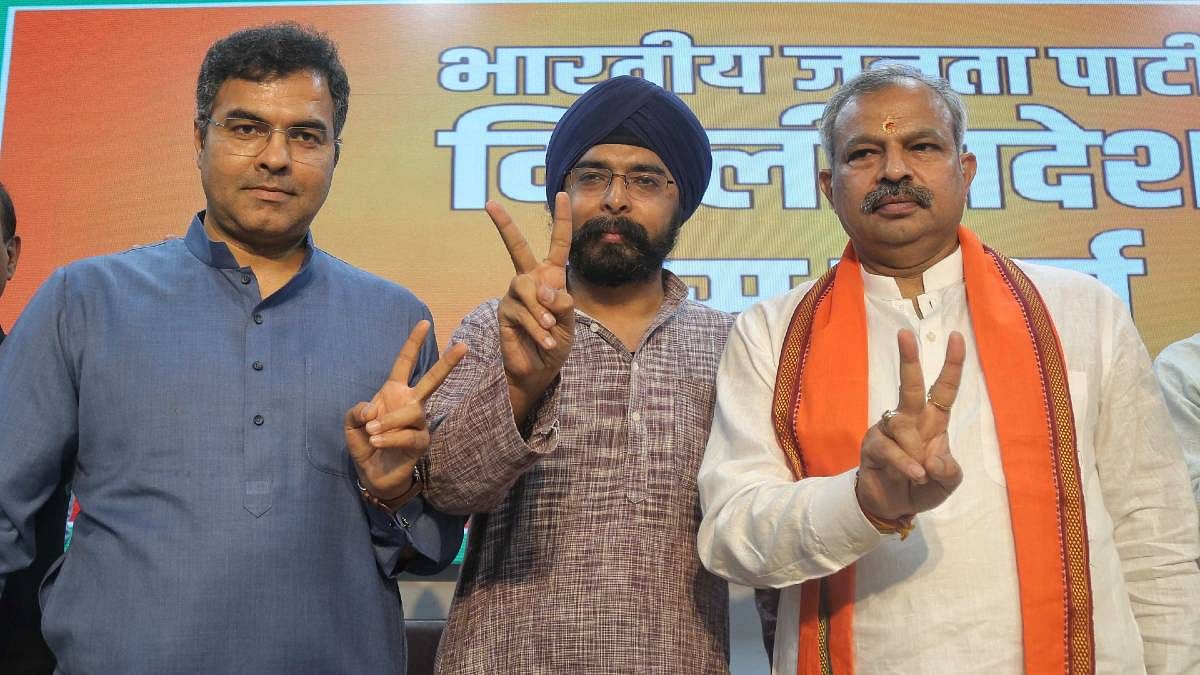 New Delhi: Terming his arrest by the Punjab Police last week "an act of kidnapping", Delhi BJP spokesperson Tajinder Pal Singh Bagga Wednesday said over 40-50 personnel came to arrest him as if he were a "terrorist".
Speaking to ThePrint, Bagga said he will also continue to raise his voice and ask "tough" questions of Delhi Chief Minister and Aam Aadmi Party convener Arvind Kejriwal, over the desecration of the Guru Granth Sahib, drug mafia and 'Khalistani separatists' in Punjab, which is now ruled by his party.
"They can continue registering FIRs against me, even if they raise 1,000 FIRs I will continue to raise my voice," said Bagga.
Bagga was given a rousing welcome at the Delhi BJP headquarters Wednesday by the party's Delhi president Adesh Gupta and West Delhi MP Parvesh Verma, after he was granted protection from arrest till 6 July by the Punjab and Haryana High Court. The case registered against him in Punjab is for allegedly making "provocative statements, promoting religious enmity, and criminal intimidation".
After the Punjab cops took Bagga away, the Delhi Police had filed an FIR against "unknown persons" for allegedly assaulting and abducting Bagga. A team from the Haryana Police then intercepted the Punjab Police team in Kurukshetra. He was finally escorted back to capital by the Delhi Police. The Delhi Police comes under the ambit of the BJP-led central government, the Punjab Police under the state's AAP government. The BJP, which rules Haryana, is also in charge of that state's police.
'Let Bhagwant Mann function independently'
Recounting his 6 May arrest by Punjab Police, Bagga said "an arrest without a warrant is kidnapping".
"Over 40-50 Punjab Police personnel came to arrest me as if I were a terrorist. I'm not scared and won't stop asking questions. Kejriwal can file a 1,000 FIRs, but I'll continue to ask questions," he said.
Last month, AAP leader Sunny Ahluwalia had filed a complaint against Bagga for allegedly making incendiary social media posts, including a "threat" against party chief and Delhi CM Arvind Kejriwal. The case was lodged at the cyber cell in Mohali (Punjab) under sections 153-A (promoting enmity between different groups), 505 (statements conducing to public mischief), 505-2 (statements creating or promoting enmity) and 506 (punishment for criminal intimidation) of the Indian Penal Code (IPC).
The Delhi BJP spokesperson said his tweet was in the context of the film The Kashmir Files, in which he had said "if Kejriwal doesn't apologise to Hindus, I won't let him be. It did not mean I wanted to kill him".
The Delhi CM had drawn criticism for his remarks against the film — based on the exodus of Kashmiri Hindus from the erstwhile state of Jammu and Kashmir in the 1990s — being made tax-free in many BJP-governed states.
When it was pointed out that there have been similar incidents of BJP-led governments taking action against people for controversial comments and tweets, Bagga defended his party. "BJP does everything under the ambit of the law," he said.
He further said that an attempt was made to arrest him by the Punjab Police, as he had questioned Kejriwal on promises made by him to act against those who dishonoured the Guru Granth Sahib in Punjab (a reference to incidences of alleged desecration), rein in the "drug mafia" in the state and "Khalistani separatists", ahead of this year's assembly elections, which AAP won by a huge margin.
"While Punjab Police was busy arresting me, terrorists were planning attacks in the state. Kejriwal thinks he's bigger than the law and B.R. Ambedkar. My advice to Kejriwal is to see sense and let Punjab CM Bhagwant Mann function independently," he said.
(Edited by Poulomi Banerjee)
---
Also read: Tajinder Bagga — Delhi BJP leader with penchant for scuffles, often dismissed as 'Twitter troll'
---