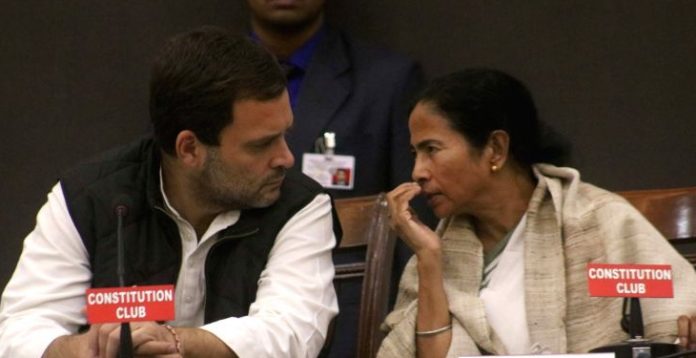 Text Size:
Rahul Gandhi won't be able to attend rally himself, but Congress leaders Mallikarjun Kharge and Abhishek Manu Singhvi will represent the party.
New Delhi: Congress president Rahul Gandhi has written a letter to West Bengal chief minister Mamata Banerjee, extending his support to "Mamata Di" for Saturday's rally of opposition parties in Kolkata.
Gandhi will not be able to attend it himself, but leader of the party in the Lok Sabha Mallikarjun Kharge and senior leader Abhishek Manu Singhvi will represent the party in the rally that is likely to be attended by a lot of non-Bharatiya Janata Party (BJP) parties.
Sources said the state unit of the Congress wanted Rahul and his mother Sonia Gandhi to skip the rally and instead send a party leader.
The leaders will attend the Brigade rally Saturday.
---
Also read: Why Mamata Banerjee's rally in Kolkata is set to be a show of opposition disunity
---
'Indians have seen through lies of Modi govt'
In his letter, Gandhi said: "The entire opposition is united in our belief that true nationalism and development can only be defended on the tested pillars of democracy, social justice and secularism, ideas that the BJP and Mr Modi are intent on destroying."
The letter added, "Across India, there are powerful forces afoot. Forces that are fanned by the anger and disappointment of hundreds of millions of Indians who have seen through the false promises and lies peddled by the Modi Government.
"These forces are moved by the hope of a new tomorrow; a tomorrow filled with the idea of an India in which the voice of every man, woman and child will be heard and respected no matter what their religion, economic status or region."
"We commend the great people of Bengal who have historically been at the forefront of defending our ideals. I extend my support to Mamata Di on this show of unity and hope that we send a powerful message of a united India together," wrote Gandhi.
Banerjee-led Trinamool Congress is organising the rally to gather support for a pan-India anti-BJP front, for which the West Bengal chief minister has been touring the country, and to put up a strong and united opposition show in the coming Lok Sabha elections against the BJP.
Get the PrintEssential to make sense of the day's key developments