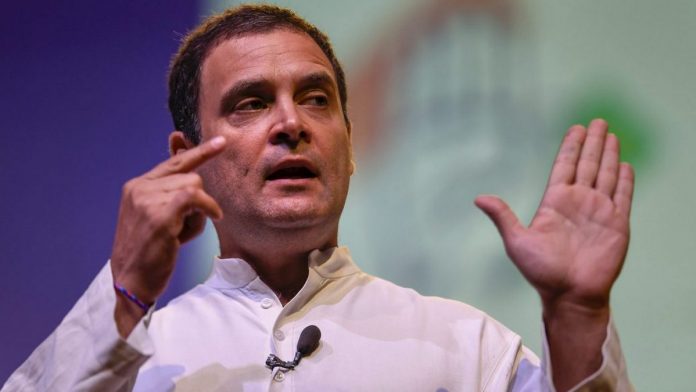 Text Size:
Rahul Gandhi also questions Nirmala Sitharaman's 'hurried' visit to France and the Dassault factory, but defence ministry says it was planned well in advance.
New Delhi: Congress president Rahul Gandhi launched another scathing attack on the BJP-led Central government and called Prime Minister Narendra Modi a "corrupt man".
Gandhi alleged that while the PM had promised to be a "gatekeeper for the country", he only turned out to be a "gatekeeper for Anil Ambani".
Gandhi raised a number of questions using an internal document on the Rafale deal which has been published by French media outlet Mediapart. The French portal claimed the document revealed that it was obligatory for Dassault to partner with Ambani's Reliance for the Rafale deal.
Sitharaman's France visit
Gandhi also questioned Defence Minister Nirmala Sitharaman's visit to France. Sitharaman left for France Wednesday night, accompanied by senior officials of the Indian Air Force and the Indian Navy. She is scheduled to visit the Dassault Aviation plant that assembles the Rafale jets, and is also likely to meet journalists in Paris Thursday.
"What was the hurry and why is the Indian Defence Minister is visiting the Dassault Aviation plant," Gandhi asked.
However, the official spokesperson for the ministry responded to the question, saying: "The visit of the defence minister was planned well in advance."
---
Also read: Rahul Gandhi wants House panel probe into Rafale deal, but history shows it's pointless
---
Dassault will do Modi govt's bidding
Gandhi dismissed the explanation offered by Dassault, alleging that the company would say whatever the Modi government asked it to because it was sitting on a huge defence contract.
He called it a clear case of corruption, and took a jibe at finance minister Arun Jaitley, saying he "literally ran away when we demanded a JPC".
He also dared the government "to investigate whatever they want to with full force" when asked about the Bofors case, in which many Congress leaders including Gandhi's late father, former PM Rajiv Gandhi, was charged.
On #MeToo
Gandhi was asked about the #MeToo campaign on social media, through which women are exposing alleged perpetrators of sexual harassment at the workplace and elsewhere.
---
Also read: Rafale row gets nasty as Rahul Gandhi calls PM Modi 'a thief'
---
There has been a growing clamour for his and the Congress party's official response on the matter. Gandhi agreed it was an important issue, and said he would hold a press conference on the matter soon.
Check out My543, our comprehensive report card of all Lok Sabha MPs.