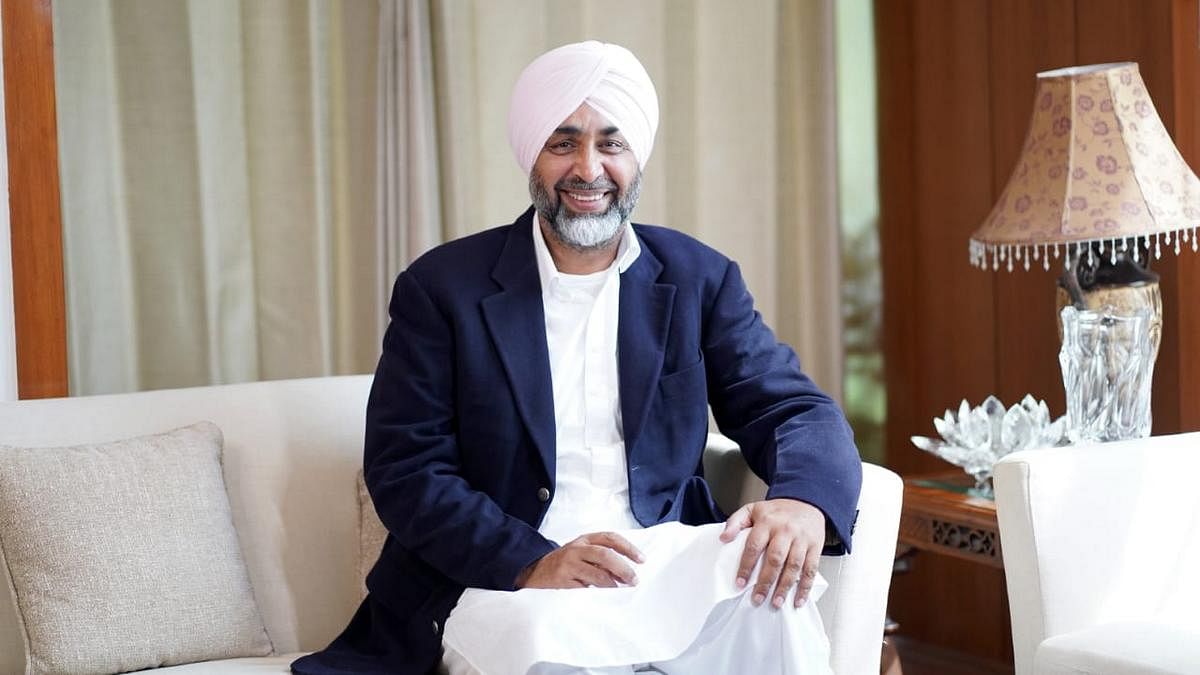 Chandigarh: Punjab's Finance Minister Manpreet Singh Badal is confident that the upcoming assembly election will usher in a "generational shift" in the state's politics. "It will be for the first time in the state's history that the forthcoming assembly elections will be dominated by leaders born in Independent India," said Manpreet talking to ThePrint Wednesday.
The change, said the Congress leader, has already begun, pointing out that Chief Minister Charanjit Singh Channi is Punjab's first CM to be born after India's independence. "The change of guard is like a breath of fresh air. It is energising and has added new vitality to the government and the party cadre. This new leadership represents the new generation, is energetic and has helped jumpstart the process," he said.
Shuttling between his demanding constituency Bathinda and his Chandigarh office where Channi wants him constantly by his side, the 57-year-old "intellectual politician" of Punjab— he is an alumnus of the elite Doon School, St. Stephen's College, and the University of London — is expecting a landslide victory for the Congress in the forthcoming elections. According to him, the talk of a four-cornered contest in the state is purely theoretical.
"For the first time in Punjab's history, there is talk of a four-cornered contest. Though from my perspective, the term 'four-cornered' is primarily theoretical. Then for the first time in decades, the Shiromani Akali Dal (SAD) and the BJP will not be contesting together. Aam Aadmi Party (AAP) does not have the temperament to run a sensitive border state with the kind of maturity needed. Their experience is more of a municipal body. They have not even given a CM face," he told ThePrint.
---
Also Read: Not royalty nor father figure — Why Punjab's 1st Dalit CM Channi is a 'refreshing change'
---
The issue of Congress infighting
ThePrint asked Manpreet whether Congress infighting over matters such as official appointments could be damaging the party ahead of polls. In September, Congress president Navjot Singh Sidhu went as far as to resign from his post over the appointment of the Punjab Advocate General (AG) and Director General of Police (DGP), until CM Channi finally capitulated to his demands earlier this month.
Manpreet told ThePrint that the issue had been sorted out satisfactorily. "The appointment of government officials such as the AG and DGP is the prerogative of the CM. The voters hold the CM and his council of ministers accountable for their actions. As CM, he represents the entire state, not just his party. Similarly, the party president appoints officials within the party. There is a consultation mechanism through which the government and the party know each other's views and accommodate each other to the extent possible. The AG issue has been resolved and I am confident that the other issues will also be resolved very soon," he said.
Different regimes, different experiences
Nephew of former chief minister Parkash Singh Badal, Manpreet was once a true blue Akali but shifted to the Congress six years ago. He was finance minister in the SAD-BJP government as well. How were the two regimes different?
"I've now been a minister for nine years and have served three CMs, in addition to serving as an MLA five times. I have presented nine budgets, which is more than any other minister in Punjab. Before me Sir Manohar Lal, as finance minister of United Punjab, presented eight budgets from 1937 to 1947," Manpreet said, adding that his experiences across regimes have been varied.
"I had a constrained first tenure. There was a generation gap between the CM (Parkash Singh Badal) and the FM, which was evident through policies, thought processes, ways of administration and governance, and pretty much everything else. Moreover, it was my first experience with the government as a minister. The second term under a different CM (Captain Amarinder Singh) has been very satisfying in terms of achievements. We managed to bring in additional resources both from the GST Council as well as the Finance Commission and our initiatives have come to fruition. Although I was often overruled, the CM listened to my viewpoints and appreciated them. Channi saab is an extremely generous person. All decisions affecting the state's finances are being announced after due consultation with the Finance Department," he said.
---
Also read: Amarinder, BJP, Congress, AAP, SAD: How farm laws' repeal could impact Punjab polls
---
Punjab's decline, and reversing it
Punjab used to be one of the most prosperous states in India, but over the last couple of decades it has witnessed downhill trends in economic as well as social indicators. How did that happen? According to Manpreet, Punjab's current problems are rooted in its fraught history.
"Yes, Punjab's tale turned tragic. I was born and raised during the glory days of Punjab, but college days were marked by the years of terrorism and militancy. I became an MLA and later a minister in the post-terrorism phase. That helps me with an overview of almost three periods in Punjab. Our state bore the brunt of five wars and conflicts — the first was in 1948 when Kashmir was invaded. Then came the wars of 1962, 1965, and 1971, which were followed by strife and conflict during the years of terrorism and militancy," Manpreet said, adding that neglect from successive Union governments exacerbated the state's issues.
"In my opinion, the Union Government did not give Punjab its due for these events. Soldiers from Punjab helped bring about the great victory in 1971, but the state bore the brunt of the losses. Punjab's exchequer bore a heavy burden. In addition, a flight of industry from Punjab occurred from 2000 onward because of incentives that were granted to hill states. This was a financial whammy," he said, adding that despite facing "some of the fiercest challenges", the state still "persists".
According to him, Punjab should also be judged for the "character" of its people.
"Punjab has played a unique role in the history of the Indian subcontinent. A role completely disproportionate to its size and population. A land is not defined by its geography or topography. It is defined by the character of its people. Innumerable cities and states lay forgotten in the annals of history but Punjab — the land of five rivers — despite facing some of the fiercest challenges known to mankind still persists. Over the centuries, Punjab has sent its finest sons in the face of great danger to protect and defend India's civilisation and culture. All that we have ever asked in return is enough space to bury those sons who could not return. Punjab is the highest decorated state for gallantry in wars fought by India, and the next state doesn't have 50 per cent of Punjab's gallantry award numbers," he said.
When asked how the state can turn its fortunes around, Manpreet said advances were already being made but that more help was needed from the Centre.
"Punjab needs to build on its existing strengths to build a prosperous future. In addition, it needs a fair share from the Central pool, which has been thwarted by the tardy implementation of GST. It requires strong partners, be they national or international, in industry and trade. The state's economy has been stabilised, and it is ready to take off. Our professionals are also being upskilled with new skills, and our people are ready for the national and international market. Punjab is ideally located for the farm-to-fork project, and the Amritsar Airport is the closest airport to European markets," he told ThePrint.
---
Also Read: From debt to unemployment, Punjab's entire economy needs reform, not just agriculture
---
A roadmap to overcome the debt challenge
Chief Minister Channi is already in election mode and is busy announcing new schemes and projects ahead of the polls. Manpreet as Finance Minister is virtually in the driver's seat, but how does he intend to work with a whopping outstanding debt of Rs 3 lakh crore, its ratio to the Gross State Domestic Product (GSDP) highest in the country?
"I'm worried about the debt position though it is well within the limits prescribed under the FRBM [Fiscal Responsibility and Budget Management] Act. And in spite of Covid hitting businesses and tax revenue, Punjab did not go into overdraft a single day. I would say we are in good fiscal health and our coffers are guarded," he told ThePrint, also outlining the "roadmap" ahead.
"For the future we need to fire multiple cylinders. The roadmap ahead calls for five interventions. First, increased investment. During our tenure, we have already attracted over a lakh crore in investment, but Punjab needs more. Second, Punjab should have a fair share of federal taxes devolved. BJP's tardy GST implementation and lack of understanding of fair share will ruin many a state. Third, we need a major infrastructure boost from the Union government. I have already shared several proposals with the Union Finance Minister. This includes creating a pharmaceutical and textile park, and enhancing road and rail connectivity that also bolsters our defences.
"Fourth, we are focussing on getting our products, particularly agri products, into European and Middle Eastern markets. The eastern states should be given priority to target East Asia and Southeast Asia, while states like Punjab should be given priority to target Western markets using Amritsar as a cargo hub. And finally, an enhanced focus on health and education. Punjab is famous for its health sector, so hopefully, we can make Punjab a wellness destination. In education we are actively engaging national and international educational players. Our province already has an IIT, an AIIMS, an ISB, and a Plaksha University, bringing expertise from UC Berkeley and Purdue to Punjab," he said.
Poetic sensibilities
Manpreet told ThePrint that the key to Punjab's success lies in its people. "The tremendous energy and talent of the people of Punjab is a flame which can be hidden but never extinguished. It is the duty of my government to reveal that phenomenal flame to the rest of the world. I'm reminded of a quote from the famous Allama Muhammad Iqbal from his Jawab-e- Shikwa. I quote in original:
Koi kàbil ho to hum shan-e-kayi dete hain;
Dhoondne waalo ko duniya bhi nayi dete hain
(If someone is worthy, I raise him to great splendour
And grant a new world to those on a quest)."
Given his impressive qualifications, including a law degree from the University of London, what other paths might Manpreet have taken had he not gone into politics? "I would have loved to take up a commission as an officer in the Indian army, which was very popular in deep rural Punjab… We pioneered citrus farming in the village Badal, and we cultivated certified organic food long before it became a buzzword. Reading poetry remains my favourite pastime. If I had not become a politician, maybe I would have occasionally donned the robes to represent Punjab," Manpreet said.
"I'm reminded of the hauntingly beautiful lines of an unknown poet from Punjab," he added. "I quote in original:
Na raha chand sitaraon ka main mohtaaj kabhi
Apni mehnat ke sadaa maine ujaale dekhe
Taskara usne lakiron ka wahin chhod diya
Jab najumi ne mere haathon ke chhale dekhe
(I have never been beholden to the stars and planets;
I have always seen the light of my endeavours;
The astrologer immediately left analysing the lines on my palm;
The moment he saw the blisters on my hands.)"
How many Urdu couplets does he know by heart?
"Not too many. In fact, there is no such thing as too many. Bulleh Shah remains my all-time favourite poet, and most of his writings are in Punjabi rather than Urdu. Dr Muhammad Iqbal's political philosophy through poetry has always mesmerised me as has Faiz Ahmed Faiz, the only Punjabi Jat to have ever written Urdu poetry. It may surprise you to learn that in pre-partition Punjab, legislators in Punjab assembly regularly quoted Persian couplets during assembly debates. Today, not many people, including myself, can understand Persian," Manpreet told ThePrint.
(Edited by Asavari Singh)
---
Also Read: Punjab's frustration & anger is rooted in its steep decline, now visible in farmers' protests
---