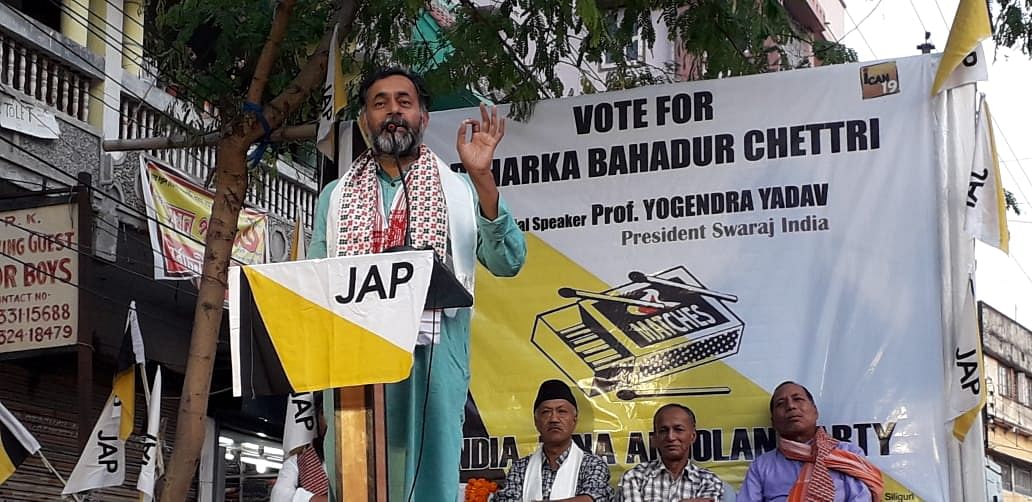 New Delhi: Election analyst-turned-activist and politician Yogendra Yadav believes that Prime Minister Narendra Modi represents the worst legacies of the party he opposes, the Congress.
Speaking to ThePrint, Yadav said there was no surprise in Modi using Rajiv Gandhi's words to defend Malegaon blast accused and the BJP's Bhopal candidate Sadhvi Pragya Singh Thakur.
"Her [Indira Gandhi's] son [Rajiv Gandhi] said 'when a big tree falls, the earth shakes'. After that, thousands of Sikhs were massacred in Delhi. Was it not terrorism of certain people?" the prime minister said last Saturday.
"I'm not surprised he's (Modi) quoting Rajiv Gandhi," said Yadav. "He's linking himself with one of the worst moments in the history of the Congress, because in many ways, Modi represents the Congress' worst legacy."
Yadav bases his claim on what he calls the "extension of the Emergency" and "the extension of 1984", when thousands of Sikhs were killed in the aftermath of Indira Gandhi's assassination.
"India has seen many kinds of prime ministers, but never a liar like him (Modi)," Yadav said. "He can look you in the eyes and brazenly lie. Normal people can't do that."
Yadav said if another party had fielded a candidate accused in a case of terrorism, like Sadhvi Pragya is, the BJP would have called them "terrorists". He accused the BJP of returning the narrative to Hindu-Muslim polarisation, and thus, "changing the syllabus before the election".
"They want to [talk about] Hindu-Muslim, because it takes away from unemployment, demonetisation, from farmers, state of economy, national security problems," said Yadav.
---
Also read: This election, Modi has pitched himself as India's real-life, terror-fighting Sunny Deol
---
The Amit Malviya controversy
Referring to last week's controversy, where BJP IT Cell chief Amit Malviya accused Yadav of using his "Muslim name" to garner votes — Yadav was given two names by his father, Salim and Yogendra — he said the video was actually from 2018, and not 2014 as claimed by Malviya. It was shot at a condolence meeting after the lynching of Rakbar Khan in Alwar in September 2018.
"I'm talking about Hindu-Muslim unity in that video. Amit Malviya has tweeted a doctored video," Yadav said. "Anyone who promotes Hindu-Muslim strife should be called anti-national in my opinion."
Clinching evidence that @amitmalviya had doctored the few seconds video he has circulated. Just listen to this small fragment from my speech.

BJP lie factory cut out my words: "na Hindu Banega na Musalman Banega"!

Also: "nafrat ja jawab Mohabbat se Dena hai"

Are we surprised? pic.twitter.com/j5wjXf1797

— Yogendra Yadav (@_YogendraYadav) April 19, 2019
Malviya responded Monday with an "unedited version" of the video.
Y'day, one of @_YogendraYadav's johnny tried intimidating me, perhaps on cue from Yadav, for supposedly an 'edited' video. So here is an 'unedited' one where he can be seen spreading hate against the RSS, promoting enemity between communities… Communal bigotry at a 'शोक सभा'? pic.twitter.com/Z4SIkziDlG

— Amit Malviya (@amitmalviya) April 22, 2019
The story of 'Salim'
Asked how he came to be called Salim, and why Malviya was attacking him over the Muslim name, Yadav recounted a story.
"My grandfather was posted as a hostel warden in Hisar in 1938. There was an incident related to cow slaughter, and a mob of Muslims turned up at the hostel suspecting that one of the attackers was hiding in the hostel," Yadav said.
"My grandfather countered the mob and refused to allow them to enter. This, inevitably, resulted in his death. My father, barely 7 years old, saw this."
According to Yadav, his father Devender Singh could have either joined the RSS or started to hate Muslims, but being a Gandhian, he decided to give his children Islamic names.
"My sister was born first, she was named Nazma," Yadav said. "My mother, a simple woman, said aise mat karo, ladki ki shaadi nahi hogi. Ladke ke saath experiment kar lena. (Don't do this, the girl won't be able to get married. Experiment with a boy instead."
This was how Yadav, now 55, came to be called Salim, a name that his friends, family and acquaintances still use to refer to him.
---
Also read: Congress' election manifesto is the right document at the wrong time: Yogendra Yadav
---