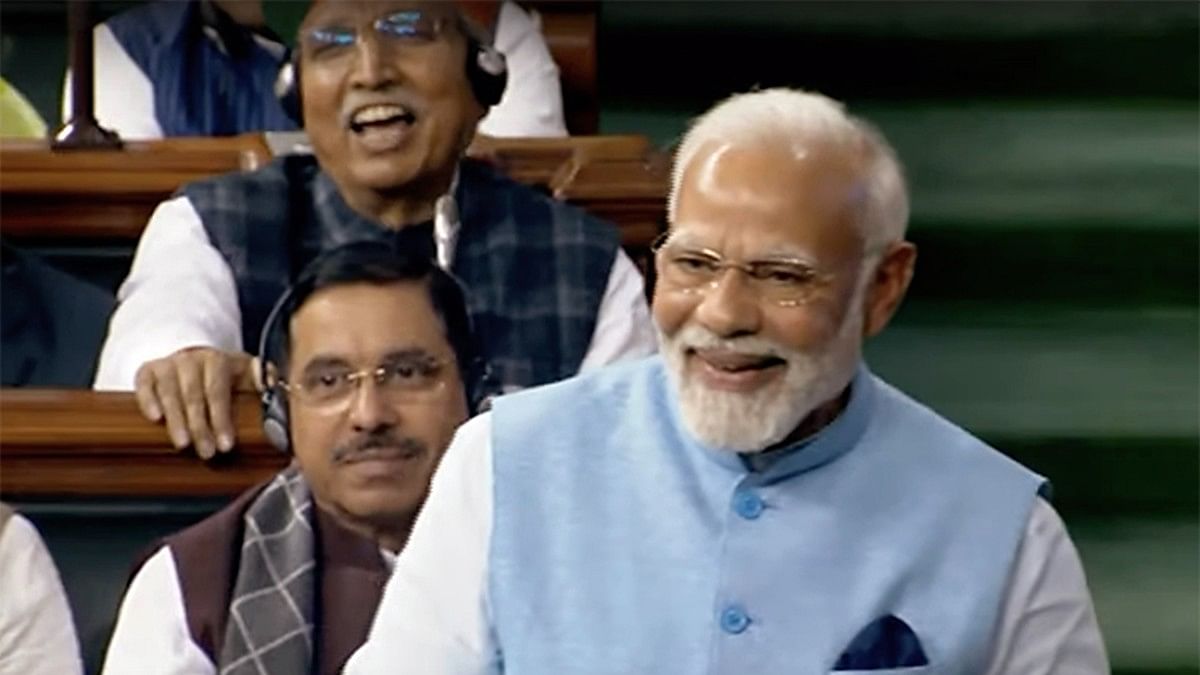 New Delhi: Couplets by three poets, a reference to a Harvard study and a story about a tiger — this is how Prime Minister Narendra Modi tore into the opposition in the discussion on Motion of Thanks to the President's Address. In his speech in the Lok Sabha, Modi took aim at the Congress and criticised the party for what he called the "lost decade" of 2004-2014 — when Congress-led United Progressive Alliance (UPA) was in power.
With Parliament in session, the opposition has upped the ante by highlighting the central government's failure to rein in unemployment.
Modi's response came in the form of a story. Talking about levels of unemployment during the UPA years, he narrated a story of "two friends".
"Once, two friends went to a mountain. Upon climbing down, they encountered a tiger. But they had forgotten their guns in the car. So they showed the gun licence to the tiger as proof they had weapons," he said, amid thundering applause from the NDA MPs. 
In an apparent reference to the Mahatma Gandhi National Rural Employment Guarantee Act (MGNREGA) which was implemented in the UPA era, Modi said, "They (UPA), in the name of removing unemployment, showed a law made to counter unemployment. This was their way." 
Modi repeatedly harked back to the UPA decade (2004 to 2014) which he said was characterised by scams including "2G scam, cash for vote scam, Coal scam".
Massachusetts-based Harvard University also made its way to Modi's speech a day after Congress MP Rahul Gandhi — referring to the growth in Adani Group's assets — had said in the Lok Sabha, "Harvard University should study the relationship between politics and business. India is a case study and the Prime Minister should be given a gold medal for this."
Modi retorted by reminding the Congress of an older study from the same university titled  'Rise and fall of Congress party'. "I am sure very soon institutions will be studying the end of the Congress party and will also study the people who brought it down," the prime minister remarked.
---
Also Read: BJP ministers fanning communal tension & Modi sitting like 'Mauni Baba', says Kharge in RS
---
Modi quotes Dushyant Kumar, Hathrasi, Moradabadi 
Attacking the Congress on Gandhi's 'Harvard study' jibe, Modi quoted the renowned poet Dushyant Kumar (1933-1975) to say, "Tumhare paaon ke neeche, koi zameen nahi. Kamaal yeh hai, ki phir bhi tumhe yakeen nahi (There is no ground beneath your feet, but the miracle is that you don't believe it)."
Later in the same speech, the PM invoked the satirist and poet Kaka Hathrasi (1906 – 1995) as a counter to the opposition's "negativity" and said, "Aaga peecha dekhkar, kyo hote gamgeen, jaisi jiski bhawna, vaisa dikhe scene (Why do you get sad looking here and there, one sees only as per one's emotions)."
This was not the first time Modi quoted Kaka Hathrasi. In his speech in Parliament during the discussion on the Motion of Thanks to the President's Address in 2020, Modi invoked the poet to emphasise the opposition's "stagnation" and "unwillingness to move forward".
"Prakriti badalti kshan kshan dekho, badal rahe anu, kan kan dekho, tum nishkriya se pade hue ho, bhagyavaad par ade hue ho. Chhodo mitra purani dafli, jeewan mein parivartan laao, parampara se unche uthkar, kuch to standard banao (Nature changes every second, every particle is changing, you are lying inert though, relying only on luck. Leave behind this old tune, bring in some changes, rise beyond traditions, do raise your standards)," the prime minister had said.
Besides Dushyant Kumar and Hathrasi, Modi also quoted poet Jigar Moradabadi (1860 – 1960) to poke fun at Congress leader Rahul Gandhi's address in Parliament from the previous day, reciting, "Ye keh keh ke hum dil ko behla rahe hain, wo ab chal chuke hain, wo ab aa rahe hain (We are consoling ourselves by saying they have embarked, and they are now coming)."
(Edited by Amrtansh Arora)
---
Also Read: Pathaan now part of Parliament speech. TMC's Derek O'Brien says SRK film did what no party could
---