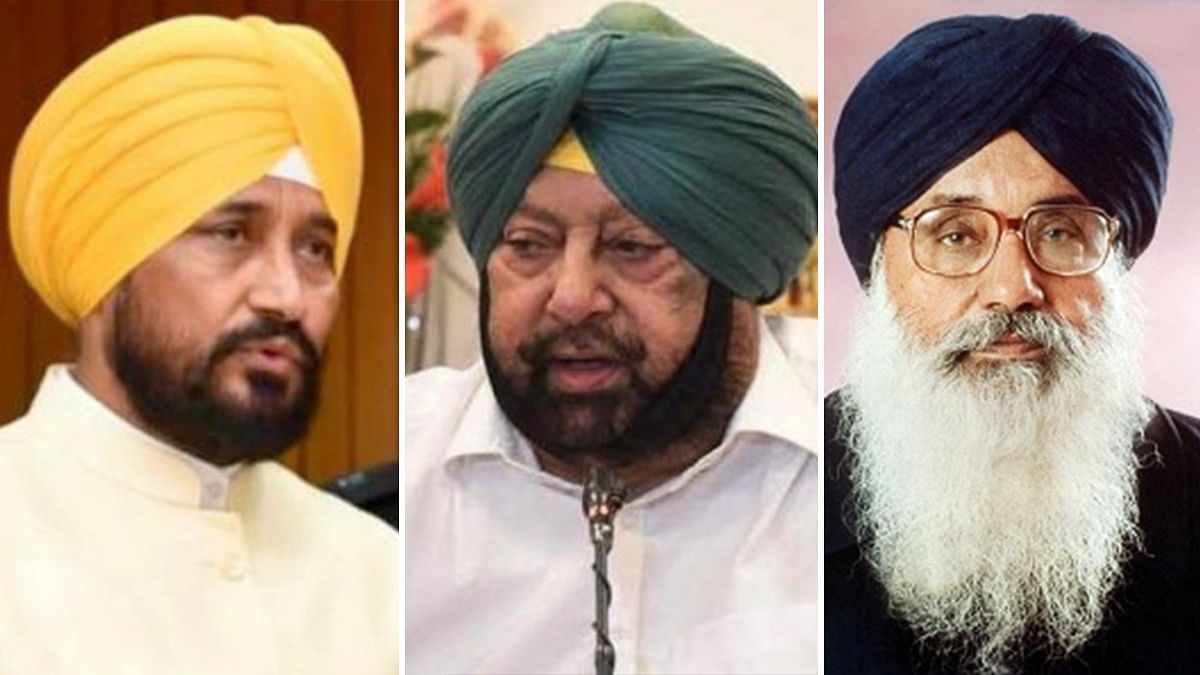 Chandigarh: Last month, while addressing a galaxy of industrialists during the Invest Punjab Summit, state Finance Minister Manpreet Singh Badal handed Chief Minister Charanjit Singh Channi an unique compliment. 
Channi, he said, was the first CM of Punjab who was born in independent India. "All other chief ministers of Punjab were born when the British were occupying Punjab. Hence he (Channi) is free of colonial thinking," Manpreet said.
The 58-year-old Channi, the wild card who took over as chief minister in September, following the political upheaval in the Congress that saw Captain Amarinder Singh's exit, is not just the state's first Dalit CM but also among the youngest to hold the post.
For more than two decades now, Punjab has become used to either the octogenarian Parkash Singh Badal, who remained chief minister for five terms, or the septuagenarian royal in Amarinder, who is the Maharaja of Patiala. 
Badal was always viewed as the father figure who would have people touching his feet all the time. He never hugged anyone; at the most, he would pat people on their shoulders. And he would rarely smile. 
Amarinder was the gallant old retired army man with a touch of royalty who was affectionate like Badal but again not given to hugging people and rarely went beyond the occasional handshake. 
Neither broke the day's plans and movements. Neither has shed tears in public. Badal walked slowly, many times needing assistance in climbing stairs. Amarinder too had health issues and one could hear him become breathless after a few minutes of speech. 
Channi, however, is a refreshing change. A youthful CM who is up and about, agile and fast on his feet. He is constantly hugging the people he meets, shaking hands, smiling warmly, touching feet of the old. More than once he has stopped his cavalcade of vehicles and participated in the weddings of total strangers he has seen on the roads. Wherever he goes in villages to meet families, he eats in their homes, in their plates and whatever they offer. Last week, he sat on the floor in the house of a family he had gone to launch the Basera Scheme. 
And on more than one occasion he has shed tears openly and unapologetically. Once, when he was addressing his first press conference as chief minister and another time when he went to visit the families of the victims of the Lakhimpur Kheri incident in Uttar Pradesh.
Last week, the CM and Cabinet Minister Pargat Singh, a hockey Olympian, played hockey at a stadium in Jalandhar as part of the Surjit Hockey tournament.
"Channi is humble but so is Badal. But from an eternal father figure to retired royalty, Channi is the brother or the son-like CM that Punjab has not seen in years. Can you imagine Badal or Amarinder doing bhangra at a college stage?" said Kanwalpreet Kaur, a political expert based in Chandigarh. 
Kaur was referring to Channi joining a bhangra team on the stage at the I.K. Gujral Technical University in Kapurthala where he had gone as chief guest shortly after he took over as CM in September.
---
Also read: 'Aroosa's been coming to India for 16 yrs': Amarinder slams Punjab probe into friend's 'ISI link'
---
Not just appearance, change in working style
It's not just in attitude —  Channi's working style is very different to that of his predecessors. Both Badal and Amarinder rarely came to their office in the secretariat. But Channi regularly attends office. He has made cabinet meetings a weekly affair and holds at least one press conference a week. 
One of the first orders he gave on becoming the CM was to allow all elected representatives such as sarpanches and municipal councillors easier entry into government offices.
Channi begins his day with meeting people from 8 am and a typical day includes meetings with officers, attending at least one public function or traveling to the site of an ongoing project to monitor its progress. And all this interspersed with endless cups of tea. He is often seen sitting outside his official residence after midnight, meeting the waiting public.
Channi's decision to reduce his security cover, and trim his car cavalcade has also had a bearing on his image.  
"Channi's humble beginnings show in his body language and all that he undertakes. I also feel that what makes Channi look more approachable and friendly than other CMs is his decision to do away with the extra security men surrounding him," a Punjab cabinet minister on the condition of anonymity.
"Though security is needed, cops are trained to keep crowds and people away and if you notice carefully you will see that he has very few cops around him." 
Analysts add that Channi's winsome behaviour has got a lot to do with the political situation in which he has taken over the reins of the state. 
Assembly elections are due early next year and Channi has only a few months to really make a mark for himself and as a result, he is putting his best foot forward and making all the right moves. 
"The new CM's conduct is ideal. Though one should factor in that what one gets to see is carefully curated and showcased for public consumption. But apart from his conduct, which as a political trait has a limited shelf life, he has managed to win over the lower middle class with his please-all announcements on water, power, petrol, diesel, and now sand," Kaur said.
Others trace Channi's demeanour to his humble beginnings. 
"Channi is an exceptional politician in the Punjab Congress context. His rise is not due to family, money power or connections. Unlike the usual route for Dalit political elevations — Dalit aristocracy, sidekicks of powerful upper caste politicians or former bureaucrats — Channi is a first-generation politician who rose through sheer hard work and merit," said Prof. Harjeshwar Singh of the Department of History at the SGGS College, Chandigarh. 
(Edited by Arun Prashanth)
---
Also read: Farmer union protests against Akshay Kumar's Sooryavanshi for 3rd day, wants film banned
---