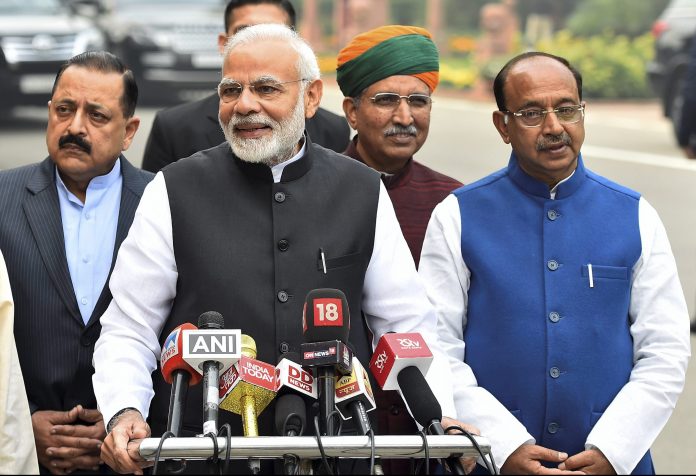 Text Size:
PM Modi's New Year's Day interview with ANI has been criticised by some for what they say are 'soft' questions.
New Delhi: Asian News International (ANI) news editor Smita Prakash's interview of Prime Minister Narendra Modi on New Year's Day has riled both Congress president Rahul Gandhi (he described her as "pliable") as well as large sections of the social media for the lack of aggressive or follow-up questioning.
But the fact is that the "Narendra Modi treatment" is neither unusual nor uncommon.
As the information & broadcasting minister in the Janata Party government that took office in 1977, L.K. Advani had remarked that the press "crawled when asked to bend" during the Emergency.
At least since then, Indian journalists have largely treated prime ministers with a kindness that borders on deference.
---
Also read: TV Prime Time is PM time: Was Narendra Modi interview a PR exercise?
---
'In his stride'
When Rajiv Gandhi was sworn in as prime minister after his mother's assassination in 1984 and the anti-Sikh riots that followed, he became the apple of the media's eyes.
The Bofors scandal, which continues to haunt Gandhi's legacy, was blamed on "the coterie" around him, which was said to have driven him deeper into the morass by presumably giving him bad advice.
An India Today interview with the then Prime Minister on 30 June 1987, months after the allegations of corruption first emerged, is proof.
"Bofors pay-offs, the Fairfax controversy, V.P. Singh's resignation, a confrontation with the President, the crisis in Punjab, electoral set-backs, rising communalism, intra-party feuding. Problems enough to break the best of political leaders.
"But the country's youngest Prime Minister, Rajiv Gandhi, seems completely unfazed. He's calm, confident, almost unwarrantedly cocksure. He is neither burdened by his weighty office nor haunted by self-doubt. He seems to take the severest of criticism in his stride and handles the thorniest of issues with such ease as if nothing will go wrong — even when things are, in fact, going seriously wrong."
Old-timers remember that when Gandhi travelled abroad on Air India One, his trusted aide and confidant Mani Shankar Aiyar protected him from the more difficult questions of journalists.
It's another matter that when Narendra Modi travels on Air India One, there are no journalists at all to question him on his policies and politics — except for a handful of government-controlled media like Doordarshan, All India Radio and Photo Division, apart from ANI, the only private media company on board.
And then there was Simi Garewal, whose soft, non-combative gaze got her several interviews with the who's who of India at the time, like Gandhi, with no "rude questions" to spoil the soft focus.
'Sage-like'
Rajiv Gandhi gave way to V.P. Singh, who gave way to Chandra Shekhar, who gave way to P.V. Narasimha Rao, all in less than two years.
In 1991, the latter, a veteran Congress leader from the then united Andhra Pradesh, was ready to retire and had already announced his intention to go back home. So when Sonia Gandhi allegedly named him the prime minister, Delhi's media (it wasn't called Lutyens' media those days) was split down the middle.
There were those, like India Today, who had decided by 31 July 1991 to toughen its criticism of Rajiv Gandhi as well as V.P. Singh, presumably because they were no longer PMs, and shine benevolently on incumbent Rao.
"Unlike Rajiv Gandhi who wore his prime ministerial robes with pomp and flourish, and unlike V.P. Singh who constantly struggled with the office, P.V. Narasimha Rao's approach to his duties is one of Hindu detachment.
"The crown rests easy on his head. He is neither overawed by his job nor daunted by it. His approach is low-key, serene and calibrated, and he appears to take the onerous task in his stride. It is, so to speak, his political karma, and his attitude seems fashioned accordingly: he must do what he has to do.
"Contrary to news photographs that show him looking haggard and dour-faced, Rao, up close, has a sage-like presence, his face remarkably free of wrinkles, his eyes alert and direct, his articulation precise, his demeanour non-combative, pleasantly evasive, forceful when necessary. He is certainly not the kind of leader who creates unpleasantness with his aides or arouses strong passions among colleagues."
Much later, in 1997, in a column that he wrote for Rediff.net — headlined "Isn't it time we stopped choosing our prime ministers on the basis of their inoffensiveness?" — journalist Vir Sanghvi described Rao thus:
"The arguments against Rao's selection were formidable. This was a man who had difficulty winning elections.
"He may have spoken 10 languages but he was unable to make up his mind in any of them. He had not even contested the 1991 election on the grounds that he was an old man and wanted to retire.
"There was only one argument in his favour: he was so inoffensive that he posed no threat to anyone. Naturally, he got the job.
"It is of course another matter that Narasimha Rao turned out to be a piranha masquerading as a gold fish.
"Within six months he had disposed of the coterie and seized control of the party. God may have gifted him with the charisma of a comatose sheep but despite his inability to win elections, he was able to transform India and history will probably remember him as one of our better prime ministers."
Tough words for a man who opened up the economy, got rid of the licence raj, and formalised India's relationship with Israel. Of course, the destruction of the Babri masjid also took place on Rao's watch, because of which the Congress remains uprooted in Uttar Pradesh.
---
Also read: Narendra Modi blew hot at election rallies, but was Mr Cool in his interview
---
Charmed
Rao was followed by two prime ministers in two years, H.D. Deve Gowda and Inder K. Gujral, until it was the turn of the BJP's Atal Bihari Vajpayee, who gave several interviews to the media, both to newspapers and TV channels (Rajat Sharma, Tavleen Singh, Zee News).
In the hot seat, Vajpayee was not only every bit the charmer, he used his political acumen to ensure, despite the 2002 Gujarat riots, social diversity at home.
He played the elder statesman — and the media remained mostly charmed — whether it was on the question of not sending troops to Iraq, reaching out to Jammu & Kashmir, or twice attempting reconciliation with Pakistan.
It is worthwhile here to share an excerpt from an interview with the Saudi Arabian newspaper, very influential across the Arab world, Asharq al-Awsat and its editor, Amir Taheri, on 27 August 2002, a year after the Agra talks with Musharraf had failed but before his outreach to J&K.
"Q: Mr Prime Minister, permit me to begin by thanking you for granting your first ever interview with the Arab media to Asharq al-Awsat. This gives our readers in the Arab world and in the broader Muslim world, an opportunity to hear your views directly.
A: India is fully aware of the importance of its Muslim community and the contribution it has made to the debate within Islam.
"Ever since Independence, India has established and developed numerous ties with Muslim states. Today, our bilateral relations with all Muslim countries could be described as rich and strong. It is only with our neighbour Pakistan that we have some problems.
"But that is a bilateral issue that need not affect India's relations with the broader Muslim world. Let me recall that India has always maintained a strong and principled position on the issue of Palestine. We have called for justice for the Palestinians, and were among the first to support the creation of an independent and free state of Palestine.
"Of course, you might say that more can be done, and I agree. This is why our government attaches special importance to developing richer and deeper ties with all Muslim countries."
Vajpayee lost the 2004 election to the Congress party and Manmohan Singh became prime minister for the next decade.
'Anguished, not angry'
The soft-spoken former economist gave an explosive interview to The Telegraph in August 2007, which displayed his determination to go ahead with the nuclear deal.
Headlined "Anguished PM to the Left, if you want to withdraw, so be it", the interview was contextualised by the newspaper's opinion:
"All gentlemen are not gentle men. Manmohan Singh is that rare species who is unfailingly courteous and civil, and never harsh and abrasive. Thus, it is characteristic of him to tell The Telegraph in an exclusive interview that he was 'not angry but anguished' at the Left's shrill criticism of the Indo-US nuclear deal.
"Those who know Mr Singh will realise what it has cost him emotionally to come out in public with such a statement…"
---
Also read: Modi takes 'tough' questions but has no good answers
---
The incumbent
Since Manmohan Singh gave way to Narendra Modi in 2014, the PM has given 20 interviews to Indian and foreign journalists — from Indian-origin American journalist Fareed Zakaria, to Russian and Seychelles journalists.
The interview to ANI on New Year's Day is only his second after demonetisation in November 2016 — the first was to the Israeli newspaper Israel Hayom on the eve of his trip to the country in 2017, which was the first by an Indian Prime Minister.
Of course, unlike his predecessors, Modi has never had a press conference.
In June 2016, two years after being sworn in, the PM spoke to Arnab Goswami, then of Times Now:
Arnab: Prime Minister Modi, thank you very much for this interview. Thank you very much.
PM Modi: My greetings to all the people.
Arnab: This is your first one-to-one interview to a private news channel since you became Prime Minister. And if I am not mistaken, this is the first ever interview by a sitting Prime Minister of India to a private television news channel in the country. So I would first like to thank you and am very grateful for the opportunity.
It is in this context of the media and PMs that Smita Prakash's interview with Modi should be seen.
To be sure, Modi refuses to answer several questions and Prakash refuses to follow up, but it is clear that she has managed to get the most out of the PM these last five years.
Check out My543, our comprehensive report card of all Lok Sabha MPs.