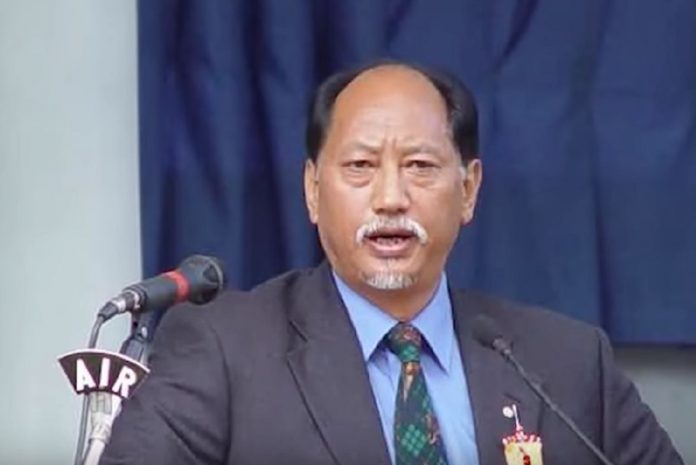 Text Size:
Neiphiu Rio is seen as the most influential Naga politician after S.C. Jamir; he has been elected unopposed as the rival candidate withdrew nomination.
Dimapur: Even as he served as the lone MP from Nagaland for the past four years, Neiphiu Rio has always had one foot in the state assembly. No wonder the three-time former chief minister was declared winner after his rival withdrew his nomination from the Northern Angami-II assembly seat in Kohima district earlier this month.
Rio is perhaps the most talked about politician in Nagaland in this poll season. Last month he resigned from the Naga People's Front, the party he had formed after leaving the Congress in early 2002, and joined the newly-floated Nationalist Democratic Progressive Party (NDPP).
Political analysts say the way he made BJP — which has been part of the ruling Democratic Alliance of Nagaland (DAN) government in the state — ink a pre-poll pact with the NDPP demonstrates his political acumen and leadership skill.
While NDPP is contesting 40 seats, its ally BJP will fight the remaining 20 seats in Tuesday's election.
Also, this is the second time that Rio was elected unopposed in the past 20 years. In 1998, he had won in the same fashion when a boycott call by NSCN made other parties withdraw from the election.
An influential Naga politician
A known political face since 1989, 68-year-old Rio is seen as the most influential Naga politician after S.C. Jamir, who is now Governor of Odisha.
Jamir was elected CM four times and is the only surviving signatory of the 16-point agreement that led to the creation of Nagaland, a state carved out of Assam in 1963.
Rio, who served as home minister in Jamir's cabinet, stepped out of the shadow of his mentor and formed NPF in 2002. It was the NPF-led DAN alliance that threw Jamir out of power a year later.
Biggest political gamble?
Rio choosing to shift base to New Delhi was considered the biggest gamble in his political career. As the state's lone Lok Sabha MP — he quit his assembly seat after winning the 2014 polls — he was expected to get a berth in the Modi cabinet, but that did not materialise.
"After he left for the Centre, he wasn't planning to make a comeback unless people demanded it. At the same time, Zeliang could not run the government properly," said Nieba Kronu, an NDPP candidate contesting in the Pfutsero seat in Phek district.
Zeliang, however, said Rio's decision to move to Delhi did not yield any result. "Rio tried to swim in the ocean but found himself swimming in a washbasin," he said during a recent election campaign in his home constituency in Peren.
Asked whether Rio's chances are reduced for abandoning NPF, Kronu said that he made the right decision by forming a new party. "Infighting has really damaged the reputation of the party and people became really fed up of it," Kronu said.
"If he (Rio) had contested from NPF, people may not have voted for him," he added.
Rio has also criticised  NPF leaders for their alleged failure to facilitate an early solution to the Naga problem.
"I spoke several times in Parliament that Naga people wanted an early solution but that could not come about because the landing ground was not prepared by the people and the state government," he told reporters, speaking on the sidelines of his campaign rally in Dimapur Friday.
A Hindu party in a Christian state 
In a Christian majority state, the mention of Modi and BJP comes with some baggage although the party had been part of the ruling DAN alliance in Nagaland until it announced pre-poll pact with Rio-led NDPP.
Responding to the public appeal put out by the Nagaland Baptist Church Council, the apex church body of the state, to protect the Christian faith, Rio said in one of his speeches, "There are non-Nagas that I know who have married Naga women and converted to Christianity. Do you know of any Naga that has joined the BJP and converted to Hinduism?"
For many long-time Rio supporters, his assurance has been convincing enough. "He will never compromise on our religion. I have full faith in him," said Zhato Kimho, an Angami resident of Nahalbari.
However, NBCC's concern with the BJP has less to do with the threat of conversion than Hindutva politics, seen to be growing after Modi came to power at the Centre, says Reverend Kethozelhou Keyho.
"We cannot separate Nagaland from the rest of the country. The Hindutva influence directly infringes on the rights of our people in policy matters, such as the compulsory observance of Good Governance Day (25 December) and International Yoga Day," he told ThePrint.
Given the present "political climate" in the country, Keyho said it was important for the church to come out on record to state its opposition against Hindutva forces.
From interviews to news reports, catch ThePrint live in action on our YouTube channel. Subscribe here .