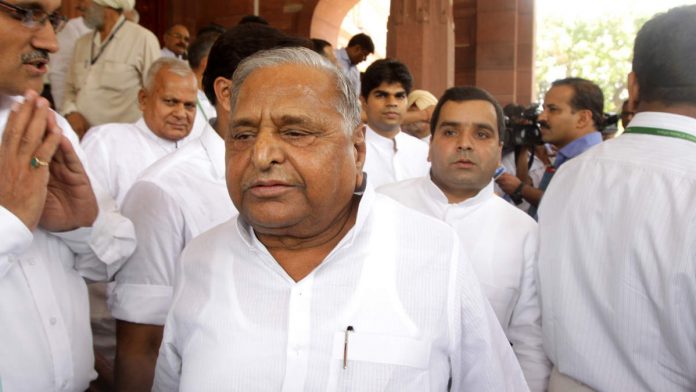 Text Size:
New Delhi: Samajwadi Party leader Mulayam Singh Yadav Wednesday wished another term for Prime Minister Narendra Modi, showering praise on him for trying to take everyone along.
In his valedictory address on the last day of the last session of the 16th Lok Sabha, Yadav wished all members present a return to the next Lok Sabha, drawing applause from the treasury benches, and leaving former Congress president Sonia Gandhi, who sat beside him, and other opposition leaders visibly dismayed. In fact, immediately afterwards, Gandhi could be seen in an agitated discussion with the Congress' leader in the Lok Sabha, Mallikarjun Kharge.
The Prime Minister, who was present in the House, accepted Yadav's appreciation with folded hands as BJP MPs thumped their desks in applause and shouted "Jai Shri Ram".
The BJP has 273 MPs in the 543-member Lok Sabha, down from the 282 it won in the 2014 general elections thanks to defeats in bypolls.
'Only wishing everyone well'
Opposition leaders who heard the former Uttar Pradesh chief minister's speech on Lok Sabha TV sought to play down his remarks, saying the 79-year-old leader only meant to wish everyone well as an elderly and senior member of the Lok Sabha.
"I disagree with him," Congress President Rahul Gandhi said later. "Mulayam Singh Yadavji has had a role in politics and I respect that role."
The BJP, however, is likely to go to town with the SP leader's wish for another term for Modi. His son Akhilesh Yadav, president of the Samajwadi Party, has entered into an alliance with the Bahujan Samaj Party for the Lok Sabha elections in UP, and has also been sharing the dais with leaders of anti-BJP parties.
---
Also read: Pollsters hate to be wrong, but they will be for BJP in 2019
---
Torn between brother and son
The senior Yadav, who served as India's defence minister under the prime ministership of H.D. Deve Gowda and I.K. Gujral, had kept everyone guessing about his stand during a prolonged feud in 2016 between his brother Shivpal, who floated a separate political outfit last year, and son Akhilesh.
Initially, he looked opposed to his son, as he expelled him from the party on 1 December 2016. Akhilesh, however, managed to get control of the party his father built, along with its MLAs, in January 2017.
Akhilesh had emerged victorious in this tussle and taken control of the party while his father looked on. Meanwhile, after floating the new Samajwadi Secular Morcha, Shivpal had announced that he did it with his brother's blessings, and even invited him to contest the next Lok Sabha elections under his banner.
As Shivpal kept the heat on, Mulayam showed signs of wavering and indecisiveness. He attended Shivpal's rally in August last year, but the very next month, shared the dais with Akhilesh and even exhorted SP workers to ensure the party's victory in the Lok Sabha elections.
The SP patriarch, say leaders close to him, has been torn between his brother and his son.
"Of late, he has been complaining to leaders of his generation from other parties that Akhilesh doesn't take care of him and, in fact, gives him a pittance," a senior BJP politician who has known Yadav senior for a long time told ThePrint last week.
Yet, opposition leaders believe that Yadav's remarks in the Lok Sabha Wedndesday aren't necessarily an attack on Akhilesh.
"He may be disappointed with his son, but their relationship is not so bad that he would dump him to support the BJP. I think woh House mein beh gaye (he got swayed in the Lok Sabha)," said a Congress leader.
---
Also read: From Modi's tearful entry to Rahul Gandhi's hug, the highlights of 16th Lok Sabha
---
Get the PrintEssential to make sense of the day's key developments