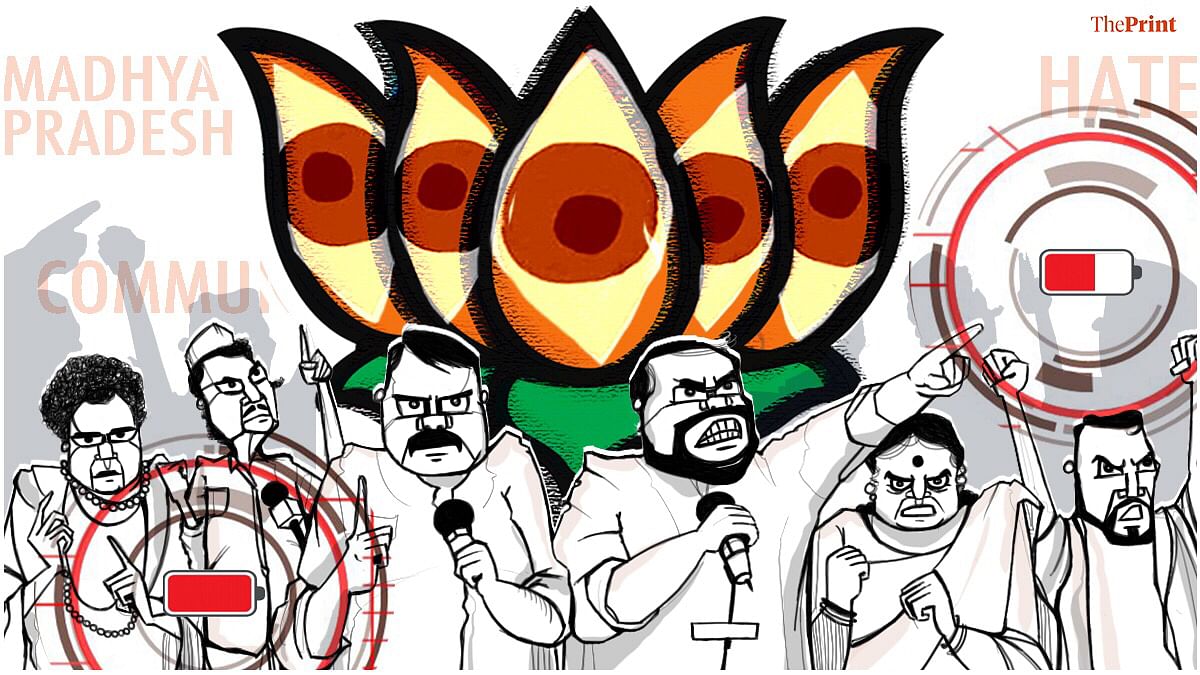 New Delhi: The Madhya Pradesh unit of the BJP is likely to undergo a major overhaul in the coming few months. 
Concerned over its leaders and functionaries making "irresponsible statements" about the party and their colleagues, the state unit is all set to use technology to rein in such leaders, ThePrint has learnt. 
Sources told ThePrint that the party will also be introducing a new system of assessing the performance of leaders and functionaries, as it often gets a lot of complaints from those who are not given "significant tasks". 
According to a senior BJP leader, the state unit is planning to constitute a team that will track BJP leaders and functionaries using technology so that the entire process remains transparent. 
"Under this centralised system on a real-time basis, the headquarters will get reports of any adverse comments made by the party leaders," the senior leader said. "We are looking at introducing an app-like system that will keep track of all such comments and statements made through different mediums and the functionary will be immediately summoned for an explanation.
"There are times when party functionaries say their comments have been twisted and that they have been quoted out of context, so this will also give them a chance to make their position clear and that too immediately," the leader added. 
The idea, a second senior party leader said, is to ensure monitoring at the state level so that party members will think twice before passing "controversial" remarks. 
"This will ensure greater accountability and we will also get regular updates. Right now, we get to know about some comments made by some leader or the other and appropriate action is taken but there are times we miss them as there is no centralised system in place," the leader added.
"This also emboldens such functionaries as they feel no one is monitoring them. Many end up making anti-party remarks too."
---
Also read: This Bihar NDA ally wants to contest UP elections in 2022. But BJP has set a condition
---
Spate of controversial remarks
During the second Covid-19 wave, a number of party functionaries, including MLAs, had started raising concern over Chief Minister Shivraj Singh Chouhan's handling of it, something that had embarrassed the government. 
Among those who questioned the CM were MLAs Narayan Tripathi of Maihar (Satna) and Surendra Patwa of Bhojpur. Tripathi had then lashed out at the "virtual meetings" being held by the government to review the situation, saying they were just "tamasha", and served no purpose.
Then, in June, Ajay Vishnoi, the party MLA from Patan in Jabalpur, slammed MP Maneka Gandhi for making "abusive phone calls" to at least three veterinarians.
He tweeted that Maneka was a "lousy woman" and that he was "ashamed that she was an MP of the party". 
विगत दिवस सांसद श्रीमती मेनका गांधी ने पशुचिकित्सक डॉ विकाश शर्मा से जिन शब्दों में बात की, उससे वेटरनरी कॉलेज जबलपुर घटिया सिद्ध नही हो जाता है, परंतु यह जरूर सिद्ध हो जाता है कि मेनका गांधी निहायत ही घटिया महिला है। मैं शर्मिंदा हूँ कि ये मेरी पार्टी की सांसद (नेता नही) है।

— Ajay Vishnoi (@AjayVishnoiBJP) June 26, 2021
Early this month, Jalam Singh Patel, the BJP MLA from Narsinghpur and brother of Union Minister Prahlad Patel, told the media that all the parties are associated with the business of liquor. "BJP is also not untouched by this business. Action is taken but it is not enough," he had said. 
The second BJP leader quoted above said that the new measures are not just about monitoring controversial remarks. 
"See, the state unit has grown substantially over the past few years and there is a need to introduce new systems. The measures that we have planned will ensure greater accountability amongst the grassroots workers and leaders," he said.
"At the same time, we will introduce new tools to measure the performance of functionaries, which are all the more transparent as many who feel they have not been given important responsibilities will be clearly told how they were measured and why certain responsibilities were given to others and not them. This will also help them to plan better and give their best." 
According to sources, under the new system right from the grassroots workers to senior leaders of the party in Madhya Pradesh will be covered under this exercise.
(Edited by Arun Prashanth)
---
Also read: 4 seats, 40 ministers and leaders in charge — Shivraj 'formula' to win MP bypolls
---