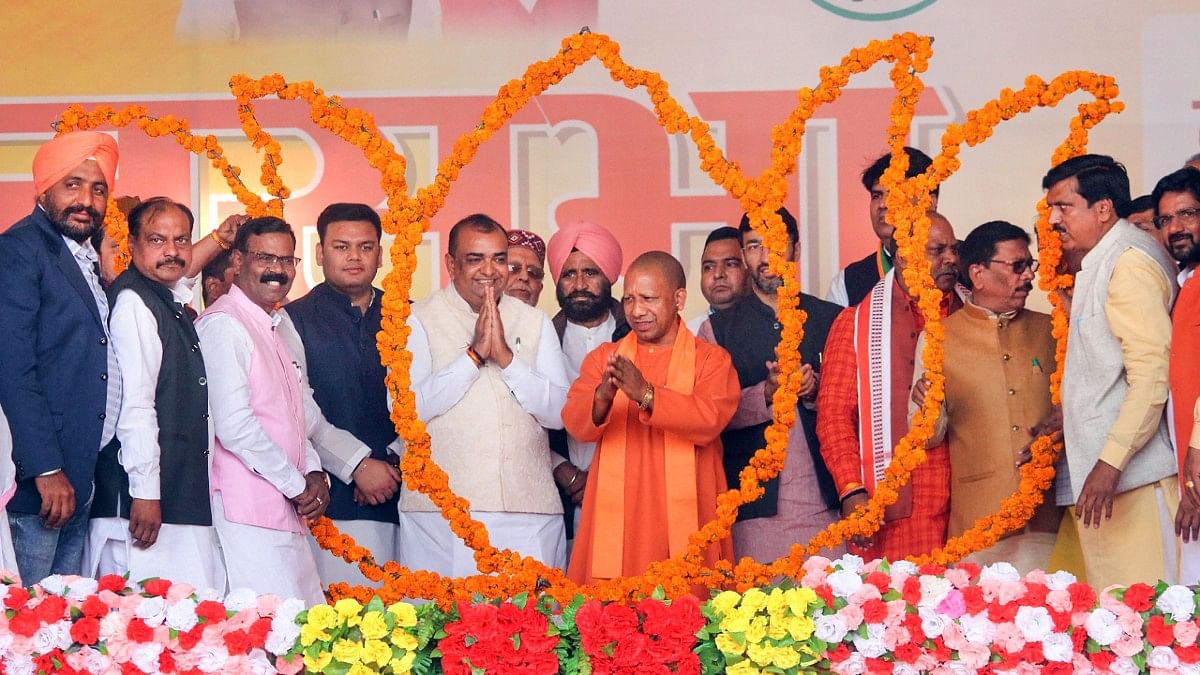 Lucknow: It is certain that the BJP will remain in power in Uttar Pradesh and PM Modi at the Centre but the party's win in Rampur will convey that it is no longer a toy in "opportunistic hands", Chief Minister Yogi Adityanath said Friday.
Addressing his first rally for the forthcoming assembly bypoll in Samajwadi Party (SP) veteran Azam Khan's bastion, Yogi urged the voters to get rid of repeated bye-elections in the constituency and to take Rampur forward on the path of development by voting for BJP's Akash Saxena.
The BJP candidate will be facing Khan's confidant and SP nominee Asim Raza in the Rampur Sadar assembly bypoll on 5 December. Khan was disqualified from the Uttar Pradesh assembly in October after he was convicted in a case of hate speech.
"Our candidate should get the vote with the same sentiment with which the double engine government has served you. And this is why I have come to tell you that it is certain that only the BJP government will remain (in power) in UP, PM Modi at centre…" he told the crowds.
"You sent an MP (Ghanshyam Lodhi to the Lok Sabha in June). It conveyed the message that Rampur, too, is ready to get linked with development. If you help an MLA win, it will be a message that Rampur will not become a toy in opportunistic hands who closed a 200-year-old madrasa and made it their own fiefdom."
In the absence of Bahujan Samaj Party (BJP) and the Congress, Rampur is witnessing a direct contest between the BJP and the Akhilesh Yadav-led SP. The bypoll is being seen as a battle of prestige for the opposition party since Rampur is not only Azam Khan's stronghold — he won 10 times from the constituency — but also because the SP leader has immersed himself in the poll campaign.
The former UP minister was booked Friday for a poll speech which he delivered on 29 November while canvassing for Raza.
"In the last five years, if there is any place in the country, which suffered the maximum elections and bye-elections, then Rampur is right there," he said. "First (Azam Khan) takes support from the public and then resigns from the post, repeated elections are hindering the development of Rampur. Today, I am here to call upon all of you to get rid of repeated bye-elections and take Rampur forward on the path of development."
Rampur Sadar will be voting for sixth time in as many years since 2017. 
---
Also Read: Nawabs' nemesis, SP's Muslim face & 'sexist' — Azam Khan's political rollercoaster ride

---
'No bias done in doling out schemes'
Enumerating the implementation of various central and state schemes such as the Ujjwala Yojana, the Kisan Samman Nidhi, and the UP pension scheme, Yogi said that nobody can claim that any bias was seen in doling out benefits of these schemes.
"Any resident of UP who is eligible, whichever caste, region, religion or district he may belong to… we have ensured that schemes reach them without any bias. UP has become riot-free…," he said.
"Ease of living has been ensured and the government has tried to bring a change in the lives of people. If there is zero tolerance towards crime and criminals, then a similar policy is being followed towards corruption. … Help the BJP win Rampur once again. If any hindrance comes in the development work, you can contact our MLA and MP. They will get your work done and if any problem persists, then the CMO is always open for you," he said.
Reminding people of his Rampur visit in September, Yogi said he had arrived again to thank them for helping BJP MP Ghanshyam Lodhi win the Lok Sabha bypoll.
"So I have again come to tell you that when there is no bias in (giving benefit of) schemes…security is for everyone…infrastructure development is happening equally…when everyone is getting chance for development and employment, every sister and daughter is being given equal security; her respect and self-dependence is secure, then there should be no bias in giving vote," he said. "When there is no bias in giving benefits of schemes, then it is my appeal that there should be no bias in giving votes to our candidate as well."
Hinting at Khan, Yogi told the rally that an SP leader was coming amid them time and again and saying that injustice was meted out with him.
"… I think that nothing is more misleading than this statement. A person gets the punishment for his (mis)deeds. One who does something (wrong), will also face its consequences. The court is taking decisions according to merit (of cases), so there is no meaning in blaming the government and the party (BJP)," the chief minister said.
Yogi suggested the SP veteran to focus on health instead of "unnecessarily coming" before the public. "Had he shown this sensitivity when he was in power, had taken interest in development here and had preserved the institutions rather than acquiring them… I think that bad-mouthing always brings misery to a person," he said.
(Edited by Tony Rai)
---
Also Read: Will Modi govt's minority scholarship changes hurt madrasas? Dismay, confusion & indifference in UP

---