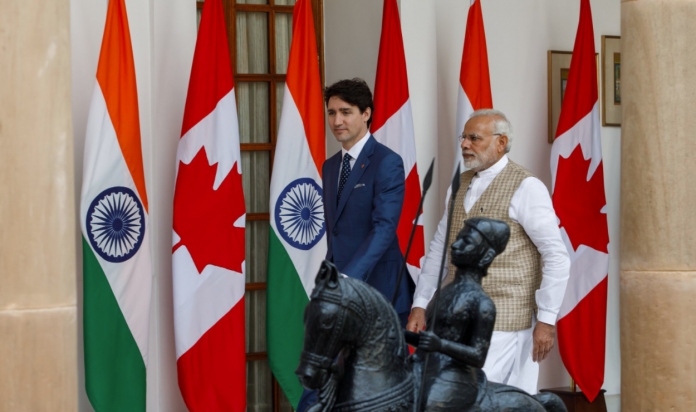 Text Size:
A senior Canadian security official said that some Indian government elements tried to sabotage Trudeau's visit to India by inviting Atwal to dinner.
New Delhi: India has trashed a Canadian 'conspiracy theory' surrounding an invitation to Sikh militant Jaspal Atwal to a Mumbai event, calling it "baseless" and "unacceptable".
A senior security official in Canada said that elements within the Indian government had tried to sabotage Canadian Prime Minister Justin Trudeau's visit to India by inviting Jaspal Atwal, a man convicted of trying to assassinate an Indian minister, to a formal dinner.
Trudeau backed this claim in the Canadian Parliament Tuesday, saying that if a top diplomat or security official says something to Canadians, it's because they "know it to be true".
Responding to this allegation, MEA spokesperson Raveesh Kumar said in a statement, "The Government of India, including the security agencies, had nothing to do with the presence of Jaspal Atwal at the event hosted by the Canadian High Commissioner in Mumbai or the invitation issued to him for the Canadian High Commissioner's reception in New Delhi."
"Any suggestion to the contrary is baseless and unacceptable," read the statement issued Wednesday.
Trudeau's eight-day visit to India was embroiled in controversy, and he was not let off the hook when he returned to Canada. He was grilled Tuesday by the opposition over the remarks of a senior security official, who alleged that the India government was "complicit" in the "Jaspal Atwal affair".
Atwal was convicted for trying to assassinate former Punjab minister Malkiat Singh Sidhu in 1986. He was also a member of the International Sikh Youth Federation, an organisation that is now banned by the Canadian government.
However, it appears that Atwal has met and associated with Trudeau on multiple occasions, even saying that he is friends with the Canadian Prime Minister. Atwal was photographed with members of Trudeau's delegation, including his wife, in Mumbai, and evidence of an invitation to a formal dinner hosted by the Canadian High Commissioner in Delhi surfaced immediately after the photographs.
The invitation was rescinded, and Atwal later claimed that he "voluntarily" backed away from the event, so as not to embarrass Trudeau.
Conservative MP Andrew Scheer, leader of the Opposition in Canada, said Tuesday that Trudeau has damaged relations with India. "Normally, the worst a Prime Minister could do on a foreign trip would be to accomplish nothing, but the Prime Minister has taken things to a new level. He's left our relations with India worse off than before he left," he said.
Get the PrintEssential to make sense of the day's key developments