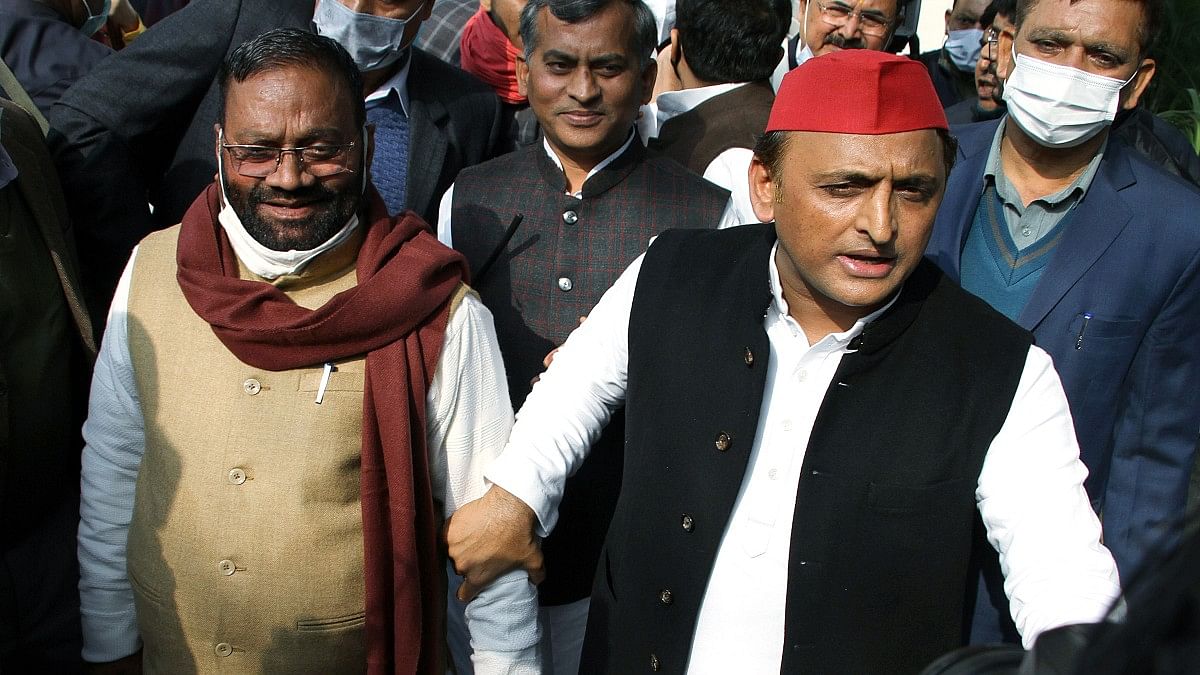 Lucknow: Justifying his statement that some verses of the epic poem Ramcharitmanas were "anti-backward (caste) and anti-women", Samajwadi Party (SP) leader Swami Prasad Maurya has said, in an interaction with ThePrint, that he was talking about the sentiments of "97 per cent of the population, including the Dalits, adivasis, backward castes and women".
He also wondered why the "contractors of religion" and the Bharatiya Janata Party (BJP) were pained at his objections.
The Ramcharitmanas, written by Tulsidas, is an epic poem based on the Ramayana and the deeds of Lord Rama. Last week, Maurya sparked a row when he said some of the poem's verses were hurtful to the sentiments of the Dalit community and demanded that they be removed.
Maurya, an OBC leader who was a minister in the Yogi Adityanath cabinet till January 11, 2022, but joined the SP in the run-up to the Uttar Pradesh assembly elections, is now facing an FIR for his comments and a vociferous attack from the BJP and several mahants and seers – one of whom has even declared a reward on his head.
According to Maurya, he has serious objections to the verse "dhol, gavaar, shudra, pashu, naari, sakal tadhna ke adhikari", which he says means that "dhol (drum), gavaar (illiterate), shudra (backward castes), pashu (animal), nari (woman) are all worthy of a beating".
The quatrain has long been debated for its apparent casteist and anti-women stance.
Elaborating on why he stands by his words, Maurya told ThePrint: "The chaupayi (verse) mentions that… all the women of the country and shudras, which means all adivasis, Dalits and backwards… are worthy of a beating. Is this practical? And if one or two people make a mistake, how can the entire female community be affected? How can all the people in the shudra community be affected? Somewhere, this hurts their sentiments and self-respect."
Stating that the population of these communities in India was 97 per cent, he explained: "Half of the entire population is women and in the remaining fall, Dalits, adivasis and backwards. This means that the feelings of 97 per cent of people are being hurt."
"The contractors of religion are not concerned about this," he added.
"The (upper caste) population is two-three per cent. They are hurt by my statement even as I am talking about the respect of Dalits, adivasis, backwards and women. If these groups get respect, why are they in pain?" he asked.
The SP, in the wake of the controversy stirred by Maurya, has distanced itself from his remarks and some party leaders have said Maurya made the comments out of "lack of knowledge".
---
Also read: SP distances itself from MLC Maurya's Ramcharitmanas remark — 'we follow principles of Lord Ram'
---
'Why is the BJP in pain?'
Maurya has over the last week faced attacks from several UP BJP leaders, several of whom targeted SP's national president Akhilesh Yadav and questioned him over "his silence" on the matter.
BJP's UP president Bhupendra Chaudhary even called Maurya "mentally ill."
Asked about the BJP leaders who have been targeting him, Maurya said those making "reckless statements" had "lost their mental balance" and not understood what he was trying to say. He reiterated his demand for the removal of the verses mentioned above.
"One who is himself mentally ill and insane thinks the same for others. Those who have lost their mental balance and are making such reckless statements have not understood the meaning of my words. Why are BJP leaders in pain if women are getting respect? If I am talking about giving respect to the adivasis, Dalits and backwards, then why are BJP people in pain?" he asked.
"I only said that abuse cannot be religion. No religion has the right to insult someone. If 97 per cent of the population of the country, including women, Dalits, adivasis and backwards, are being hurt by some portions of a chaupayi, then what is the problem in banning or correcting it," he asserted.
'Those objecting are from community that tends to abuse'
When asked about senior SP leader Shivpal Singh Yadav's comment that Maurya's statement was his "personal view", Maurya said that Yadav had only made it clear that the statement was Maurya's own.
"He made it clear that it was Swami Prasad Maurya's statement… he made no comment," Maurya said.
On a question about leaders from his own party targeting him over his words, Maurya said: "All those who have objected to my statement belong to the same community… that tends to abuse. They all belong to a specific category but the public of the country is standing with us."
SP MLA from Lucknow Central seat, Ravidas Mehrotra, and former Ayodhya MLA Pawan Pandey – both former ministers – are among the SP leaders who have hit out at Maurya.
Mehrotra had remarked that Maurya made the statement against the Ramcharitmanas "out of lack of knowledge" and that politicians should speak about inflation, unemployment, corruption, development and issues of the public and refrain from speaking about a religious book.
"The meaning of tadhna in the chaupayi mentioned by Maurya is 'to judge or identify'. He made the statement out of lack of knowledge. Before making a statement, there should be full knowledge," Mehrotra had remarked.
Pandey had slammed Maurya by asking why he didn't make such comments when he was "enjoying ministership while he was in the BJP".
"Why didn't he say all of this when he was in the BJP? Did he not have this knowledge before? This is a stunt to get cheap publicity. He is neither an intellectual nor any (great) thinker that he should be debated with. What he has said shows his lack of experience and knowledge. He should read the history of the Brahmins in this country," he told a news channel.
Asked specifically about the comments of Mehrotra and Pandey, Maurya told ThePrint that "all of them belonged to one category".
"I won't take any names but all those whose names you took belong to one category. All have been born in the community that resorts to abuse and thinks that abusing is its right. And I don't consider abuse as religion. I have not attacked any religion," he said.
Asked about SP leader Roli Tiwari's comment that "he (Maurya) may be working as an agent of the Bahujan Samaj Party (BSP) and may leave the SP before 2024 (Lok Sabha polls)", Maurya said "those resorting to 'chota muh, badi baat' (small mouth, big talk) should know that if the party doesn't give them space, they can't stand anywhere".
'Hypocrites, impostors'
Maurya further targeted seers like 'Jagadguru' Paramhans who has declared Rs 500 reward for anyone "who brings Maurya's head".
Ayodhya mahant Satyendra Das – the chief priest of the make-shift Ram temple – had asked Akhilesh Yadav to remove Maurya from his party, claiming that Maurya had joined the SP after being thrown out of the BJP and that he had been rejected by the public.
Asked about the stand of some of the seers, Maurya said that if seers, mahants and dharmacharyas were talking about chopping off his head, tongue or nose, then they could not be dharmacharyas or mahants.
"The voice of seers, mahants and dharmacharyas does not have violence. Their language is not of criminal nature. If someone from another religion had said the same thing, then these contractors of religion would have called him a terrorist. If they (seers) are indulging in the same kind of behaviour, aren't they terrorists themselves?" he asked.
If a dharmacharya resorts to "such cheap language", Maurya added, "it means he is not following saintly behaviour and he is a hypocrite and impostor whose criminal language is coming to the fore".
Maurya, when asked if the BJP had been given the chance to attack the SP in the run-up to the 2024 general elections due to his remarks, said that 2024 was far as of now.
"Politics has different issues and issues of social justice are different," he said.
Maurya meets Akhilesh Yadav
Amid the controversy sparked by his comments, Maurya Saturday met SP chief Akhilesh Yadav at the party office.
Asked about Yadav's stand, he told ThePrint that the meeting was held "in absolute harmony" and that he had apprised the SP chief of what had transpired.
"The BJP has attacked the Constitution by ending reservation for backward (castes), and the respect of Dalits and backwards has been put to the ground. We will fight for them and take to the streets to demand a caste census," he said.
Speaking to reporters in Lucknow, Akhilesh said he had told Maurya to work for the caste census in Uttar Pradesh.
(Edited by Nida Fatima Siddiqui)
---
Also read: Why BJP didn't want PM Modi's words about Pasmandas, Bohras, and Church to come out
---