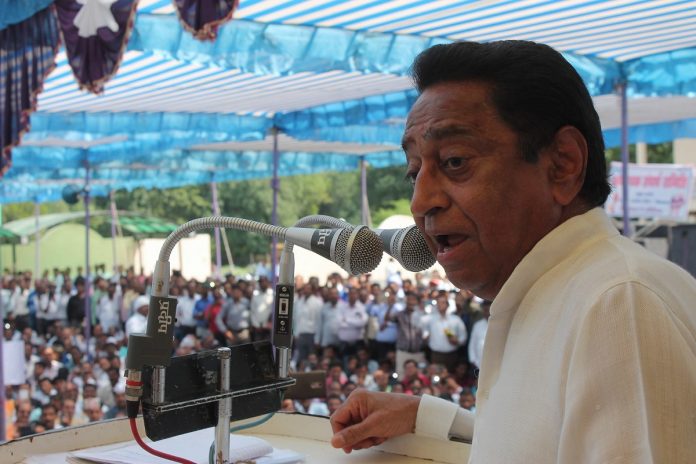 Text Size:
The state Congress president says his party is a united house and is looking to win 150-plus seats in Madhya Pradesh's 230-member assembly.
New Delhi: Prime Minister Narendra Modi will have no impact on the Madhya Pradesh elections, state Congress president Kamal Nath has said, adding that his party is looking to win "150-plus" seats in the 230-member assembly.
Madhya Pradesh is scheduled to vote in November-December.
Out of power in the state for 15 years, the Congress recently handed over the reins of the state unit to Kamal Nath, 71, a nine-term MP from Chhindwara.
In an interview with ThePrint at his Civil Lines residence in Bhopal, Kamal Nath was dismissive of Modi, saying that people across the country have started asking the PM questions on what he has done for employment and what happened to the Rs 15 lakh that he promised to put into everyone's bank account.
"These questions will be asked. People have already started asking these questions. Besides, politics is highly localised nowadays. People look at the leaders in their villages, in their blocks and at the state level," said Nath.
He rejected the commonly held notion about Modi's personality cult. "I don't know. He hasn't been tested in Madhya Pradesh yet. If that (personality cult) was there, they (the BJP) should have won Karnataka, where we were the incumbent, hands down."
It's a united Congress in MP
Nath as Pradesh Congress Committee president is seen as the party's chief ministerial candidate although there has not been any formal announcement. At a farmers' rally in Mandsaur last week, Congress president Rahul Gandhi hinted as much, referring to Nath's experience, adding that prominent state leader Jyotiraditya Scindia is young and has a long way to go.
"We need many faces for the campaign. One face is not good enough. If it (announcement of a chief ministerial candidate) is required at some point of time, Rahul Gandhi will decide. But I myself feel there should no announcement… because everybody is together in it," Nath told ThePrint.
He rejected suggestions of an internal fight in the Congress, a factor that has stymied the party's attempts in the past to dislodge the BJP from power.
"I am very fortunate that there is no groupism where I am concerned. I have good relations with everybody. It is natural, in any political party or even in a family, that somebody is closer to the other. Someone may be closer to Digvijaya Singh; another person may be closer to Scindia. That doesn't mean factionalism. That doesn't mean it's destructive," said Nath.
Digvijaya Singh, the chief of the coordination committee, has been on an Ekta Yatra since 31 May with the aim of mobilising party workers across the state and sorting out differences among them. Whenever there is any feedback about factionalism in a district unit, the state Congress chief conveys it to Singh and asks him to visit and reach out to those party workers. Singh has already ruled himself out of the chief ministerial race.
Disadvantage Chouhan
Talking about the weakest point of the Shivraj Singh Chouhan government, Nath cited farm distress, Madhya Pradesh being the "most corrupt state", the highest unemployment, and maximum atrocities against women, among "an array of issues".
"Never have I seen all sections of the society against the government—the farmers, the youth, the women, the traders and the labourers. I have not seen it in my entire political life. There was no such farm distress in 2013 (when the last assembly elections were held)," he said.
Nath said investment is not coming to Madhya Pradesh because of rampant corruption.
The Congress leader accused the BJP government of offering "allurement" to the people in the form of phones, laptops, and electricity bill waivers. "I tell people please take his phones and computers, but don't play with your future."
Asked about the weakest point of the Congress, Kamal Nath identified "shortage of time" to structurally change the party and get the workers who have been home for 15 years out to mobilise the people.
"What we are combating against is the organisational strength of the BJP and its money power," said the state Congress president, conceding that his party is "very badly stretched" for resources and party workers will have to "chip in".
Get the PrintEssential to make sense of the day's key developments