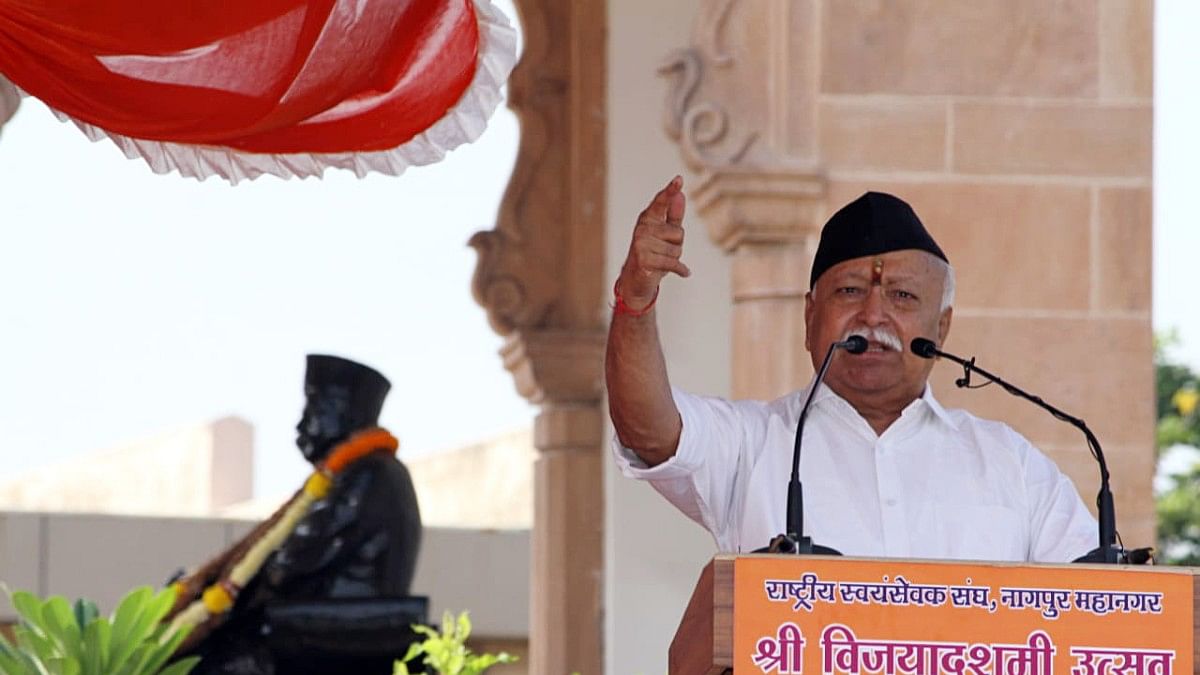 Kolkata: The venue has been finalised, the guest list almost complete and police permission in hand — the melee to appropriate Netaji Subhas Chandra Bose's legacy is picking up pace in West Bengal ahead of his 126th birth anniversary.
Rashtriya Swayamsevak Sangh (RSS) chief Mohan Bhagwat is all set to address a mega rally in Kolkata on 23 January in what is being seen as a departure from indoor meetings, lectures or book release events that make up his usual itinerary during visits to the state.
The sarsanghchalak's mega rally is being held at a time when West Bengal is gearing up for panchayat polls to be held later this year. Last held in 2018, the panchayat polls will be the next litmus test for the ruling Trinamool Congress (TMC) and the Bharatiya Janata Party (BJP) — ideological protégé of the RSS — after the 2021 assembly and 2022 civic polls.
Though the BJP emerged as the principal opposition party in 2021 with 77 seats and 37.97 per cent vote share, it has been losing ground since and now has only 70 MLAs in the 294-member legislative assembly. Another indicator of this is the reverse exodus of several high-profile turncoats, including Mukul Roy, to the Mamata Banerjee-led party.
Narrating Sangh's affinity to Netaji, RSS south Bengal chapter's prachar pramukh (publicity head) Biplab Roy told ThePrint, "On 18 June 1940, when Netaji was visiting Nagpur for a Forward Bloc programme, he found out RSS founder Keshav Baliram Hedgewar was unwell, and bedridden. Netaji visited Hedgewar and sat by him for some time and enquired about his health. He later did pranam with folded hands and left the RSS headquarters."
Every year, the RSS celebrates Netaji's birth anniversary across West Bengal by holding small-scale programmes, Roy added.
He further claimed that the plan for a mega rally in Kolkata was drawn up because "Bhagwat's schedule coincided with Netaji's birth anniversary" this year. "Sangh members will be in uniform and there will be physical exercise demonstrations at the beginning. The programme, that we are calling laho pranam (iron salute), will then be addressed by Mohan Bhagwat," said Roy.
The RSS is expecting 6,000-7,000 of its members from Kolkata and adjoining Howrah district to attend the event, besides around 3,000 public spectators and a thousand special invitees, Roy added. In remaining districts of the state, the Sangh will hold route marches and pay its respects to the freedom fighter on his birth anniversary.
This will also be Bhagwat's first public meeting in West Bengal since 2017 when he, during a public gathering at Kolkata's historic Brigade Parade ground, told swayamsevaks to "organise" themselves to safeguard the interests of the "Hindu samaj (society)."
---
Also Read: RSS is strongest & weakest it's ever been. Pitfalls of going from rebel to core of establishment
---
'RSS, BJP eyeing inroads in urban areas'
Chief Minister Mamata Banerjee had kicked up a political storm last September by saying that the RSS was "not that bad". "There are still people in the RSS who do not support the politics BJP does," she said during a programme at the State Secretariat.
In 2015, Banerjee took the lead in declassifying 64 files carrying classified information on Netaji. These files were in possession of the Kolkata police and West Bengal police.
On the TMC-BJP tug of war to appropriate Netaji's legacy, author and political commentator Snigdhendu Bhattacharya told ThePrint, "This is a transitional period in the state for the BJP-RSS."
The idea of the mega rally is to "take Netaji's ideological battle (for secularism) ahead", he said, adding that the "Netaji sentiment" is strong in Bengal and "choosing a secular figure like him sends out a message".
"If you observe carefully, the BJP has been highlighting two leaders — Netaji and Sardar Vallabhbhai Patel to underplay Nehru and to a certain extent, (Mahatma) Gandhi. Thus, Mohan Bhagwat's presence in Kolkata at a public rally on Netaji is very significant for the RSS and BJP who are eyeing inroads in urban areas (in West Bengal)."
According to Bhattacharya, that the Sangh did not see a massive expansion in West Bengal in the last two years could be one reason for organising such a mega event that would draw a lot of public attention.
"The ground hasn't been very favourable (for BJP-RSS) post 2021. On the one hand, BJP's organisation has shrunk and a section of its grassroots (leaders) has become inactive, but the RSS hasn't shrunk. RSS doesn't hold public rallies. Their programmes are usually indoors or restricted."
He added that while the BJP-RSS grew in Bengal at the expense of the Left, the Left has been working to reclaim its support base in urban pockets over the last year. And who better than Netaji to get the attention of voters in Kolkata and Howrah since Bose has an "emotional connect" with the people of Bengal, said Bhattacharya.
In addition to his mega rally at Shaheed Minar in the heart of Kolkata, the RSS chief will also hold a series of meetings during his five-day visit to the city. The objective of these meetings will be to take stock of the organisation with an eye on the 2024 Lok Sabha polls.
On 19 January, Bhagwat will host a gathering of eminent personalities from different walks of life from Odisha, Jharkhand, Bihar, and northeastern states, followed by a gathering of notable personalities from Kolkata and Howrah. Still being finalised, the guest list is likely to include social activists, scientists, vice chancellors, and civil society members.
For two days starting 20 January, the sarsanghchalak will hold a series of meetings with the rank and file of the RSS, right down to ward members from Kolkata and Howrah.
"Mohan Bhagwat visits every state twice a year. Each time he comes, he looks meticulously into the organisation of the RSS here on ground. And this time too, he would have various engagements," confirmed Roy.
(Edited by Amrtansh Arora)
---
Also Read: 25 years of TMC — what makes party & its chief Mamata Banerjee click in Bengal
---