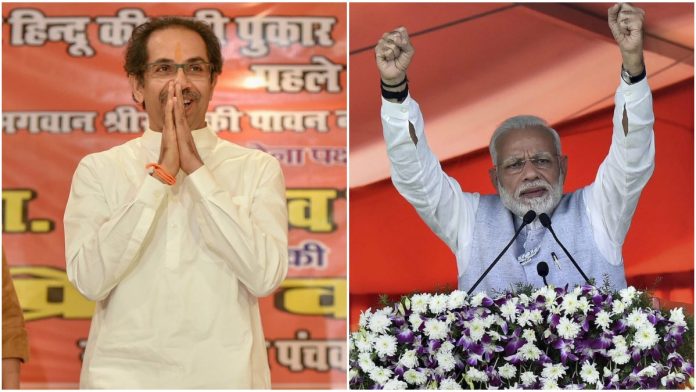 Text Size:
Holding independent rallies in Maharashtra almost simultaneously, Modi and Thackeray launched their respective poll campaigns.
Mumbai: Prime Minister Narendra Modi Wednesday attempted to justify one of his government's slogans — sabka saath sabka vikas — as he launched the Bharatiya Janata Party's campaign for the Lok Sabha elections.
Speaking in Maharashtra's Solapur, he belted out statistics for the number of roads and houses built, talked up his government's initiative of 10 per cent quota for the general category poor, and targeted the Congress over "Michel mama" (AgustaWestland case accused Christian Michel), while calling himself the country's "chowkidar (watchman)".
Less than 200 km away, speaking almost simultaneously in Marathwada's Beed district, Shiv Sena chief Uddhav Thackeray, the leader of a constituent party of the Modi government, picked up another of his government's slogans — desh badal raha hai — tearing it apart and slamming the BJP over "empty promises" and agrarian distress.
"Desh kya badal raha hai? Have you experienced any change?" Thackeray asked the crowd gathered at the rally.
"Farmers are not getting crop insurance, there is no fodder for cattle, no safety for women. What is the point?" he said.
Thackeray's attack came minutes after Modi told an enthusiastic crowd in Solapur: "The difference between then and now is that of neeyat (intent). Our government lives and works by the motto sabka saath sabka vikas. With the speed at which we are working, even day-to-day common life is being made easy."
The two leaders of alliance partners BJP and Shiv Sena held independent rallies in Maharashtra almost simultaneously. Talks of a tie-up between the two bitter allies for the upcoming Lok Sabha polls are still in limbo.
Modi was in Solapur to launch several development projects while Thackeray was in Marathwada to meet drought-hit farmers and distribute fodder.
---
Also read: Uddhav Thackeray's Ayodhya call has launched Shiv Sena 2.0
---
'Forget alliance talks'
While the prime minister refrained from making any mention of the Shiv Sena, Thackeray heaped taunts on Modi.
Speaking to farmers in Beed, Thackeray said though his party is a constituent of the government, he cannot forget basic humanity.
He said talks of an alliance between the Shiv Sena and the BJP are going on only in the media.
"I am saying this again, forget alliance talks, first tell me what you (the BJP) are doing about my farmer. When will you give aid?" Thackeray said.
"Today the farmer wants work, water, fodder. If you can give that I will have your back," he said, adding that the government is lying and making a fool of the farmer.
He raised questions on how many farmers had really benefited from the various carrots that the government has dangled before them such as the crop insurance scheme, the farm loan waiver scheme, Ujjwala scheme for cooking gas connections, and so on.
"Now that you (Modi) are in Solapur, I would like to say, come to my drought-hit Marathwada once the way you travel across the world. You take pictures with Donald Trump, but once in a while come here and take a photo with my farmer whose fields have become dry," Thackeray said, adding he himself will visit time and again till the farmers are satisfied.
Thackeray said the Shiv Sena will try to end the drought woes for farmers and urged them to "end the political drought".
---
Also read: Shiv Sena is mum but some in BJP claim Amit Shah-Uddhav Thackeray meeting was positive
---
Modi saves flak for Congress
While Thackeray targeted the BJP and Modi, the prime minister trained his guns on the Congress, which has been vociferously targeting the Modi government over the Rafale fighter jets deal.
The PM said the Congress will have to reveal its links with "Michel mama," a reference to British national Christian Michel, who the Central Bureau of Investigation has brought to India for questioning in the AgustaWestland chopper deal.
"I read in newspapers that one middleman involved in the helicopter deal who the government was searching for has been brought to India and is in jail. Media reports say he was not just involved in chopper deal, but in the previous governments he played a role in fighter jet deals as well," Modi said.
"This 'Michel mama' was lobbying for planes of other companies. The Congress will have to explain how it is connected to this Michel mama," Modi said.
He said his government has launched a cleanliness drive in not just villages and cities, but in governance too.
"Many bigwigs can be seen having to give answers on tax evasion, bribery etc. The earlier government had made these thefts a part of the system," Modi said.
Calling himself the "chowkidar", the PM said, "Modi is made of a different mettle. You cannot buy him or scare him. He will take the hisaab (audit) for every penny for this country."
He also slammed the previous Congress-led government over its performance on building roads and houses, and said it had failed to develop those parts of the country that don't have enough Lok Sabha seats.
Read Global Pulse for a sampler of the big international stories, and why they matter.