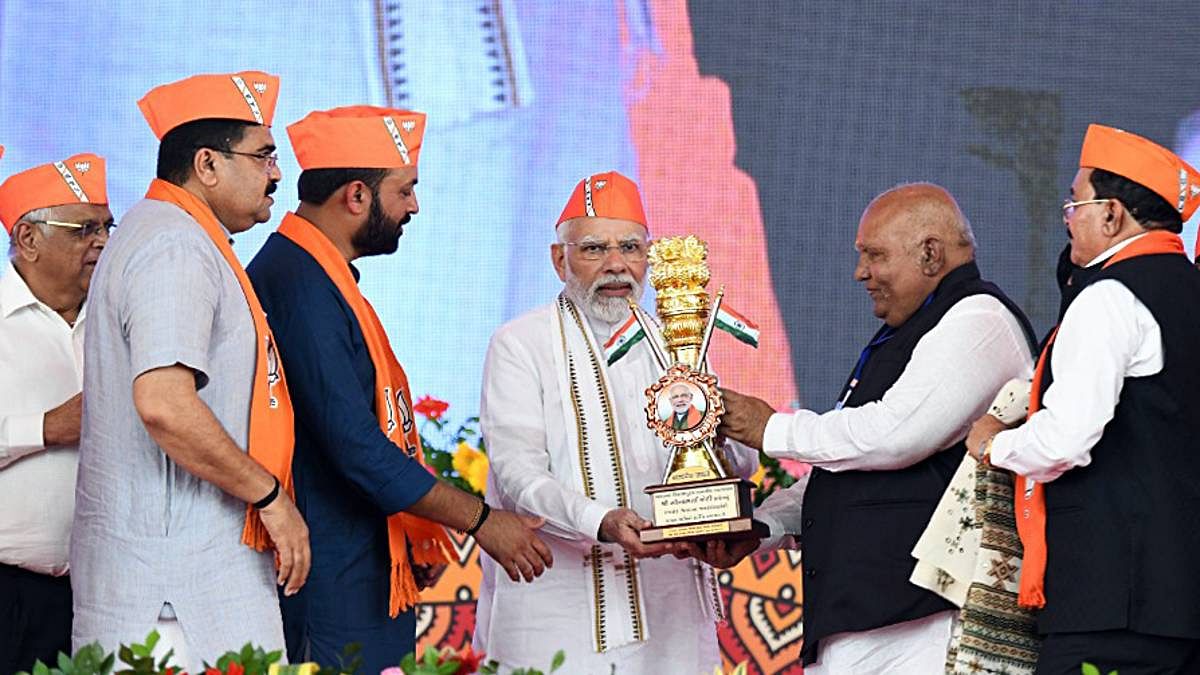 Ahmedabad: As the Bharatiya Janata Party (BJP) seeks a seventh term in Gujarat, one of the ruling party's biggest challenges is to woo young voters who may neither have any memories of the Congress rule in the state, nor any of Prime Minister Narendra Modi's early years as the chief minister.
Ahead of the Gujarat polls in December, the BJP is making a special effort to reach out to this section of voters with social media advertisements, repeated appeals by PM Modi in his Gujarat rallies, and by highlighting projects such as the Narmada water project.
"The young voters, say [those] between 18 and 35 years of age, have no memories of the pre-1995 era, when the Congress was in power. We have to tell them how people had to walk for kilometres in search of water, how difficult agriculture and horticulture were in the far-flung arid regions of Gujarat and how [water] tankers were a necessity," a Gujarat BJP functionary told ThePrint.
"Today's young voters have not seen the difficult days, and what was luxury for us then, is necessity for them now."
According to the functionary, young voters are the most likely to accept the Opposition's anti-incumbency campaign.
Of the total voting population of 4.9 crore in Gujarat, 4.61 lakh are first-time voters, those in the age group of 18-19 years.
According to BJP sources, the party has instructed its on-ground cadre to identify first-time voters in every household in the state and to help them get registered to vote.
"If their first point of contact is the BJP, if we are getting them registered without they having to do anything, we have a strong chance of converting them into BJP voters," a BJP leader from Gandhinagar said.
---
Also Read: In Chhota Udepur's Rathwa vs Rathwa, Congress loses veteran tribal leader ahead of Gujarat polls
---
Campaign to target the youth
Union Home Minister Amit Shah shared a three-minute animation video on Twitter Tuesday, highlighting PM Modi's efforts to boost Gujarat's water supply when he was the chief minister. Modi was the Gujarat CM from 2001 to 2014.
The video starts with what is claimed to be a scene from 2001. A woman is shown cranking a hand pump, desperately trying to get water, and finally breaking into tears. Narendra Modi appears, sees her, shakes his head and is then shown learning from experts how Gujarat's groundwater level has depleted and that the state is on the brink of a water crisis.
Then, in a few swift superhero-like sweeps, the video shows him unveiling a plan of action. Earthmovers start digging; canals and dams are built. The video ends with the same woman who was earlier shown in despair, now shedding tears of joy and offering potable water from her pot to Modi.
21 वर्ष पहले पानी की बूँद-बूँद को तरसते गुजरात के हर घर को आज नल से जल मिल रहा है।

गुजरात से जल संकट दूर करने की मोदी जी की दूरदर्शिता और परिश्रम को दर्शाती इस वीडियो को हर देशवासी व विशेषकर गुजरात की युवा पीढ़ी को अवश्य देखना चाहिए। pic.twitter.com/BV4uc7dkhk

— Amit Shah (@AmitShah) November 8, 2022
"Every countryman, especially the young generation in Gujarat, must watch the video that highlights Modi's foresight and handwork in dealing with the state's water crisis," tweeted Shah.
In another social media campaign released by the state unit of the BJP last month, the party claims the youth in Gujarat have become job providers and not job seekers and the state is known as India's start-up hub because of 20 years of BJP government.
ભારતીય જનતા પાર્ટીના સશક્ત નેતૃત્વમાં ગુજરાતમાં યુવાઓ નોકરી માંગનાર નહિ, પણ આપનાર બની રહ્યાં છે. #ભરોસાની_ભાજપ_સરકાર pic.twitter.com/wX6W3hFIzv

— BJP Gujarat (@BJP4Gujarat) October 29, 2022
The BJP Gujarat Yuva Morcha has also launched a campaign titled, 'My First Vote for Modi', to draw the state's young, first-time voters. The campaign involves BJP Yuva Morcha leaders going to college campuses across the state to talk about Modi's work as the Gujarat CM and registering the students' support for the BJP.
Modi's appeal to Gujarat's youth
In several of his rallies in Gujarat, Modi himself has directly appealed to the youth, talking about how they are probably unaware of how the state was two decades ago before the BJP came to power and the "hardships" that their parents had to endure.
On Sunday, while addressing a rally at Kaprada in Gujarat's Valsad district, where he launched the party's 'Aa Gujarat Main Banavyu Che' (I have built this Gujarat) campaign, Modi said two decades ago there was an atmosphere of despair everywhere.
"Our youth friends here. You have no idea the efforts your mothers and fathers have taken in the past 20-25 years. Because of that our Gujarat has gone forward. This time is yours, my youngsters. Those who are voting for the first time, the next 25 years are yours," said Modi. "Gujarat should keep going on the path of progress and get global fame."
Last week, addressing the tribal population at Jambhughoda in the Panchmahal district, Modi said, "What was the state of our tribal brothers 20-25 years ago when you gave me the opportunity to serve Gujarat? The tribal youth today probably don't even know what difficulties you were living under."
In another speech last month, at Mehsana district's Modhera — the village which Modi declared to be the first in India to run on solar power all day — the PM said, "I can see a lot of youngsters here, but I don't know if 20-25-year-olds know a lot."
"What was the state of our Mehsana district? Power was a problem. It wasn't about when the power was going to snap, but there would be news about whether we are going to get power or not. And for water, our sisters had to walk three kilometres with water containers."
"Today, the 20-25-year-olds don't even know these problems. The youngsters who go to schools and colleges will be even more surprised to hear that this was the situation… all this had the biggest impact on our [the previous generation's] degree education," the PM asserted.
(Edited by Poulomi Banerjee)
---
Also Read: Hardik Patel, now in BJP, says Congress attacks Gujarati industrialists & Modi to appease Muslims
---