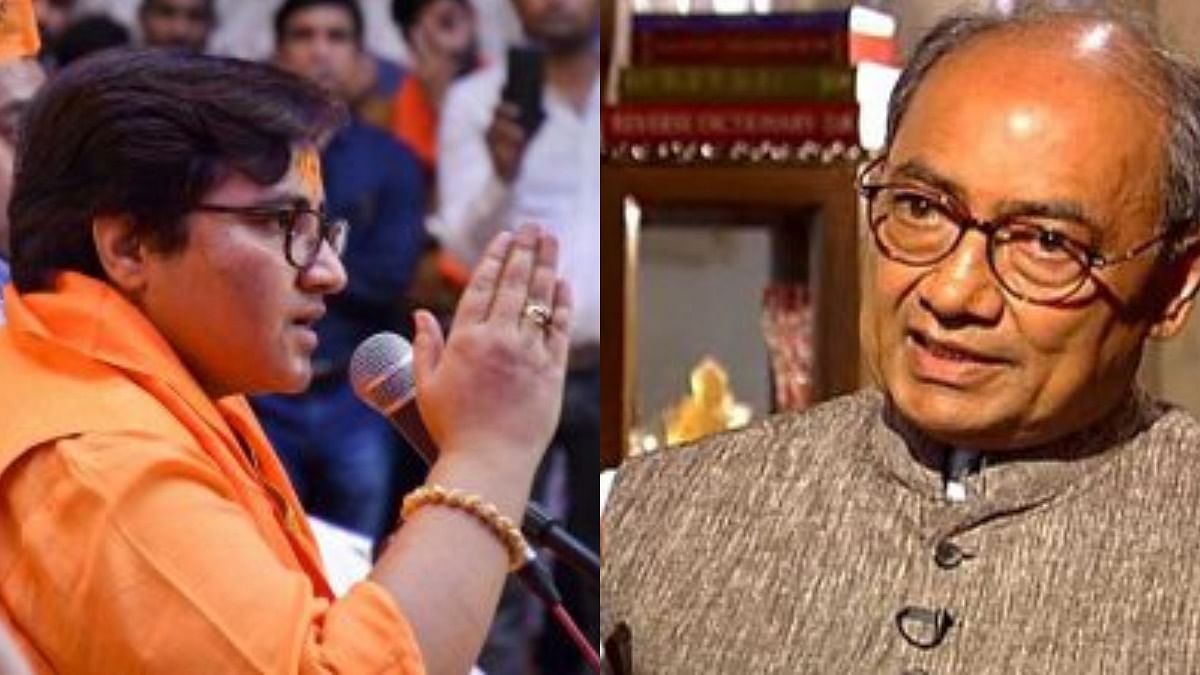 Bhopal: Nearly "a hundred" frenetic temple visits by a leader who once made the phrase 'Hindu terror' famous, a sadhvi whose saffron robe and hardline image are her only selling points, a rather 'faceless' publicity mechanism, and two distinct but strangely-linked campaign strategies — the Lok Sabha battle for Bhopal is turning out to be a peculiar but fascinating affair.
This is a contest where warrior Digvijaya Singh of the Congress is working hard to outdo his rival Pragya Singh Thakur of the Bharatiya Janata Party (BJP) in her natural game of 'Hindtuva', albeit by attempting a more muted version of it, while the latter is talking about little else except what she knows best — Hindutva.
This is a contest that is playing out like a cat-and-mouse game, with both waiting to see who will take the bait and get entangled in a trap, but where both have been advised restraint by their respective sides.
And finally, this is a contest where both sides have well thought-out and distinct campaign styles, even as their strategies almost entirely depend on each other, and one where both have stayed away from plastering their faces across hoardings.
Singh, senior Congress leader and two-time chief minister of Madhya Pradesh, threw his hat in the ring in the last week of March — his first electoral outing since 2003 — while the controversial Thakur, an accused in the 2008 Malegaon blasts case, was fielded by the BJP mid-April.
The irony? It was Singh, with a penchant for making politically-uncomfortable statements, who had promoted the phrase saffron or Hindu terror, of which Thakur has been projected as a face.
Importantly, Bhopal, with a weighty Muslim electorate of over 25 per cent, is a Lok Sabha seat the BJP has not lost since 1989. Bhopal votes 12 May in the sixth and penultimate phase of the Lok Sabha election.
Who's the 'better Hindu'?
The question for Singh and Thakur this election season seems to be: Who is more Hindu? While the latter and her team believe her 'sadhvi' status and past are enough to push the narrative beyond any doubt, Singh's side has decided to make some not-so-subtle moves to claim that space as well.
Before beginning his campaig, the former chief minister visited Shankaracharya Swami Swaroopanand Saraswati to seek his blessings. Nothing unusual about it, given that Singh is known to be a devout follower of Swaroopanand Saraswati.
Singh also visited Bhopal's Ram temple mid-April, before the BJP announced its candidate. Nothing unusual about this either, as Singh has always displayed a religious side. He has done a parikrama of the Narmada river, visited the holy Govardhan parvat on several occasions, and even got a temple constructed at the chief minister's residence during his tenure.
What, however, stands out is the escalation of his Hindu avatar, which his team claims is a carefully-thought-out strategy to counter the BJP.
"He has made nearly 100 temple visits so far since his campaign began informally," said a highly-placed source in Singh's core team.
"He is also meeting sadhus. He has always been religious but this is a considered strategy to not allow the BJP to give him the tag of being anti-Hindu, which is their main attack against him," the source added. "Especially since Sadhvi Pragya was fielded against him, and given how she consistently tries to make him seem anti-Hindu, he has stepped up his temple visits. He is not visiting dargahs now."
The Congress leader had visited a dargah in Raisen late at night towards the end of March, but after this was publicised and the BJP tried to use it against him, Singh has refrained from visiting any religious place except temples.
For Thakur, meanwhile, just her sadhvi status suffices. And Hindutva remains her pivotal election issue.
"She stops at temples on the way during her campaign but she really does not need to flaunt this since her stature is enough," said Hitesh Bajpai, who takes care of Thakur's media outreach and strategy.
"But for Singh, visiting temples is an election ploy. If he is such a Hindu, why did he visit Azamgarh earlier? Or begin his campaign with a dargah visit? His entire political lifestyle has been anti-Hindu," Bajpai added.
The BJP carefully fielded the controversial Thakur against Singh.
"Digvijaya Singh iconises the image of an anti-Hindu force. He coined the word Hindu terror. This is precisely why sadhvi ji has been fielded against him, since she is a living victim of his politics and can expose him," Bajpai said.
When her candidature was announced, Thakur visited the Mahakaleshwar temple that very evening.
Her constant and dominant messaging at rallies, roadshows and public interactions is to question Singh and what she calls his "anti-Hindu" stance.
---
Also read: Sadhvi Pragya Thakur is a god-send — for Digvijaya Singh
---
Laying the trap
This contest has also become one about the two trying to trap each other, hoping to benefit from any unwise, ill-timed statement made by the other side.
Thus, while Thakur has made one outrageous statement after another — from attacking former Mumbai Anti-Terrorist Squad chief Hemant Karkare, who died during 26/11, to claiming she was part of the Babri masjid demolition, though a child then — Singh has reacted to nothing.
The former chief minister has not attacked his opponent at all — neither at rallies, nor in smaller gatherings or door-to-door campaigns. He, instead, trains his guns at Prime Minister Narendra Modi and the BJP.
"We know they are trying to get him to say something that they can use against him. This is a thought-out decision, to not react to her or say anything whatsoever," Singh's aforementioned aide said.
"Not only has Digvijaya ji decided to not say a word about her, he has also instructed everyone else in the party to stay quiet. We don't want to give them any opportunity to target him based on some statement we make," the aide added.
The Congress believes Thakur's controversial statements have made her vulnerable, but the BJP believes it is succeeding in boxing Singh into a corner since he can't target her.
Even so, the BJP brass is learnt to have told Thakur to not talk too much, in light of the furore kicked up by her remarks on Karkare, though her team denies there's any gag order.
---
Also read: Why EC won't disqualify Sadhvi Pragya Thakur from contesting elections
---
The campaign
The fact is that both are relying on each other's politics so deeply, it has rendered their campaigns inter-linked, despite their distinctness.
Singh, who had the first-mover advantage, has conducted nearly 50 public meetings/rallies and around 40 meetings with party workers. The strategy is simple — to mix public meetings and door-to-door campaigning with targeted interactions.
For instance, in the initial phase of his campaign, Singh held meetings with heads of various associations and groupings — from business and trading lobbies to social ones.
The Congress has created a special campaign office in Bhopal, which resembles a typical war-room. Flooded with party workers and leaders, the building has one dedicated room for young workers glued to computers, wearing headphones and not sparing a moment to look up. Most of these are looking after social media, where Singh's strategy is to push out as much content as possible.
Meanwhile, he has a booth plan as well. Each cluster of six to seven booths has been made into a 'centre', with a senior leader in-charge of each centre.
Singh's team claims he has made "three rounds of all eight assembly segments under the Bhopal seat". He now plans to hold a padyatra across all eight from 5 May to 10 May.
Thakur, meanwhile, has help from the now-famous BJP organisation machinery and structure, along with RSS cadres.
She is holding rallies and interactions, but her ill-health allows only so much. The new politician travels in a mini bus of sorts — one that former chief minister Shivraj Singh Chouhan used — equipped with a toilet and other facilities. She is known to remain in her vehicle for the better part, and is driven through her constituency as she waves.
Her team's plan is to give two days to each of the eight assembly segments, given that there were just a little over 20 days between her candidature declaration and end of the campaign period.
Thakur begins her day of campaigning around 9 am, and ends it with a meeting of all the key in-charges at 10 pm, where notes are exchanged. The party has also made a separate campaign office, but it has more of an old-school political feel than that of a new-age war-room.
Unlike Singh's padyatra, Thakur's last burst will see top leaders like party president Amit Shah, Uttar Pradesh CM Yogi Adityanath and actor Sunny Deol, the BJP candidate from Gurdaspur, Punjab, campaign for her — all after 5 May.
Her last few days of campaign will also witness multiple booth-level meetings, involving all panna pramukhs.
Panna pramukhs are an important cog in the BJP's ground-up organisational structure — each of them is in charge of one page of the electoral roll and has the duty to knock on the door of each voter on the list to spread the party's message.
The absence of faces
The posters at both their campaign offices feature their photos, but those plastered across the constituency conspicuously don't.
In Singh's case, while some campaign hoardings feature the Congress top leadership, others follow an interesting approach. The party has used faces of yesteryear leaders — from Bhimrao Ambedkar to Jawaharlal Nehru, Lal Bahadur Shastri, and Indira Gandhi, as well as Rajiv Gandhi — with each of their photos printed along with a famous quote made by them. The hoarding then simply mentions Singh's name at the end, with no picture.
Sources say this is in tune with his earlier strategy as well, of not encouraging an approach where his face is flaunted — something he is said to have believed as CM as well.
Thakur, meanwhile, is following a similar style. Most hoardings and posters one sees across Bhopal simply have Modi on them, not Thakur.
"What is the need? The election is naturally being fought in the PM's name, even sadhvi ji knows that," said Bajpai.
The strategy, according to the BJP, is to prioritise Modi as the main face.