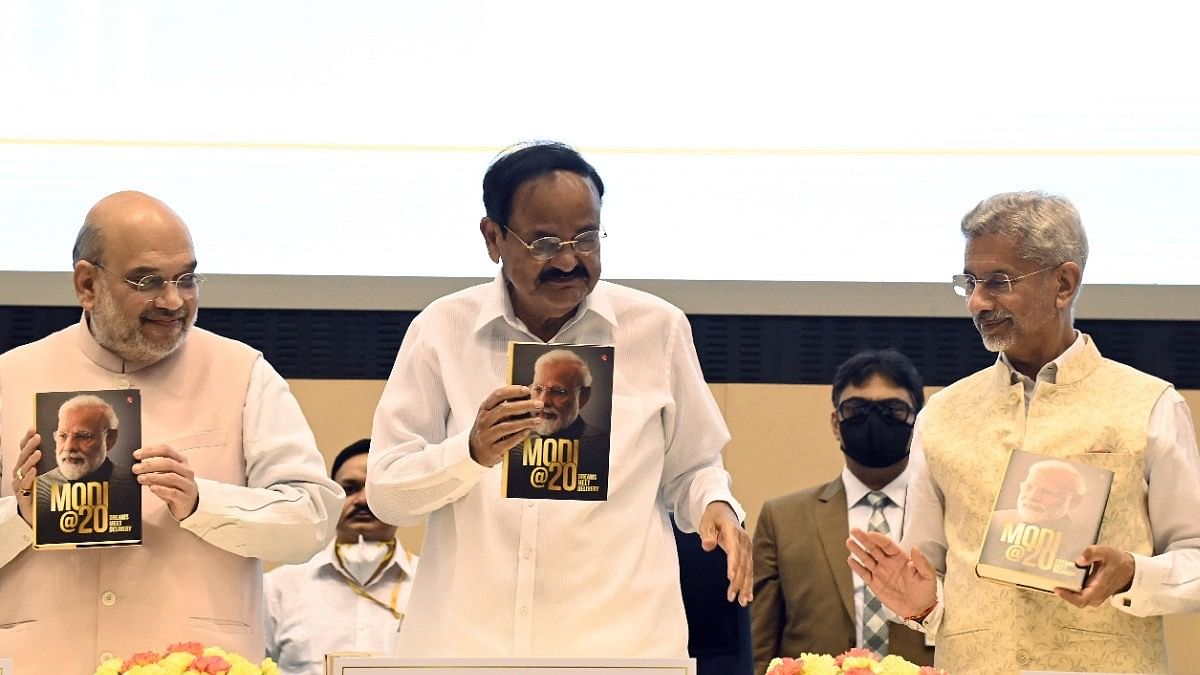 New Delhi: "The ten years between 2004 and 2014 represented the pinnacle (perhaps 'nadir' is a more appropriate word) of (this) national listlessness and despondency. Popular morale was low, India's people were dejected. It was against this backdrop that Narendra Modi emerged as a compelling all-India candidate for prime minister. He took the BJP into new areas, constituencies and social groups. More than that, he ignited hope," writes Union home minister Amit Shah in the newly-released book Modi@20: Dreams Meet Delivery.
Compiled by Bluekraft Digital Foundation and published by Rupa Publications, the book — whose title refers to the two decades that Modi has been in a governance role, including his stint as chief minister of Gujarat — attempts to offer insights into Modi as a man and his style of working via an anthology of 21 articles written by people who have worked closely with the PM.
Apart from Shah, some of the contributors include external affairs minister S. Jaishankar, National Security Advisor Ajit Doval, Infosys co-founder Nandan Nilekani, chairperson of the Infosys Foundation Sudha Murthy, Kotak Mahindra Bank's Uday Kotak, former principal secretary to the PM Nripendra Misra and shuttler P.V. Sindhu. The book was released in New Delhi Wednesday.
---
Also Read: Gujarat is no Delhi. Challenge goes beyond 'development'—contesting Modi's iconic image
---
'Target the runner-up' 
In a chapter titled 'Democracy, Delivery and Politics of Hope', the PM's long-time colleague Shah discusses how, in a short span of time, Modi became so popular across India. Apart from a "blockbuster election campaign" and "force multiplier of technology", he credits "the substance of the Modi message. That message itself had been written earlier, in the years of perseverance and striving, and of economic and social attainment in Gujarat."
"I first met Narendra bhai in Ahmedabad in 1987," Shah narrates, adding that the Ahmedabad Municipal Corporation elections had just been announced.
"The BJP, as a political and electoral force, was at the foot of a mountain and had a long climb ahead. With about a dozen seats in the outgoing Ahmedabad Municipal Corporation, our party was hardly in the reckoning."
But, he says, "Narendra bhai taught us to aim high and plan methodically."
"The basic premise of the Modi strategy was simple: mobilise and optimise the strengths and capacities of the party and the Sangh network for the election. The outcome was stunning. The BJP won a majority of municipal seats as well as the mayor's office."
He further talks about Modi's pace of work, praises him for acuity of observation and an eye for detail, and relates one piece of his advice that has stayed with him over the years.
"Narendra bhai told us every village was likely to have had two major candidates in the preceding sarpanch election. The winner would invariably be from the Congress or the Janata Dal, the two leading parties in Gujarat at the time. The loser would be sidelined and forgotten. Modi asked us to target the runner-up as part of the party membership drive."
'Deep sense of nationalism'
External affairs minister S Jaishankar recounts how Modi — who has "more travel experience" than him — brought the focus of foreign policy around to leveraging external relationships for domestic development.
"That Modi has little appetite for conventional sightseeing is well known. What I discovered accompanying him was how strongly the experiences abroad were driven by a goal of identifying and absorbing best practices," he writes.
The PM's learning, extensive travel and experience from his Gujarat days guided policymaking in foreign policy too, Jaishankar says.
"Among the prime minister's many attributes, one that stands out is his deep sense of nationalism," he further writes, recalling that he "first met Modi in 2011" when he was ambassador to China. He recalls the PM's "emphasis on issues of terrorism and sovereignty".
"When it came to terrorism, especially of a cross-border nature, he has been crystal clear that he would never allow it to be normalised. This determination has shaped our Pakistan policy since 2014," the minister says.
Jaishankar looks back at a time when he was visiting Islamabad  in 2015. "In his parting instructions, the PM told me that he had great confidence in my experience and judgement, but there is one thing I should keep in mind when I arrive at Islamabad. He was different from his predecessors and would neither overlook nor tolerate terrorism," he recalls.
Misra, the PM's former principal secretary, writes that Modi was never annoyed over the demonetisation fiasco, and the poor implementation of the note ban that drew criticism from across the nation as well as from abroad.
"He never criticised the implementation personnel," he writes, adding how "during demonetisation it was abundantly clear that the financial institutions could not perform to expectation, but at no stage was the prime minister ready to blame the machinery".
Misra narrates that he met Modi for the first time in 2014 after the general election result when Arun Jaitley had called him to visit Gujarat Bhawan for discussions. "Since I had never met Modi before, I was both nervous and uncertain… he spoke about Gandhiji, the commemoration of the freedom movement and poverty. I noted his priorities for the future and took his leave," he recalls, adding that Modi later informed him personally about his appointment as principal secretary.
---
Also Read: Modi is a polarising figure and that's not a bad thing. But we need answers to 3 questions
---
'Hard talk with Putin'
In his account, NSA Doval describes one of the "striking characteristics" of the PM — his "ability to approach national security matters from a long-term strategic perspective".
"He has an uncanny futuristic sense, and observes risks and opportunities that are often missed even by experts," writes Doval.
During the Eastern Ladakh standoff in 2020 with the Chinese People's Liberation Army, "use of force (by India) was approved with alacrity at the topmost level", says the NSA, adding that Modi's eye for detail, quick comprehension of complex issues and capacity for hard work make him "a statesman".
"He (Modi) thinks unconventionally and takes calculated risks when he is convinced that is necessary for security of the country like in Uri and Balakot," Doval writes, saying that "first of its kind operations after Uri enhanced India's global prestige".
He also narrates a matter that Modi took up with Russian President Vladimir Putin — "decades back, we commenced manufacturing defence items in India with Soviet collaboration… we had followed the practice of paying 'royalties' for each item produced in India" as it was part of the original contract and "too sacrosanct to be challenged".
But, he adds, "the prime minister was furious" at the practice.
"He was astonished that the royalty clause had no time or other limits. He wanted all of us to not only discontinue the practice in future, but also work towards getting the old contracts reviewed. When we failed to achieve much success, he took it up most strongly with President Putin," the NSA writes in the book.
(Edited by Nida Fatima Siddiqui)
---
Also Read: Nehru's policy is costing Indian school education. But Modi govt can fix it with vouchers
---