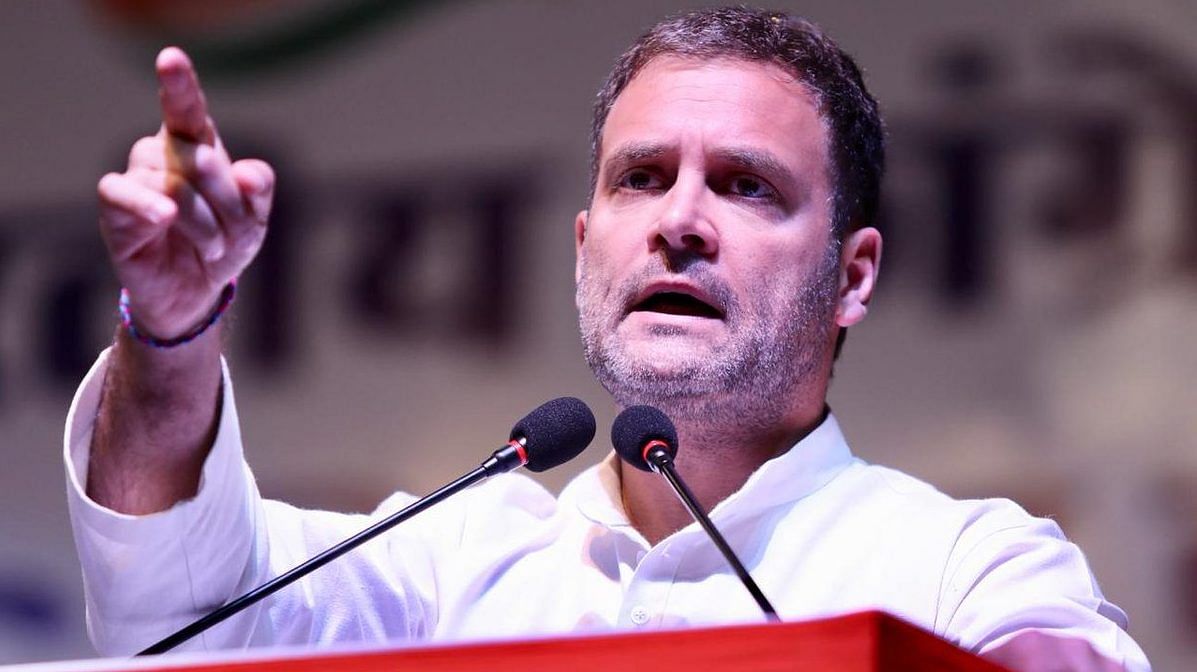 New Delhi: Through the course of the 2019 Lok Sabha election, Rahul Gandhi's poll pitch has undergone a sea change, with the Congress president shifting the focus of his speeches from the Rafale deal to Nyay, the minimum income scheme through which his party has promised Rs 72,000 annually to "India's poorest".
After the Model Code of Conduct (MCC) kicked in on 10 March, Gandhi held his first rally in Gujarat on 12 March and spoke on the 14 February terror attack in Pulwama, industrialist Anil Ambani, and fugitive businessmen Mehul Choksi and Vijay Mallya.
A large part of his speech, however, was dedicated to the Rafale deal. It was a recurring theme in all of his speeches in March as he discussed the nitty-gritty of the deal — the amount involved, of how Prime Minister Narendra Modi allegedly indulged in corruption, and the fact that the Congress had pressed for a Joint Parliamentary Committee (JPC) probe on the deal.
The Rafale phase
Sources in the Congress said that the party had then decided to focus on corruption and felt that the Rafale row would resonate with voters.
The subsequent public rallies in Uttarakhand, Karnataka, Arunachal Pradesh followed the same trajectory. ThePrint looked at Rahul Gandhi's speeches and found that initially the minimum income guarantee promise, which later became the party's main poll pitch, was only touched upon.
The focus remained on Rafale, corruption, demonetisation and the industrialists who allegedly looted the nation and ran away.
"Anil Ambani, Rs 45,000 crore, he owes the Indian banking system. His brother had to save him from going to jail. His brother had to pay to stop him from going to jail because he cannot pay his debts and that is the man that Narendra Modi chooses to give the biggest defence contract in the world, to give India's security to a thief," Gandhi said in a speech at Imphal on 20 March.
"A man, who cannot pay his own bank loans, who owes Rs 45,000 crore, who owes Rs 45,000 crore to the Indian banking system, Narendra Modi gives him the Rafale contract," he added
He further gave a detailed account of the deal, on how the jets were allegedly worth Rs 526 crore and bought for Rs 1,600 crore, and that the Hindustan Aeronautical Limited (HAL), which he said should have been given the contract, was left out of the deal.
In most of his speeches during this period, Gandhi would address the crowd with: "Rafale ke baare mai thoda bataana chahta hu (I would like to talk about Rafale)."
---
Also read: In Sonia & Rahul Gandhi's model villages, bad roads, no hospitals & dirty drinking water
---
Nyay takes over Rafale
It was from March end, when he delivered a speech in Haryana and especially in Zaheerabad, Telangana, on 1 April, when Rafale took a backseat and the Congress president dedicated a large chunk of his address to the Nyay scheme.
He went on to explain how it was proposed within the party and how it materialised and was given the final shape. It is here that he began talking more about other pressing issues such as unemployment, farm loan waivers and a separate budget for the "kisan".
Under Nyay, the scheme announced by the party in its Lok Sabha election manifesto, the poorest 20 per cent in the country will be assured an income of Rs 6,000 a month.
A senior Congress leader explained the change in strategy: "As part of the election strategy it is our job to see what issues are resonating more and it was found that though Rafale was an important issue, one had to raise issues that are essentially linked with people's daily life," said the senior leader who did not wish to be identified.
"We had already done loan waivers in three states so we felt it was important to highlight that as well as the Nyay scheme. His speeches, therefore, reflect that over the different phases of the elections," the leader added.
Gandhi also started to begin his speeches with 'chowkidar chor hai' in a jibe at Prime Minister Narendra Modi. For instance, on 24 April, at a rally in Uttar Pradesh's Unnao district, Gandhi began with the slogan "Chowkidar…" prompting the crowd to respond with "chor hai".
This then became the starting point for a number of his speeches as he went on to say that though the idea of depositing money into the accounts of poor people came from Modi, his team spent months on helping it materialise by coming up with a realistic number on his directions.
Farmers and loan waivers a key focus area
Apart from Nyay, another key focus of Gandhi's speeches was the loan waivers for farmers, a separate budget for them and the provision of not sending them to jail in case they default.
His speeches also took potshots at the Modi government's promises to create two crore jobs, highlighting the issue of unemployment. In a number of speeches, he talked about how it was farmers who gave him directions to have in place a separate kisan budget.
Another key highlight in his speeches is the example of the three states the party won recently: Chhattisgarh, Rajasthan and Madhya Pradesh.
On 11 May, at a rally in Shajapur, Madhya Pradesh, he mentioned former chief minister Shivraj Singh Chouhan accusing the Congress of not carrying out farm loan waivers.
"Shivraj Singh Chouhan had said the Congress party is lying. But Kamal Nath then took out names of those whose loans have been waived," he said.
"On this, Chouhan said there must be some misunderstanding. Kamal Nathji took out the form and showed the signatures of all those whose loans were waived off," Gandhi added.
According to another senior leader, his speeches reflect the mood of the public too, as they primarily focused on Nyay, issues related to the farmers and unemployment.
---
Also read: 12 highlights from Rahul Gandhi interview: On Hindu terror, Sadhvi Pragya Thakur, others
---