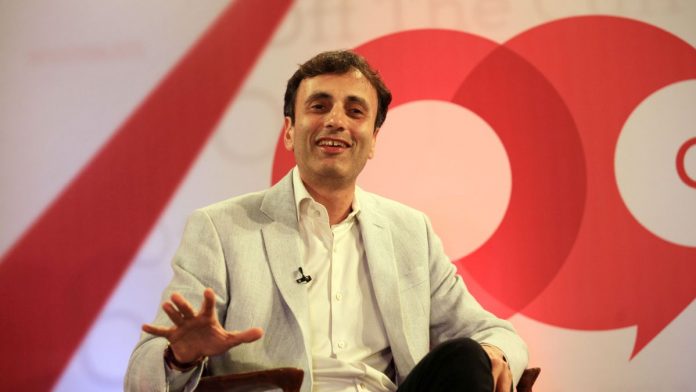 Text Size:
Mumbai: The political narrative ahead of the Lok Sabha polls seems to be revolving around Hindutva, but it is a very north Indian, Hindi-heartland discourse that does not necessarily echo with the rest of the country, according to Ruchir Sharma, author of the newly-published book Democracy on the Road.
Sharma, head of emerging markets and chief global strategist at Morgan Stanley Investment Management, was speaking to ThePrint's Editor-in-Chief Shekhar Gupta at Off The Cuff in Mumbai.
The investment guru said most people in his circle are labelled 'liberals' but are right-of-centre when it comes to economic policies, believing in free markets, minimum government and maximum governance. And from that perspective, he is disappointed with Narendra Modi's five years in power.
Pointing out that in the run-up to the 2014 polls, Modi had used the word 'development' many more times than 'religion' or 'Hindutva', Sharma said: "When I look back at what's happened over the past five years from a pure economic standpoint, I am disappointed. I wish he (Modi) could have changed India more from that narrative. Instead as we head into this election, there is more populism that is building on both sides."
---
Also read: How directive principles fuel BJP and Congress politics on cow and Hindutva
---
Hindutva outside the Hindi heartland
"The one thing that I caution about this election is that the discourse is a very Hindi heartland-dominated discourse, and the rest of the country is very different," said Sharma, whose new book focuses on how India and democracy works at the grassroots, based on his experience of traveling through India chasing election campaigns for over two decades.
"For instance, you say 'Jai Shri Ram' in Bengal, and for them, a different deity matters more than Ram does."
Not only is the Hindutva narrative restricted to the north, it is also a very "upper-class" discourse, and Dalits and some other communities within the Hindu religion do not identify with it, Sharma said.
The narrative, he said, does not work in southern India either, barring a few pockets such as north Karnataka, and added that the "exclusion" of this region is one of the most under-reported stories this election.
Caste the key in game of coalitions
Sharma, who has also authored bestsellers such as Breakout Nations and The Rise and Fall of Nations, also said that the recent polls in Madhya Pradesh, Chhattisgarh and Rajasthan, in which the Congress defeated the incumbent BJP, may not tell us anything about how the country will vote in the Lok Sabha polls.
"Historical data says that the way one election goes, another election within six to 12 months follows the same trend at least in that particular state. But India is so complex that how some states vote tells you nothing about the rest of the country," Sharma said, adding that the 2003-04 period is very instructive in this regard.
He pointed out that Atal Bihari Vajpayee's BJP-led government was emboldened to call an early election in 2004, buoyed by its victory in these few states, and while the party did well in these states in the general election it still lost in the rest of the country.
Sharma also said caste still plays a major role when it comes to the polls.
"My own learning is that this election is not so much about issues as it is about caste again. You ask people what they think about demonetisation, the Goods and Services Tax, their answer is still in caste," he said.
He added that the Lok Sabha poll is a "truly open election, and there is no way at this stage for anyone to say what's going to happen".
"We have to wait and watch closer to the date, but it will be a game of coalitions," Sharma said.
---
Also read: From Modi's tearful entry to Rahul Gandhi's hug, the highlights of 16th Lok Sabha
---

Check out My543, our comprehensive report card of all Lok Sabha MPs.