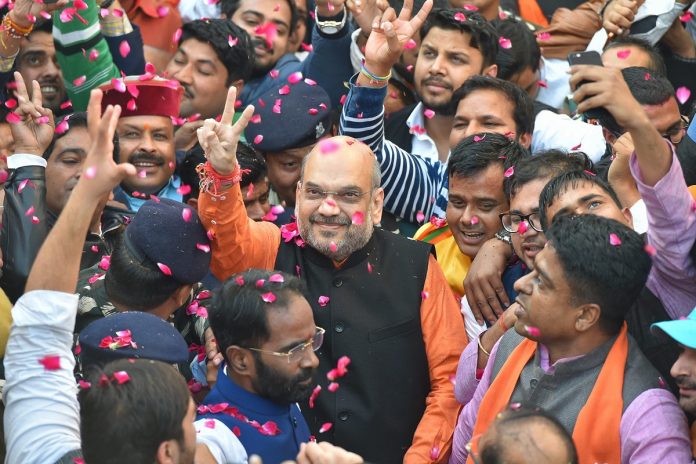 Text Size:
BJP improves victory margin in two key constituencies—Bhuj and Anjar—and almost maintained its 2012 cushion in Mandvi and Gandhidham.
Mumbai: Even as it ceded one additional seat to the Congress, the BJP strengthened its grip over Kutch district, home to the Kandla and Mundra ports, and a showpiece of the much-touted 'Gujarat model'.
The party improved its victory margin in two key constituencies in the region — Bhuj and Anjar — and almost maintained its 2012 cushion in Mandvi and Gandhidham. This, despite the Congress' tactfully fielding candidates and aggressive campaigning in all the four constituencies that have been BJP bastions for nearly two decades barring one term, in the immediate aftermath of the 2001 earthquake.
The Kutch region, with a population of 20.9 lakh, has six assembly seats — Bhuj, Anjar, Mandvi, Gandhidham, Abdasa and Rapar. The BJP held five of these, while Congress had its legislator at Abdasa. Now, besides Abdasa, the Congress has also regained Rapar, which it had lost to the BJP in 2012 after 10 years, with a handsome margin.
The BJP has always showcased the Kutch region as a gem in its development model, having restored it from total destruction after the 2001 earthquake, pushed tourism in the Rann of Kutch and rolled out a red carpet here for industries such as the Adani Group, Welspun, Jindal, Suzlon, Ashapura Group, Excel Corp Care, Essar and so on.
The biggest leap in the BJP's margins in the Kutch region was in Anjar, from where Congress president Rahul Gandhi began the last phase of his campaigning. BJP MLA Vasanbhai Ahir beat Congress' V.K. Humbal by a margin of 11,313 votes, nearly 2.5 times his victory margin of 4,728 votes in 2012.
Similarly in Bhuj, BJP's incumbent Nimaben Acharya defeated Congress' Adam Chaki, a Muslim candidate, in a constituency with a 26 per cent Muslim population. Chaki, known for filing PILs for graft allegations, was seen as a leader who could tap into any anti-incumbency in Bhuj, the headquarters of the Kutch district.
Acharya's victory margin surged to more than 14,000 from 8,973 in 2012, according to Election Commission's data as of 4 pm.
The party's most-prized victory against the Congress in Kutch comes in Mandvi where BJP's Virendrasinh Jadeja defeated Congress heavyweight Shaktisinh Gohil, former leader of the opposition, by a margin 9,046 votes.
Gohil lost despite his keen campaigning, Congress' allegations of the BJP government having favoured the Adani group at Mundra, and a 36 per cent Muslim population.
Similarly, the BJP almost maintained its margin at Gandhidham, a seat with a significant Dalit voter base where Congress fielded a Dalit candidate to take on BJP's Malti Maheshwari, also a Dalit and the party's youngest candidate. Maheshwari retained the BJP's seat and its victory margin of over 20,000.
"The four seats that we won is a victory for Gujarat's development. People have faith in PM Narendra Modi and our karyakartas worked hard on the ground. We are trying to analyse why we lost the other two seats in the district to Congress," said Vinod Chavda, BJP MP from Kutch.
For ThePrint's smart analysis of how the rest of the media is doing its job, no holds barred, go to PluggedIn