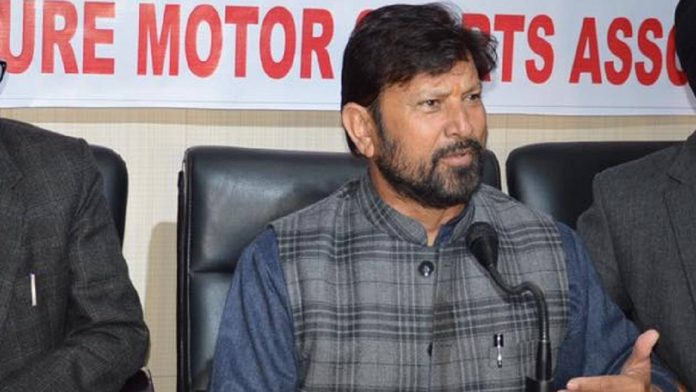 Text Size:
Lal Singh was made to quit the erstwhile BJP-PDP government in J&K after allegedly expressing support for the Kathua rape accused.
New Delhi: Senior Bharatiya Janata Party (BJP) leader Lal Singh, who was forced to resign as Jammu & Kashmir forest minister after he allegedly expressed support for the accused in the rape and murder of an eight-year-old girl in Kathua last year, is all set to part ways with the party soon.
Sources close to the Jammu-based politician, who was earlier a Congress member of the Lok Sabha, told ThePrint that he had already floated his own "Jammu-centric" political organisation, the Dogra Swabhiman Sangathan (DSS).
The new party, the sources added, intends to field candidates on both the Lok Sabha seats of the Jammu region in the upcoming election, as well as its 37 assembly constituencies when the state goes to the polls.
"The BJP used him for its gains and has now completely sidelined him," a BJP leader close to Singh said. "It was due to him that Union Minister (of State in PMO) Jitendra Singh managed to defeat (Congress leader) Ghulam Nabi Azad in the Kathua-Doda Lok Sabha seat in the 2014 elections."
Sources in the BJP also acknowledged that the party "is no longer sure that it wants to keep Lal Singh in its fold".
"The BJP is a cadre-based party, where discipline is taken very seriously," said a BJP leader who did not wish to be identified. "No leader, big or small, can get away with casting aspersions on the leadership or trying to pressure the party into following their diktats. He (Lal Singh) is welcome to leave," the BJP leader added.
While there were indications earlier that Singh was also in talks with the Congress to return to the party, nothing concrete has materialised on that front.
---
Also read: BJP minister who's backing Kathua rape-murder accused once compared Modi to a dog and bull
---
Penchant for attracting controversy
The former state minister and Lok Sabha member, who has a strong base in the Kathua area of Jammu province, especially among the Dogra Rajput community, has often been in controversies.
In a 2013 video that went viral just before the 2014 general elections, Singh, who was then a Congress MP, was purportedly seen comparing Narendra Modi, then the BJP's prime ministerial aspirant, to a dog and a bull.
In 2017, while interacting with a group of Gujjars, he is said to have evoked the 1947 massacre of Muslims in Jammu. Singh later denied making any such remark.
However, it was his speech at a public meeting in support of the accused in the child's rape and murder that brought him to national headlines.
At the time, Singh was a minister in the J&K government, then run by a coalition comprising the BJP and the Peoples Democratic Party (PDP).
"If you launch an agitation, do it with full force or sit at home…" Singh told members of a fringe outfit named Hindu Ekta Manch in Dogri. "So what if a girl has been killed? So many girls have been killed earlier and nobody ever bothered," he added.
The Kathua rape and murder had deteriorated into a communal row in light of the fact that the victim was Muslim, a member of the nomadic Bakerwal community, and the accused Hindu, setting the stage for another confrontation between Muslim-dominated Kashmir and Hindu-dominant Jammu.
While there were many in the Jammu region who saw Singh as a local leader who was taking on the more powerful Kashmiri politicians — led at the time by then chief minister Mehbooba Mufti, whose cabinet Singh was a member of — his refusal to tone down the rhetoric turned the leadership against him.
Singh and his supporters, including many in the BJP, saw his ouster from the cabinet as a sign of the party's weakness in dealing with the PDP.
After his ouster, his younger brother was caught on camera calling Mehbooba a "b***h". Since his ouster from the government, Singh has mostly been kept out of party programmes.
Last week, when Prime Minister Modi addressed a public meeting in Samba, an area where Singh has considerable influence, he was missing.
On his part, Singh has been canvassing for support in the Jammu region, often invoking Dogra pride to seek sympathy.
For ThePrint's smart analysis of how the rest of the media is doing its job, no holds barred, go to PluggedIn