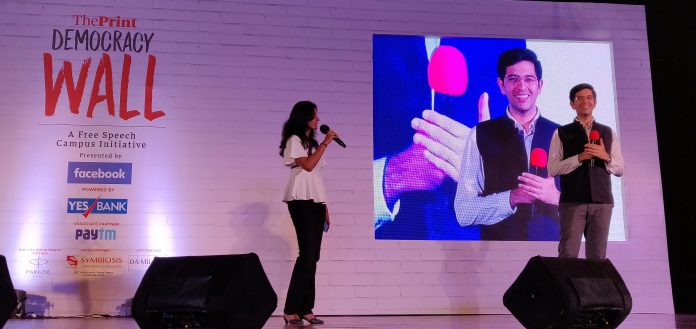 Text Size:
At Democracy Wall, Chadha talks about AAP being a truly democratic party, and the issues facing Delhi's Arvind Kejriwal government.
New Delhi: The real challenge to the Modi government will come from the civil society, like farmers, Dalits and youth across the country." That's what Aam Aadmi Party spokesperson Raghav Chadha believes.
Chadha was speaking to Manasi Phadke, associate editor, at the eighth edition of ThePrint's Democracy Wall at Symbiosis Centre for Media & Communication in Pune Friday.
Responding to students' queries about the alleged infighting and splits in his party, Chadha said: "What you call infighting are basically differences of opinion, and AAP allows the space for its members to express themselves freely, like a truly democratic party."
Democracy Wall is a monthly free speech campus initiative organised by ThePrint in collaboration with Facebook. The event was held at Symbiosis Centre for Media & Communication, Pune. Apart from Chadha, actor Kay Kay Menon, researcher Richa Sekhani, rapper Feyago and comedian Abhineet Mishra were speakers at the event.
Addressing Delhi's issues
Acknowledging the severe condition of pollution in Delhi, Chadha said it is a problem for the whole of northern India, and everyone needed to come together to tackle it.
"While the AAP government has taken steps such as the odd-even scheme, and banning construction from time to time, the entire region needs to come together and find a solution for the problem," he said.
On the issue of women's safety in Delhi, Chadha talked about the constant struggle for power between the state and the central government. He told the audience about the CCTV project promised by the AAP government, which "hasn't seen the light of the day as it has been pending with the Lieutenant Governor for over 18 months".
However, after the Supreme Court ruled in favour of the AAP government in its tussle with the L-G, Chadha expressed hope that progress will be clearly visible "now that our government has some power".
On the demand for full statehood, Chadha explained that the complex division of administrative powers makes it difficult to get work done in the capital.
Referring to Delhi chief minister Arvind Kejriwal sitting on strike against the L-G, Chadha said that it was due to this "satyagrah" that governance was restored in Delhi.
"The bureaucrats on strike were being aided by the L-G. After repeated requests urging them to let the government function failed, we were left with no other option," Chadha claimed.
Get the PrintEssential to make sense of the day's key developments