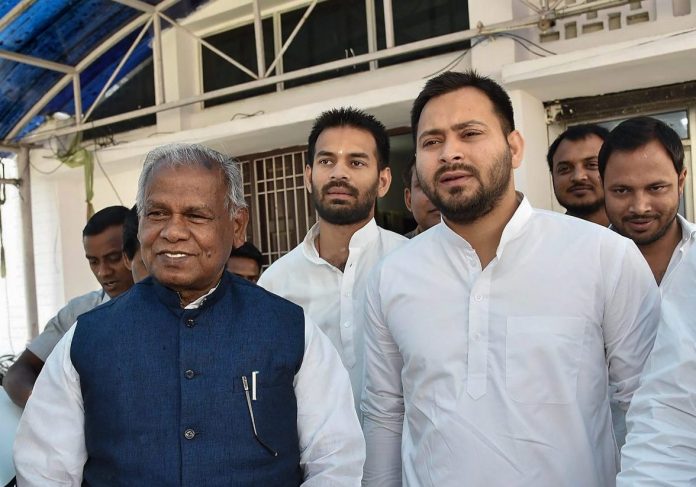 Text Size:
Former Bihar CM quits NDA and joins hands with RJD. He had been unhappy since his son wasn't accommodated in the JD(U)-BJP ministry formed last year.
New Delhi: Jitan Ram Manjhi, the former chief minister of Bihar and president of the Hindustani Awam Morcha, has decided to quit the NDA in Bihar, despite a personal phone call from BJP chief Amit Shah asking him to stay.
The move has been on the cards ever since the JD(U) and the BJP came back together and formed a new alliance government in Bihar last year. At the time, Manjhi camped in Delhi for three days to ensure a ministerial berth for his son Santosh Manjhi, but was refused by Shah.
Since then, Manjhi had been hobnobbing with Lalu Prasad Yadav's Rashtriya Janata Dal, and the only question most political observers had was when Manjhi would announce his departure from the NDA.
Shah's call and Tejashwi's counter
In January this year, HAM state president Vrishan Patel visited Lalu Yadav in jail in Ranchi, giving rise to speculation that Manjhi could announce his decision soon.
In the last few days, Manjhi held several meetings with Tejashwi Yadav and Rabri Devi at the latter's residence and a deal was almost struck. Manjhi demanded two MLC seats, one for his son and another for Patel. Sources told ThePrint that both demands had been accepted by the RJD leadership.
Manjhi was to announce the decision at a press conference on 1 March. But in the interim, the BJP's central leadership, which had been keeping a close eye on him, swung into action.
Shah called him in the evening on 27 February, once again trying to convince him that he would be accommodated. But Manjhi reportedly didn't warm up to the offer.
However, Shah's call was the trigger for Tejashwi, who went straight to Manjhi's home Wednesday morning. The formal announcement would be made in the evening, but while coming out of the meeting, Manjhi told mediapersons: "NDA se alag ho gaye hain (have separated from NDA)."
Tejashwi, meanwhile, told mediapersons in Patna: "Manjhi ji is like my father and he was feeling suffocated in the NDA. We welcome him to the grand alliance."
Political significance
Manjhi hails from the extremely backward Musahar community, which accounts for 6 per cent of the total electorate in Bihar. His leadership made Musahars politically empowered, evidenced by the fact that there were eight Musahar MLAs in Bihar in 2010 and six in 2015. He served as chief minister for 10 months in 2014-15, when he was asked to make way for his predecessor and leader of his party, Nitish Kumar. Refusal to do so resulted in Manjhi's expulsion from the JD(U).
Manjhi formed HAM thereafter, and joined hands with Nitish's estranged ally BJP. His party contested 21 seats, but could win only one – Manjhi even lost one of the two seats he contested.
The BJP's bid to forge a new caste coalition of Dalits, Extremely Backward Classes and upper castes failed. But the party came back to power after realigning with Nitish last year, when the JD(U) left the grand alliance it had formed with the RJD and the Congress.
BJP leaders think that with the JD(U) now on board, they don't need Manjhi at all. "We didn't get any benefit from taking him with us. His departure doesn't affect us, especially since we have the JD(U)," a senior Bihar BJP leader told ThePrint.
But Manjhi's new alliance with the RJD could return a good chunk of Dalit and Mahadalit voters to the Yadav family's fold.
To maximise this advantage, there is talk within the RJD's first family to send Manjhi to the Rajya Sabha.
A few days ago, Tejashwi himself had spoken to BSP leader Mayawati and offered her a Rajya Sabha nomination, as promised by his father after Mayawati had resigned her seat in the upper house in July last year. Since Mayawati refused, RJD can now think of Manjhi as another candidate.
Get the PrintEssential to make sense of the day's key developments