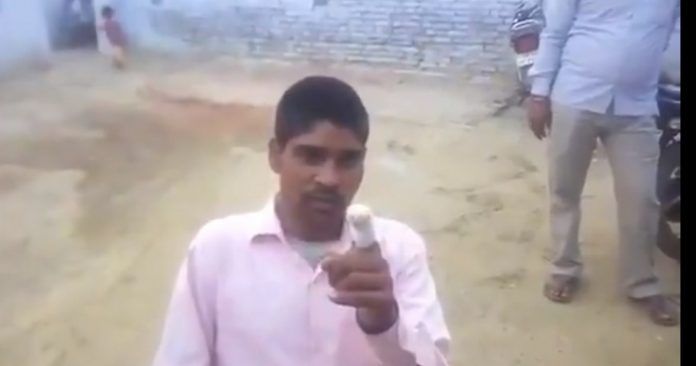 Text Size:
New Delhi: A Dalit man in Uttar Pradesh's Bulandshahr has claimed to have chopped off his finger as "he voted for the BJP by mistake".
Pawan Kumar, a resident of Abdullapur Hulasan Village in Shikarpur tehsil, told ThePrint that he is a staunch Bahujan Samaj Party (BSP) supporter and that he accidentally pressed the wrong button on the EVM.
Bulandshahr voted in the second phase of elections on 18 April.
"I accidentally pressed the button having the lotus symbol (BJP) instead of the one with an elephant (BSP)," he said. "I don't blame anyone but myself for it."
Pawan said when he returned home after casting his vote, he was overcome by guilt for his mistake. He claimed that he then pressed his finger, marked with voting ink, against the ground and chopped it off.
His cousin, Satendra Kumar, who claims to have shot the video that has gone viral on social media, said that the local doctor immediately referred Pawan to the Bulandshahar district hospital for further treatment. Pawan's finger has been completely detached and due to financial constraints, his family is still to take him to the district hospital.
A youth in Abdullapur Hulaspur village in UP's Bulandshahr severed his own finger for accidently voting BJP instead of BSP. pic.twitter.com/zXq9LwOOH3

— Piyush Rai (@Benarasiyaa) April 18, 2019
'Modi has done nothing'
Pawan said his guilt at voting for Modi was because he felt the Prime Minister Narendra Modi had failed to do anything for the poor. An unskilled seasonal agricultural labourer, Pawan said he had no regular source of income and earned Rs 300 a day during the peak labour-intensive season of harvesting.
"Kuch kam nahi kiye hai Modi. Notebandi karke sab barbaad kardiye hai (Modi has done no work. Instead, his demonetisation has destroyed everything)," Pawan said. "Kamai kuch hai nahi aur kharche badhte ja rahe hai (Our income hasn't increased but our expenditure has."
He also asserted that the PM and his party are a threat to Dalits and added that he had voted against BJP in the 2014 Lok Sabha elections.
Pawan further said he has never seen or conversed either with sitting BJP MP Bhola Singh or the BSP-SP-RLD joint candidate Yogesh Verma and only knows the latter via the party flag and hoardings.
He is, however, an ardent supporter of BSP chief Mayawati, who he sees as a future Prime Minister.
"Behenji ne hum sab ke liye bahut kuch kiya hai (Mayawati has done a lot for us)," he said. "Park pagdandi aur nala sab durust kar diye rahi wo (She has made parks, roads and sewers better)."
---
Also read: In Congress-BSP tussle, Priyanka threatens to steal Mayawati's march in UP
---
Get the PrintEssential to make sense of the day's key developments