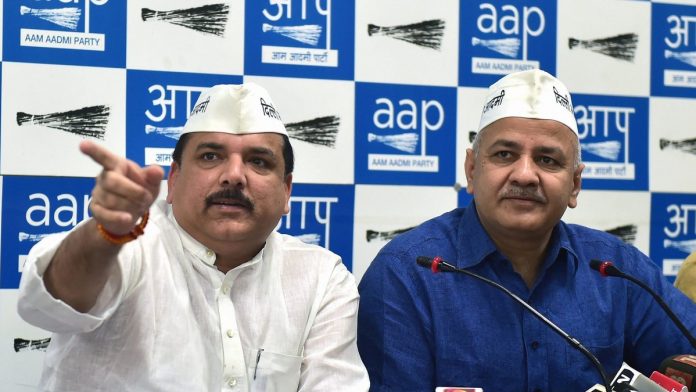 Text Size:
New Delhi: Delhi Deputy Chief Minister Manish Sisodia Saturday reiterated that the Aam Aadmi Party will not ally with the Congress in Delhi unless the national party cedes political space in Haryana or Chandigarh.
Speaking a day after reports that the Congress had finalised its list for the national capital in case talks with AAP fall through, Sisodia said his party was willing to take just one seat in Haryana.
"The Congress is not ready for an alliance in Haryana at all," Sisodia said at a press conference in New Delhi Saturday. "This shows that all of this, defeating Modi-Shah is not important for them, it's a time pass. We want an alliance but not just in Delhi."
The two parties have held parleys about a possible tie-up for over three months now. AAP had initially sought an alliance across Punjab, Delhi, Haryana, Goa and Chandigarh but is now willing to settle for a tie-up in Delhi, Chandigarh and Haryana.
While AAP has been campaigning on all seven seats in Delhi, it has, however, delayed filing nominations for three of its candidates, in effect not shutting the door on the possibility of an alliance.
---
Also read: Congress wants to field Sheila Dikshit from East Delhi, readies list as talks go on with AAP
---
The Haryana hurdle
The sticking point in the talks between the two parties appears to be seat-sharing in Haryana.
AAP is staking a claim in Haryana on the basis of the Jind bypoll, held earlier this year. The party had allied with the Jannayak Janata Party (JJP), headed by Dushyant Chautala, and the combine's candidate, Digvijay Chautala, outperformed the Congress' Randeep Surjewala by a huge margin.
"When we spoke to Dushyant Chautala initially, the proposal was four seats for the JJP, four for the Congress and two for AAP," Sisodia said, adding that the Congress disagreed with the formula and came up with a counter-proposal of six seats for itself, three for the JJP and one for AAP.
"We agreed to that as well," Sisodia said. "Then they (Congress) said they will give JJP only two seats. We spoke to Dushyant and he agreed to it."
"Ab Congress isse bhi mukar gayi hai. Unhon ne Haryana mein allaince ki talks ko sirre kharish diya hai, (Now Congress has backed out on this as well. They have completely dismissed talks of an alliance in Haryana," Sisodia said.
Senior AAP leader and its mediator for the alliance, Sanjay Singh, said, "We tried everything. Chandigarh pe maan jao (agree on Chandigarh), agree on Haryana, but they are categorically refusing to do so."
Both leaders, however, refused to provide clarity on whether AAP was giving up on the alliance.
"Our focus is not who gets what seat, it is to defeat Modi and Shah, and not just in Delhi," Sisodia said. "The BJP is so worried about the possible alliance that they haven't even declared their candidates in Delhi yet, they can't figure out a campaign strategy. The Congress should see that."
---
Also read: Tie-up with Congress is all that Arvind Kejriwal needs to declare AAP's moral death
---
Get the PrintEssential to make sense of the day's key developments