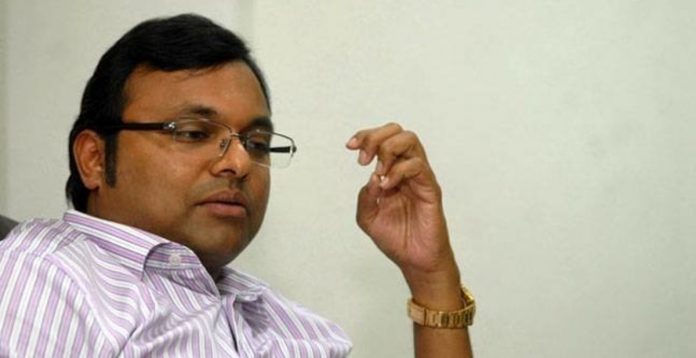 Text Size:
Karti Chidambaram has been arrested for alleged money laundering, accused of receiving over Rs 300 crore when his father was union finance minister. 
New Delhi: Senior Congress leader P. Chidambaram's son, Karti Chidambaram, was arrested Wednesday morning by the CBI in Chennai for his alleged involvement in the INX Media money laundering case.
According to sources, he had arrived at the Chennai airport from London when the CBI team arrested him.
The Enforcement Directorate (ED) had filed a case against Karti Chidambaram in May last year alleging irregularities in the grant of Foreign Investment Promotion Board (FIPB) clearance to INX Media, and for allegedly receiving foreign investment of over Rs 300 crore in 2007. This, it has been accused, was done at the time Chidambaram was union finance minister.
FIPB was a national agency of the central government with the remit to consider and recommend foreign direct investment (FDI).
The CBI filed another separate case against Karti Chidambaram and others accusing him of taking a bribe of Rs 10 lakh. According to CBI, INX Media paid Rs 10 lakh to a company called Advantage Strategic Consulting (P) Limited, which the CBI said was indirectly owned by Karti, for management consultancy charges towards an FIPB notification and clearances.
Karti had moved the Supreme Court seeking a stay on the ED's summons against him in the INX Media case last week.
Alleging that the repeated summons by agencies including the ED and CBI to his son in connection with the Aircel-Maxis and INX Media case is part of "political vendetta", Chidambaram too had approached the Supreme Court seeking protection of his fundamental rights, including the right to privacy.
On 16 February, Karti's chartered accountant S. Bhaskararaman was arrested from a five-star hotel in Delhi.
Reacting to the arrest, Congress Chief Spokesperson, R.S. Surjewala tweeted, "Classical diversionary tactic to hide scams & colossal corruption that is being exposed on a daily basis, be it Nimo+Choksi, D.D. Jewellers and Rotomac. Modi Govt continues its vendetta against Sh. P.Chidambaram. Won't deter the Congress from bringing the truth to the people".
Speaking to news agency ANI, BJP spokesperson Sambit Patra said, "No one should consider oneself above law of the country. If corrupt are being jailed and law is taking its course, I see no reason why any political party should cry vendetta."
What is the case?
On 15 March 2007, INX media had sent an application to the Finance Ministry for an FIPB approval. In a FIPB meeting held on 18 May 2017, the board did not approve the investment by INX Media in INX News and also allowed FDI flow of only Rs 4.62 Crore.
However, contrary to FIPB approval, INX media allegedly violated the rules and made an investment of up to 26 per cent in INX News, with which they allegedly made over Rs 305 crore of FDI in INX Media, which was against the allowed foreign inflow of Rs 4.62 crore. They allegedly did that by issuing shares to foreign investors at a premium of over Rs 800 per share.
The CBI in its FIR has alleged that firms with links to Karti influenced FIPB approval for Rs 305 crore irregular investment in INX Media when his father was the finance minister. CBI also alleged that officers of the FIPB unit ignored serious illegalities on part of INX Media and also did undue favours because of Karti's backing.
What the FIR says
The CBI filed an FIR against Karti and the Mukerjeas on charges of criminal conspiracy, cheating, receiving illegal gratification, influencing public servants and criminal misconduct.
The FIR mentions how INX Media paid Karti for the services rendered by him. The payments were made through different channels, received in the name of Advantage Strategic Consulting (P) Limited (ASCPL).
The CBI in its FIR also claimed that "such deceitful and fallacious deal was favourably considered by Ministry of Finance and Approved by the then Finance Minister."
Following this, the ED too registered a money laundering case against Karti Chidambaram.
Get the PrintEssential to make sense of the day's key developments